A new 1,500 sq ft co-working space opens in the heart of Altrincham town centre next week.
WorkSmart Hub is opening above Blanchflower bakery and restaurant on Shaw's Road, a few yards from Altrincham Market, on Thursday October 18th.
It's the brainchild of Carla Wells, who has worked in the serviced office industry for almost a decade, and is intended to be a flexible workspace for freelancers, entrepreneurs, start-ups and more established businesses.
We caught up with Carla to ask her about the plans.
ALTRINCHAM TODAY: So tell us more about your plans for the WorkSmart Hub?
Carla Wells: WorkSmart is a design-led urban hub offering a mix of co-working and private offices, allowing our clients to choose collaboration or quiet work. It's a bring-your-own-device environment and that's really all clients will need – we will have super-fast broadband, lockable storage, copying and printing, a fully fitted kitchen including refreshments and a shower facility.
I wanted to promote a healthy work-life balance too so there will be shower facilities, to encourage cycling or running to work. Our largest private space will accommodate six people and the smallest, for two people. It's a really comfortable, versatile space that boasts character and charm with its antique fireplaces, ornate features and contemporary specification.
AT: What's your own background?
I was involved with a start-up serviced office business in Manchester city centre, taking it from a one-desk operation to around 600, and have worked in this industry for almost a decade. In 2017 I decided that it was time to make a move out of the city and bring my passion for workspace much closer to home in Cheshire. I created WorkSmart to provide inviting and vibrant workspace for freelancers, entrepreneurs, start-ups and more established businesses.
Having worked in the city for 15+ years I know how difficult it can be just to make it to your desk when you're faced with stop-start driving, traffic congestion, and crowding on public transport. I've worked from home and found it too solitary, and coffee shops too distracting. Having looked at the south Manchester office market I struggled to find a truly inspiring workspace that was achievable for a small or start-up business. This really is the concept behind WorkSmart, bringing an inspiring, design-led workspace to the suburbs, and creating an environment that drives productivity and promotes wellbeing.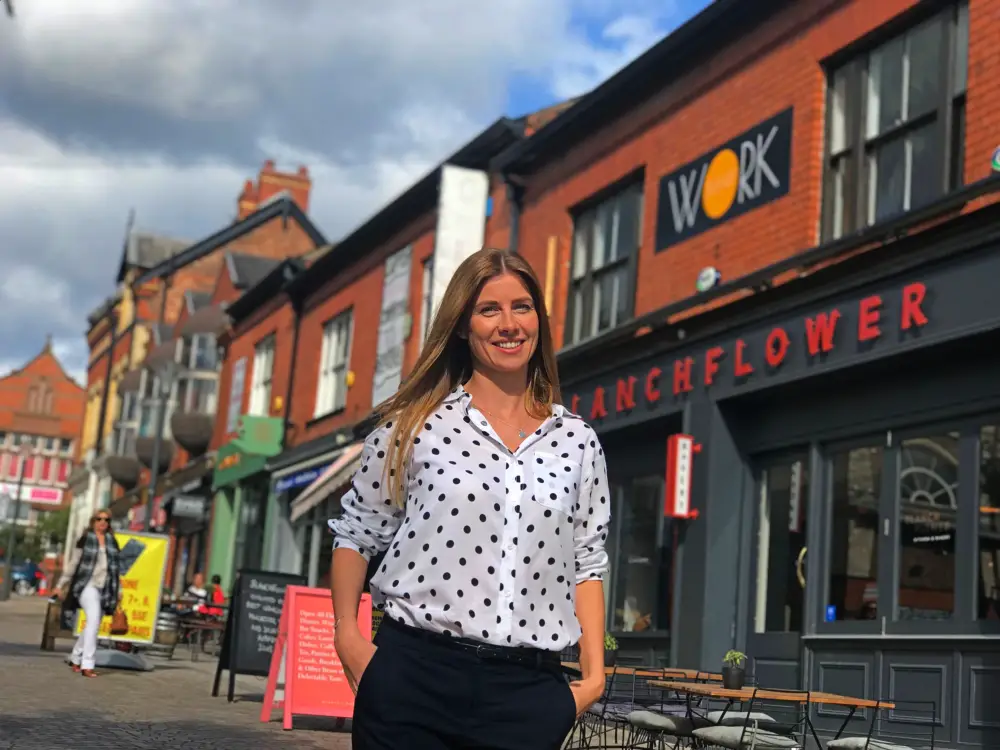 AT: Why have you chosen Altrincham for the first WorkSmart Hub?
I'm a huge fan of Altrincham's dining scene and have just watched it get better and better. Altrincham has everything in terms of its huge selection of cafes, restaurants and shops but it is lacking in quality office space.
After a long and at times challenging search – which is testament in itself to how much the town is flying, WorkSmart's desirable location on Shaw's Road ticks every box in terms of character, charm and the collaboration with artisan eatery Blanchflower – which will give WorkSmarters 20% off all food and drinks – has enabled me to create a real "hub" of amenities.
AT: Co-working seems to be surging in popularity – why do you think that is?
As more and more people are choosing to work for themselves, co-working is a fantastic, relatively hassle-free option requiring very little commitment with short term lets available for growing businesses. Co-working gives a real feeling of a community, along with the flexibility and freedom to choose how you run your day.
As a working mum I often have to break during my working day to attend to the school run, which means I often work late into the evening. Being able to choose when you work gives you more control over your day. WorkSmart's inviting and vibrant hub allows our clients to do what they do best: business.
AT: What kind of businesses are you hoping to attract to WorkSmart Hub?
There isn't a specific sector or business I'm hoping to attract. I'd be happy to have a real diverse mix of forward thinking people who would really grasp what I have created in WorkSmart and who will thrive in its warm and welcoming design.
AT: Are you hoping to open more WorkSmart Hubs in the future?
Absolutely, plans are already underway on WorkSmart's expansion and thinking isn't limited. There are other locations that are already on my radar in the North West and I'm really excited about bringing WorkSmart and its unique DNA to other vibrant areas of the suburbs. I consider myself to be a true advocate of the flexible working revolution and am really proud to be part of it with WorkSmart.
WorkSmart Hub, Shaw's Road, Altrincham. For more details and to secure a space in WorkSmart Hub, email hello@worksmarthub.co.uk
Comments