Altrincham's Business Task Force team has been revealed by Altrincham BID.
The Task Force – under the umbrella #AltrinchamTogether hashtag – has been set up to encourage businesses and business groups in Altrincham to come together to share updates, advice and support with one another, to align strategies, signpost information and help.
The team includes business people from different sectors in Altrincham alongside Greater Manchester representatives who have offered their support: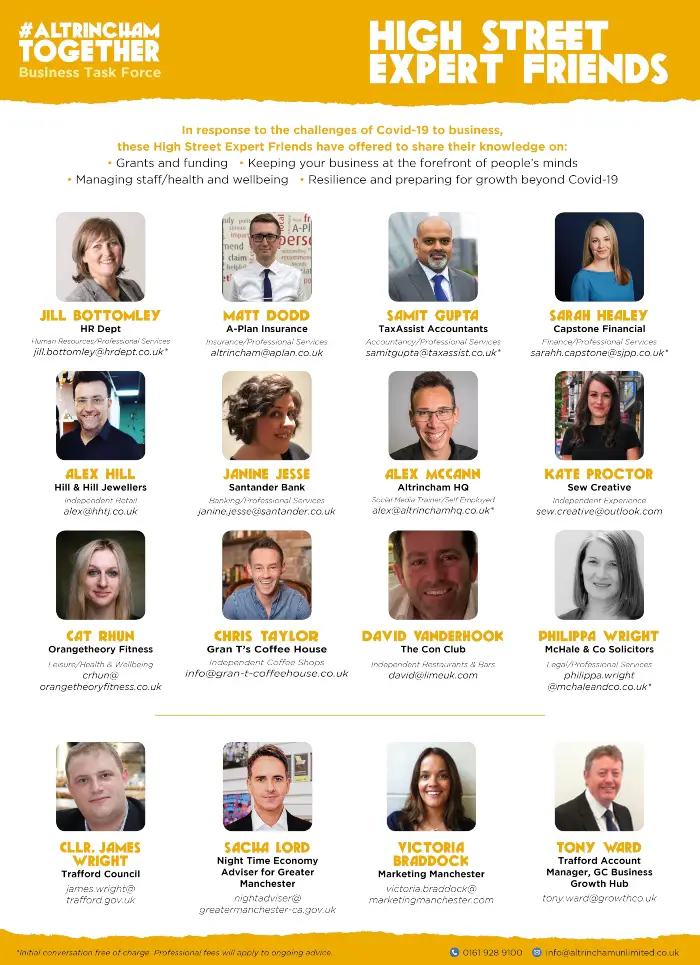 The BID will be talking to a team member daily over the next couple of weeks and sharing their advice about how their business is coping with the challenges of COVID-19.
Martin Duff, Vice Chair of Altrincham BID, said: "The launch of the task force has gone really well and Altrincham's incredible business community has once again shown so much support for one another.
"If you're a business who hasn't reached out yet, please do not hesitate to, the people who have volunteered to be part of this are very willing to offer their help and support where possible. If you're a business who would like to talk, please do reach out – we are all in this together."
The BID is also asking Altrincham businesses to complete this short COVID-19 Business Impact Survey.
The feedback from the survey will support a two-way flow of information to lobbying organisations, including the Association of Town and City Management and the Institute of Place Management, to ensure the Government gets the local intelligence they need to refine the support they provide.
Comments