Originally founded in 1989, Nicholls Solicitors is based on Stockport Road in the heart of Timperley village.
We caught up with Sarah Birdsey, a family law specialist who now leads the firm as Managing Director.
ALTRINCHAM TODAY: Can you give us a bit of the firm's history, and when you joined?
SARAH BIRDSEY: Patrick Nicholls set up the firm in 1989, so over 30 years ago now. We have been settled in Timperley village now for over 13 years. I joined around 16 years ago for work experience whilst I was an undergraduate at university and I have never left!
AT: What's your own background?
SB: I met Patrick whilst he was teaching family law at the University of Manchester. I worked at Nicholls Solicitors throughout university and law college. I then completed my training contract and qualified as a solicitor. I later became Director and then Managing Director. I had worked at other solicitors' practices before visiting Nicholls Solicitors and had various other jobs but as soon as I started here I knew this was what I wanted to do and the team that I wanted to be a part of.
AT: Which area do you specialise in?
SB: I personally specialise in family law which can be an emotional and sensitive area of the law. My work covers the breakdown of relationships, dealing with divorce and financial matters arising out of that and the child arrangements that need to be resolved. I also deal with cohabitation agreements and pre-nuptial agreements which seek to avoid future disputes. I am a member of Resolution which is a group of solicitors focused on resolving matters in a non-confrontational manner and I also volunteer with a legal advice centre and a legal advice helpline.
AT: What other services does the firm offer?
SB: Our firm has specialist experience with litigation matters such as boundary & land disputes, inheritance disputes, breach of contract claims and partnership & company disputes. We also deal with wills, probate and lasting powers of attorney, domestic and commercial conveyancing and personal injury.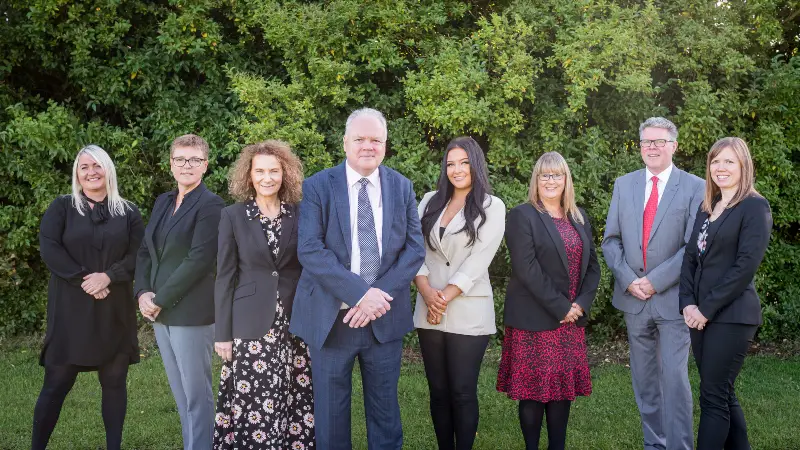 AT: Which areas have seen the most demand since coming out of lockdown?
SB: It may be anticipated that family work has increased during lockdown and since lockdown has lifted. This is not just as a result of couples or families struggling with the lockdown situation but I think that the pandemic made a lot of people reflect on their personal situation and what they wanted going forward. We did see a big increase in enquiries for wills at the start of lockdown, perhaps because people were at home more with things on their mind.  Conveyancing has also been a particularly busy area due to the stamp duty holiday and again, people re-assessing their goals and future plans I think, but this seems to have settled back down to pre-pandemic levels for now!
AT: You're located in Timperley village – can you talk us through the rest of the team based there?
SB: Patrick Nicholls is the owner of the company and works in litigation and conveyancing.  Matthew Nicholls deals with our wills and probate matters and Beth Altindis works remotely dealing with our domestic conveyancing. We also have Angela, Suzie and Emily on the administration and accounts side to support the fee earners and ensure that matters proceed smoothly!
All of our staff have been working with us for many years which is a sign of a good team.  Our client base is often recommended clients who come back time and again and that is the ethos of our business – to provide quality, personal and friendly advice so that people know they can come back to us with any issues in the future.
Nicholls Solicitors, Mayfield Chambers, 228a Stockport Rd, Timperley, WA15 7UN. For more information, visit nichollssolicitors.com or call 0161 980 6099. Follow Nicholls Solicitors on Facebook (@nichollsolicitors), Twitter and Instagram (@nichollssols).
Comments