Altrincham businesses will be able to use cargo bikes to deliver goods to customers under a trial starting next month.
Altrincham BID has been awarded £10,000 to run a Cargo Bike Delivery scoping and pilot project called CargoCycle Altrincham.
The award has been granted through the Greater Manchester Combined Authority (GMCA) Foundational Economy Innovation Fund and is open to Altrincham's BID businesses.
The project will start in July, and Altrincham BID will be working with MP Smarter Travel, Manchester Bikes, Stamford Cycles and Cllr Michael Welton on delivery of the project.
Oli Ivens, from MP Smarter Travel, said: "We are thrilled to be working on this project with Altrincham BID and we look forward to talking to businesses in the town about how cargo bikes have proven to be a greener, faster, more cost-effective and versatile means of carrying out deliveries.
"We have introduced many businesses to cargo bikes from florists to coffee shops, and from lawyers to grocery stores, the possibilities are endless."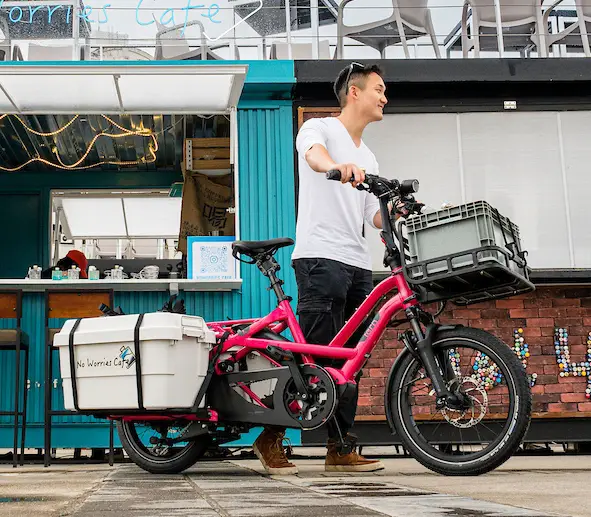 Manchester Bikes, one of the UK's biggest suppliers of cargo bikes, will be supporting the project with a cargo bike that businesses can try at a subsidised rate. As part of the project, a cargo bike will be hosted in Altrincham by Stamford Cycle Co.
Mandy White, Altrincham BID Manager, said: "We are really looking forward to working on this project with Altrincham's BID businesses.
"It is a great opportunity for them to transition to cargo bike deliveries, paving the way for others to follow suit, a trend that could see significant improvements to local air pollution and congestion.
"There are many benefits to using cargo bikes and we wanted to explore whether a permanent scheme would work in the town and encourage businesses to adopt this method of delivery. We are grateful to GMCA for enabling this pilot to take place."
Comments