[dropcap="circle"]Last Saturday's comprehensive 5-0 victory over Leamington means that we have taken 10 points from our last 4 home games, which is very pleasing, but we need to do something about our away form.
We didn't lose on our travels from the 3-0 defeat at Leamington in January to the 1-0 defeat at Brackley 4 weeks ago, but that signalled the start of 3 away defeats in a row & we need to get back on track today, when we take on Kidderminster Harriers at Aggborough this afternoon.
Aggborough is a nice stadium & I enjoyed our visit last season, despite losing 3-2. The pitch is big & always in immaculate condition, which will suit us & we go there for our 11th game of the season with 12 points from 10 games, which is exactly the position that we went there last season, so if we can get a result today, we will have improved on last season's start.
Harriers haven't won at home this season & they seem to have had a few disruptions recently, which can be difficult to deal with, particularly as they have a few players on loan & they have gone into the season with quite a small squad.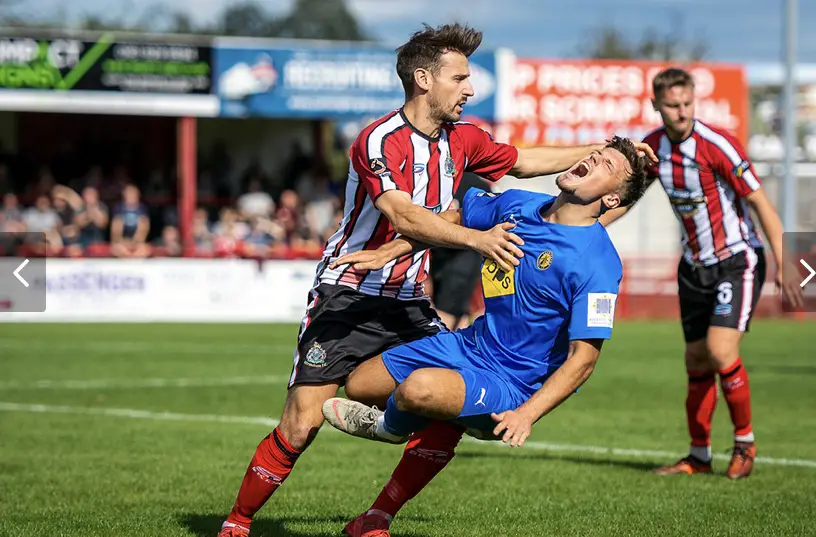 They have had some difficult games at home against the likes of Brackley & Chester & they've also got themselves into good positions in their home games with Leamington & Gloucester, only to falter in the final quarter of the match.
Ashley Chambers & Ed Williams are 2 forward threats for the Worcestershire side that caused us problems last season & we will need to take care of them today. I like Williams a lot & believe that he is one of the best attacking players in the league.
Apart from Yusifu Ceesay, who pulled up in the first half of last week's game against Leamington with a hamstring injury, we have a fully fit squad.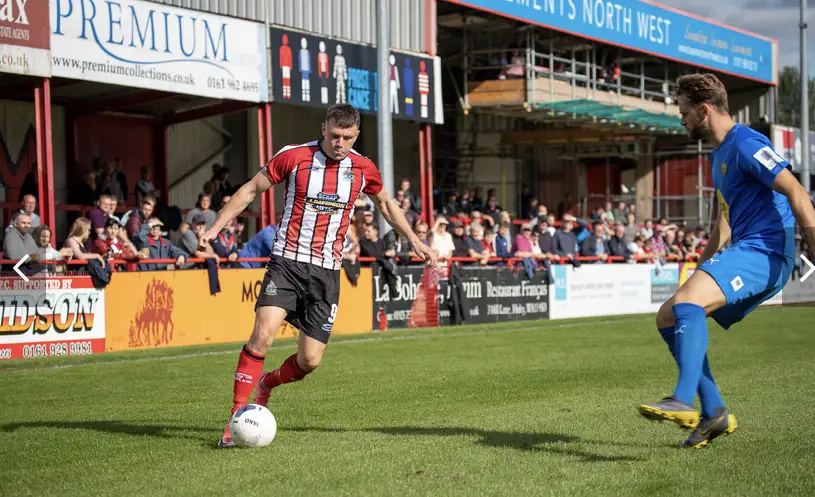 In that game, Connor Hampson took a knock to his calf that caused a problem behind his knee & he also had to come off before half-time but Tommy Uda & Ryan Murray worked on that in training on Tuesday & Connor was able to train fully on Thursday, which is good news.
Simon Richman is suspended for today's game, receiving a 1 match ban for his sending off at Southport for 2 yellow card offences, but Tom Hannigan is available again after completing his 3 match suspension for his red card against Darlington 3 weeks ago.
Conor Branson signed for Alfreton Town yesterday, after we received a good offer from the Derbyshire club, who have been tracking him for some time.
There were plenty of positives last Saturday, with Jordan Hulme scoring his 5th goal in 5 games & Josh Hancock & Ashley Hemmings showing what good players they are. Josh has great ability to turn to open up space in key areas of the pitch & Ashley's ball retention is excellent. They are both very good goal scorers & potential matchwinners as well, so when you add John Johnston & Yusifu Ceesay into the mix, we really do have a lot of goalscoring threat from our front players.
We really do need all 3 points today to consolidate our recent upward trend, particularly as we do not have another league game for a fortnight, as it's the FA Cup next week.
Comments