St Peter's Church in Hale is to stage an artisan market in Hale village this Saturday, the first of what it hopes will become a regular event.
The church is hoping that Hale Artisan Market, which takes place between 10am and 4pm, will feature around 50 stalls selling a wide range of handcrafted artisan foods and crafts.
It's teamed up with The Market Co, which has run artisan markets across Cheshire, Trafford and Tameside for 14 years.
Michael Moore, the church warden at St Peter's Church, said the motivation to launch a market on its grounds came from a need to improve the church's finances.
In a letter to local residents informing them of the plan, he wrote: "During Covid 19 the church exhausted most of its financial reserves in keeping the church running, at the same time we lost most of our income stream to such an extent that we were losing £11.5k a month a year ago! This has, since Margaret and I have been involved in running the church administration been substantially reduced, but we are still running at a significant loss every month.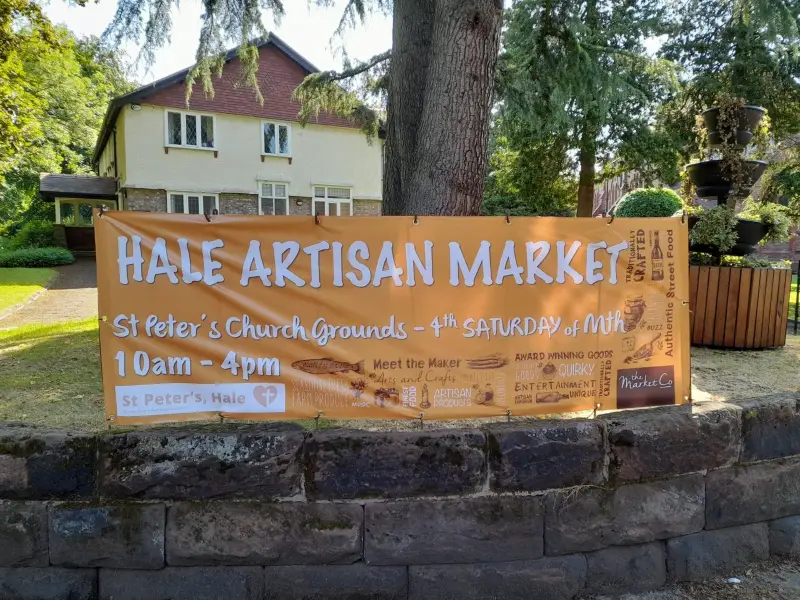 "Consequently, we have been looking for ways to raise money for the church on a regular basis and would like to hold an 'Artisan Market' on the church lawn. We have been blessed with this wonderful space right in the middle of Hale and we feel there is a demand for such an event from the community."
He said the church had applied for permission to hold a monthly market.
He added: "The market, if approved, would be on a Saturday once a month from 10am to 4pm with setting up taking place three to four hours beforehand and one to two hours after. The setting up and taking down will be carried out by professionals who are aware of the sensitivity of any noise to neighbouring properties.
"As always with events like this in a residential area traffic and parking are the main concerns. As you know there are four car parks in Hale, Cecil Road, Crown Passages, Victoria Road, and Brown Street with a combined capacity of over 200 cars. As we are in the middle of a residential area, we anticipate most of the visitors would walk to visit the market.
"The stall holder's vehicles will be parked off road at the Assembly Rooms on Cecil Road, however there is bound to be some extra street parking, and this is why we are seeking your support."
Comments