The fourth edition of the Altrincham Today magazine is out now – and it's still completely FREE.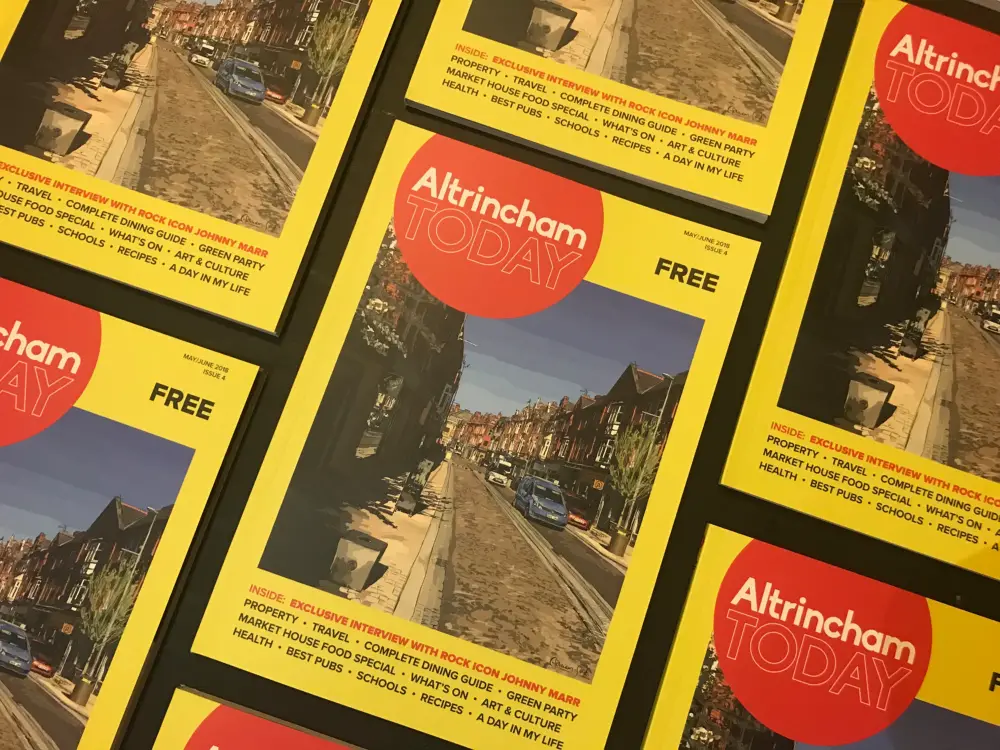 Our latest 104-page edition is available from the below locations now:
Altrincham Market (in the Covered Market area)
Jake Shoes, George Street, Altrincham
WHSmith, George Street, Altrincham
Altrincham Garrick Theatre, Barrington Road, Altrincham
Warrens Bakery, Cross Street, Altrincham
Two Brothers, Stamford New Road, Altrincham
Waterstones, George Street, Altrincham
Waitrose, Draybank Road, Broadheath
Booths Supermarket, Hale Road, Hale Barns
Marks & Spencer, Ashley Road, Hale
The Bridge, Moss Lane, Timperley
Costa Coffee, Stockport Road, Timperley

Can I buy a copy?
If you live out of the area or can't for any other reason get your hands on a free copy, we'll be happy to send you a copy through the post for £5, which includes postage and packaging.
To order a magazine, please use the PayPal button below:
Send the magazine to:
UK £5.00 GBP
Rest of the world £7.50 GBP


What's in the latest issue?
Whatever you're into, there's something for you in the third issue of the Altrincham Today magazine. Here's a run-through of the contents:
NEWS
Robins soar – Our gallery brings together some of the fine pictures taken by Altrincham FC photographer Mike Ripley as the Robins secured the league title.
Top 10 Stories Online – From plans for Hale's old NatWest bank to calls for a rail link between Altrincham stations and Manchester Airport, we wrap up some of the most popular stories on our website recently.
What's On – From the return of 80s legends Shakatak to an authentic tribute to Simon & Garfunkel, we take you through the live music, theatre and film events coming up over the next few weeks.
Painting the town green – It was the stunning upset of the recent local elections – we ask Dan Jerrome and Geraldine Coggins, Altrincham's new Green councillors, what they're going to do now.
Festival revival – Now in its 41st year, the Altrincham Festival has a new team of organisers and much change afoot. We speak to two of those involved.
LOCAL
My Altrincham – Being visually impaired hasn't stopped one married couple becoming world champions and Paralympic gold medallists. We ask Neil and Lora Fachie for their favourite places in Altrincham.
Shop Local – To mark National Fish and Chip Day, we ask one of the co-owners of the award-winning Good Catch to tell us more about its mouth-watering nosh.
Best pubs – Altrincham has an array of great places to get a proper pint. We pay a visit to six of the best.
MARKET
Market Essentials – We round up all the fantastic permanent traders inside Market House, as well as the food and florist traders inside the covered market and New Market Square.
We know where our food comes from – We're a nation of processed food obsessives – but it doesn't have to be so. We ask some Market House traders why food provenance – knowing where your food comes from – is so important to them.
Cheshire Cookery School – A reverse sear picanha steak with chimichurri sauce from the Altrincham-based cookery course school.
CULTURE
What Altrincham's Reading – From non-fiction to children's, our regular look at the most popular books sold in Waterstones Altrincham.
It's going to be just fine – Angela Prior reviews one of the year's biggest sellers so far, one whose rights have already been snapped up by Reese Witherspoon.
TV town – Altrincham has provided the location for a number of recent hit TV shows – we round up some of the best.
Here's Johnny – His legend in the annals of rock history is assured by the music he created for The Smiths alone. Now, on the eve of his third solo album, we sit down with Johnny Marr and talk Altrincham, his influences and the day he jammed with Paul McCartney.
Tasty – A new vinyl records shop has opened in Altrincham town centre. We catch up with owner Ben, who says he hopes to be here "for the next 50 years".
HEALTH
Fitness, salons and spas – A comprehensive run-through of all the health, fitness and beauty places that Altrincham can muster.
Coping with exam stress – Our resident doctor is back with some tried-and-tested tips for getting through exam season.
Coping with a life-changing event – We speak to Ashley Sadler, from Advanced Neuro Physio, who works with people who have suffered neurological damage.
PROPERTY & HOME
The place to be – The developer behind Alderbank on why Altrincham is such a good fit for the £18m development.
Most expensive house sales – From £1.7million down, we bring you the 50 most expensive recent house sales in Altrincham, plus a round-up of the 20 most valuable roads in Hale, Hale Barns, Bowdon, Altrincham, Broadheath and Timperley.
On the market – We look at some of the most eye-catching Altrincham properties currently on the market, to suit all budgets.
BUSINESS
Independents of Altrincham – We turn the spotlight on three local independent businesses, featuring a marketing business owner, a healthy snack company and two vintage market stall traders.
Back to nature – The couple behind the kidsunlimited brand are bringing a new day nursery concept to Broadheath. We ask Stewart and Jeannie Pickering for the lowdown.
SCHOOLS
School News Round-up – Some of the latest developments at local schools including Wellington School, Loreto Grammar, Altrincham Grammar School and Well Green Primary.
School performance tables – How do the local schools rate for some key performance metrics? Our tables give parents the information they need to know.
Ask the Teacher – We chat with Amy Drogan, biology teacher at St Ambrose College in Hale Barns.
TRAVEL
Five family-friendly holidays in Holland and Belgium – There's more to Holland and Belgium than waffles and windmills – Laura Riley, owner of Altrincham-based Little Clogs Holidays, offers her top five family-friendly holiday parks.
DINING
Complete Guide to Eating Out in Altrincham – Whatever your food preference, we've got the lowdown on everywhere to eat out in the whole Altrincham area.
Restaurant review – There's a stylish new sushi restaurant in the heart of Hale village. Laura Hudspeth pays a visit.
ETC
A Day in my life – Three-time Olympian and former world, European and Commonwealth swimming champion, Fran Halsall now co-owns Altrincham coffee shop Common Ground. Here's a typical day in her life.
Letter from Siberia – The latest dispatch from former Bowdon resident Andrew Flint. Here he digs a bit deeper into the current state of Anglo-Russian relations – things may not always be as they seem…

I want to advertise or be involved in the next issue – who do I contact?
If you'd like to find out a bit more about advertising in the next issue, please email kath@hyperlocaltoday.co.uk. We're also looking for editorial contributors for the next issue.