St Ambrose College has produced its best ever A-level results as boys nationwide have done better in end of course examinations.
The improvement at the Hale Barns Catholic Grammar School was dramatic with 74.1% of grades at A* to B and an exceptional 47.5% at A* to A. Three young men have met their Oxbridge offers and a magnificent seven are going on to read Medicine at some of the country's leading medical colleges.
St Ambrose College Principal James Keulemans said: "I'm delighted with these outstanding results and that so many of our young men will progress to the university of their first choice to read challenging subjects much in demand by the wider society.
"Although it does appear that this new examination system does tend to play to boys' strengths and that for the first time in 17 years boys have marginally out-performed girls, I cannot stress highly enough that it is not a competition between the genders and that as teachers we want all our young people to flourish. One of the many qualities I admire about this generation is their much greater awareness of gender equality."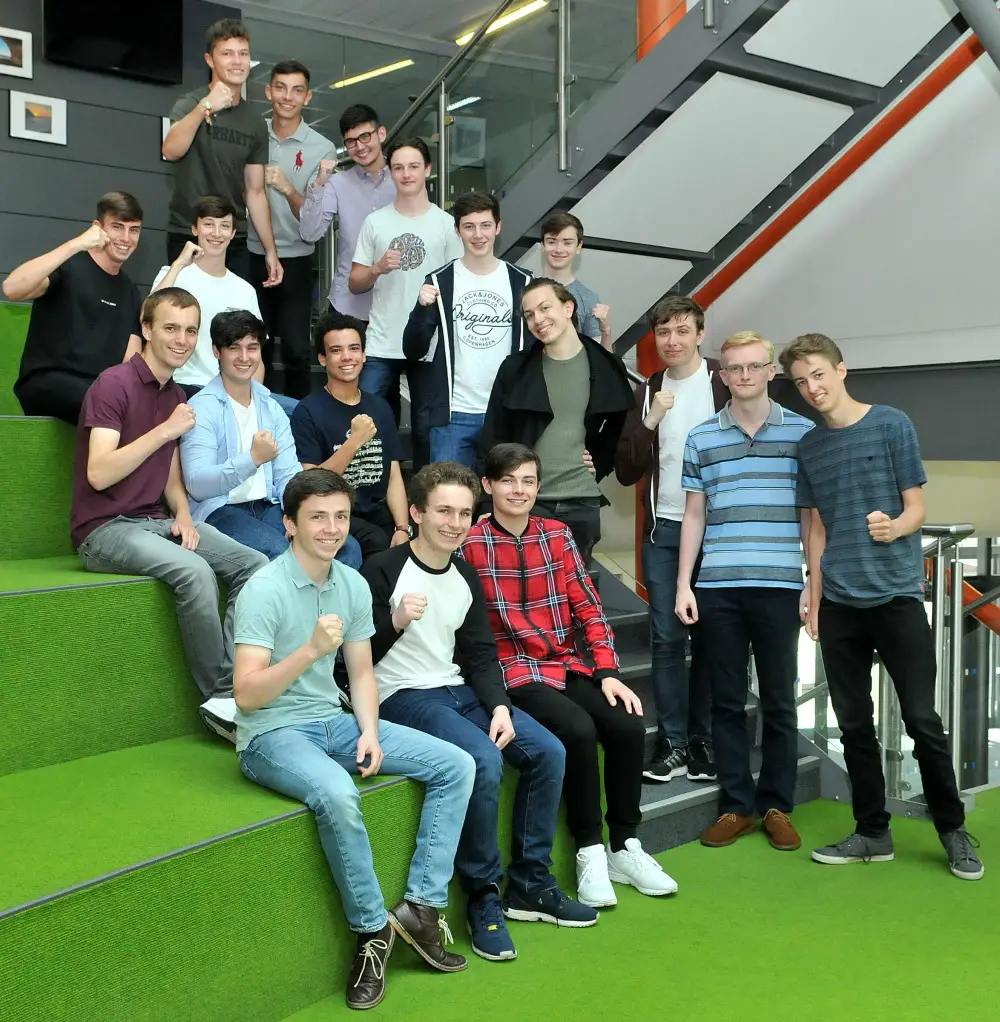 Pictured are just some of the St Ambrose students who got an A* and two A grades or better. Standing from the back are: Tom Dillon who will read Civil and Structural Engineering at Leeds; Alex Briscall Bowker who will read Management Science at University College London; Issey Keogh who will read Maths with Economics at the LSE; Dominic Wardell who is going to up to Sheffield to read Medicine; Sean Parker who will read Computer Science at Manchester; Harry Brown who will read Computer Science at Nottingham; George Pitt who will read Medicine at East Anglia; Jake Stewart who will read Computer Science at Birmingham; Michael Coppin who will read Mining Engineering at Exeter and Nicholas Royle who will read English at Lincoln College Oxford.
Sitting on the back row are Sean Donnelly who will read Medicine at Leeds and Rory McNicholas who will also read Medicine at Leeds. On the next row down are Freddie Gent who will read English Literature and Language at Lady Margaret Hall, Oxford; Sean Henry who will read Medicine at Edinburgh and Madu Gadzama who will read Physics at Durham. Sitting on the front row are: John McDonald who will read Medicine at Bristol; Shane Fox who will read Law at Leeds and Pio Monaghan who will read Medicine at Manchester.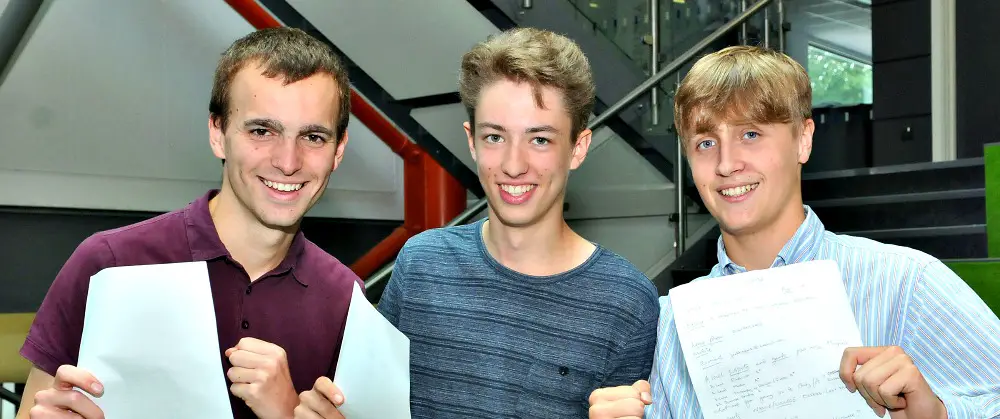 St Ambrose had three young men who met their offers for Oxford and Cambridge. From left to right above are qualified football referee Freddie Gent, 18, from Sale who got three A*s and will read English Language and Literature. Freddie (a former Altrincham Today intern) wants to become a journalist. Nicholas Royle, 18, from Mobberley, who got an A* and two A grades and is going to read English Literature at Lincoln Oxford and wants to be a novelist and accomplished pianist William Staunton, 18, from Sale who got three A*s and is going to read Materials Science at St Catherine's Oxford.
Comments