Two Loreto Grammar School sixth form students said they felt privileged to visit the "harrowing" First World War battlegrounds on a special trip to commemorate the Centenary of Armistice Day.
Lizzy Hammond, 18, and Libby Tiernan, 17, seized the opportunity to join an inter schools' trip organised by the Department of Education and educational promoters 'Poetry by Heart' to see the trenches at Ypres and the Somme, where hundreds of thousands of young men were sacrificed.
Their first thoughts were for their own friends and brothers who but for a fork in time could have landed in the same nightmare.
Libby said: "I couldn't help but think of the boys we know; our friends and brothers and imagine it was them fighting and dying in the trenches and that puts it very much in perspective. We are all so young."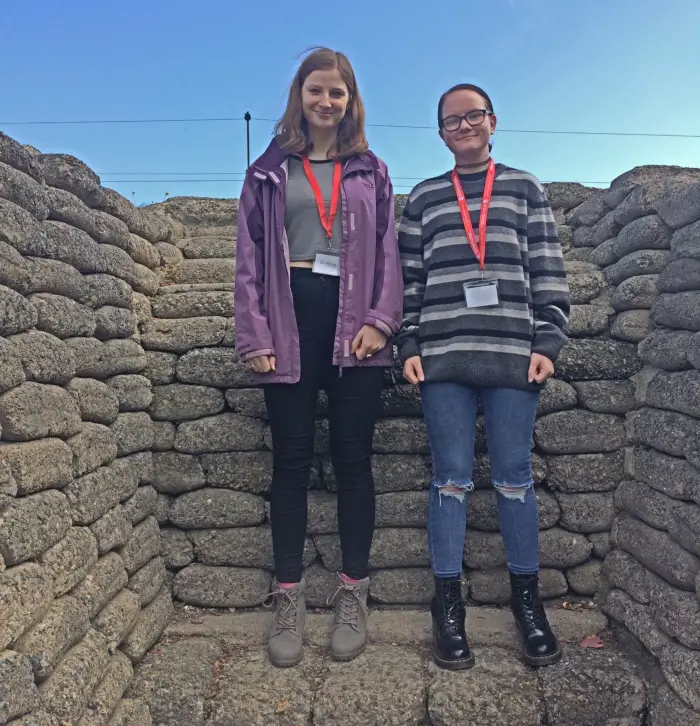 The unique trip had both a literary and historical purpose with poems by the great and less well-known war poets read out at every trench, killing field and crematorium.
Lizzy, who wants to read English Literature at Cambridge, said: "It was surreal to go back 100 years in time and stand in the same spots where so many died."
Lizzy, who was particularly moved by the performance of R.C. Sherriff's tragic drama "A Journey's End' played out in the very trenches it was depicting, added: "The Great War can seem quite distant to our generation but that is simply all the more reason we should all continue to remember and honour the great dignity of those who went through such terrible atrocities."
The girls were accompanied by Loreto English teacher Linda Gaffney who said: "This was an important journey for students and teachers alike and has left a telling impression on all of us."
Comments