The youngest son of Bill Speakman VC said the unveiling of a Blue Plaque honouring his war hero father was a "very special day".
A year to the day since the death of Private Speakman – who had been the only living Victoria Cross holder from the Korean War – the plaque was unveiled at Altrincham Interchange, just yards from his former home on Moss Lane.
Many family members gathered for the ceremony, including Casper, Colin and Susie, three of Private Speakman's seven children.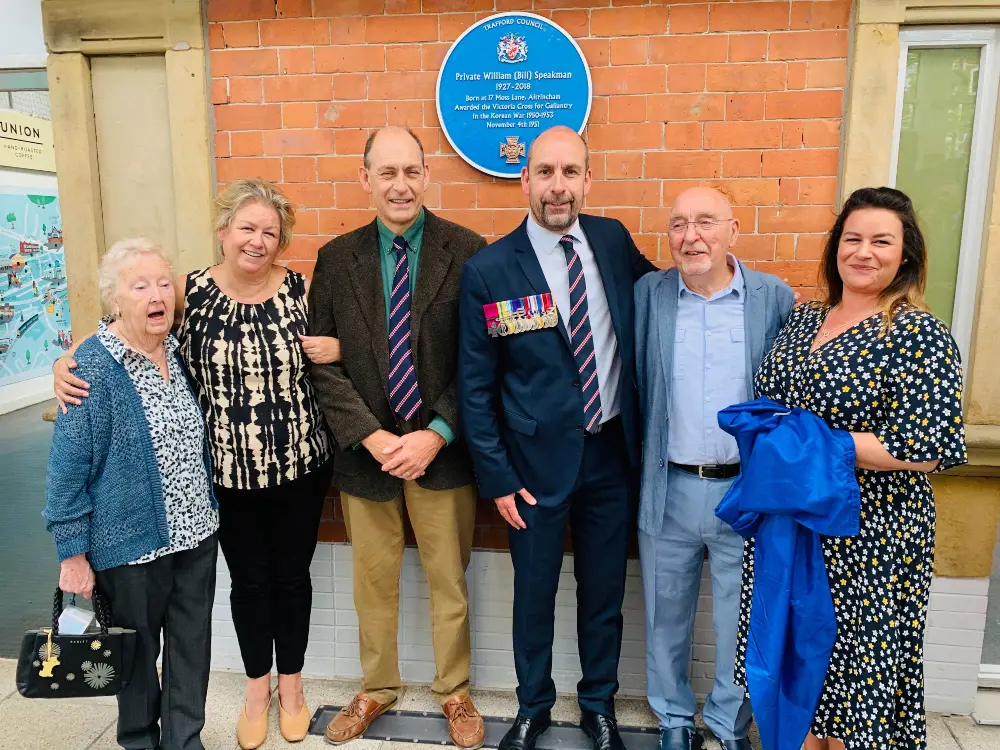 And Casper, who said the family had spent a lot of time with his father during his latter years at Royal Hospital Chelsea and were at his father's bedside when he died at the age of 90, told us that his father would have found the occasion more "emotional" than any other.
He said: "This is the place where he grew up and that moulded him, and in many ways this is one of the areas that from our point of view, we didn't understand. We know about the VC and the Korean War and the subsequent military side of him, but we don't know about his personal and family side. To us this is more important than anything else because this joins up the dots and fills in the gaps in the jigsaw.
"From his point of view, this is where I think he would have got most emotional had he been here, because your family and childhood roots mean so much and trigger so many emotional memories."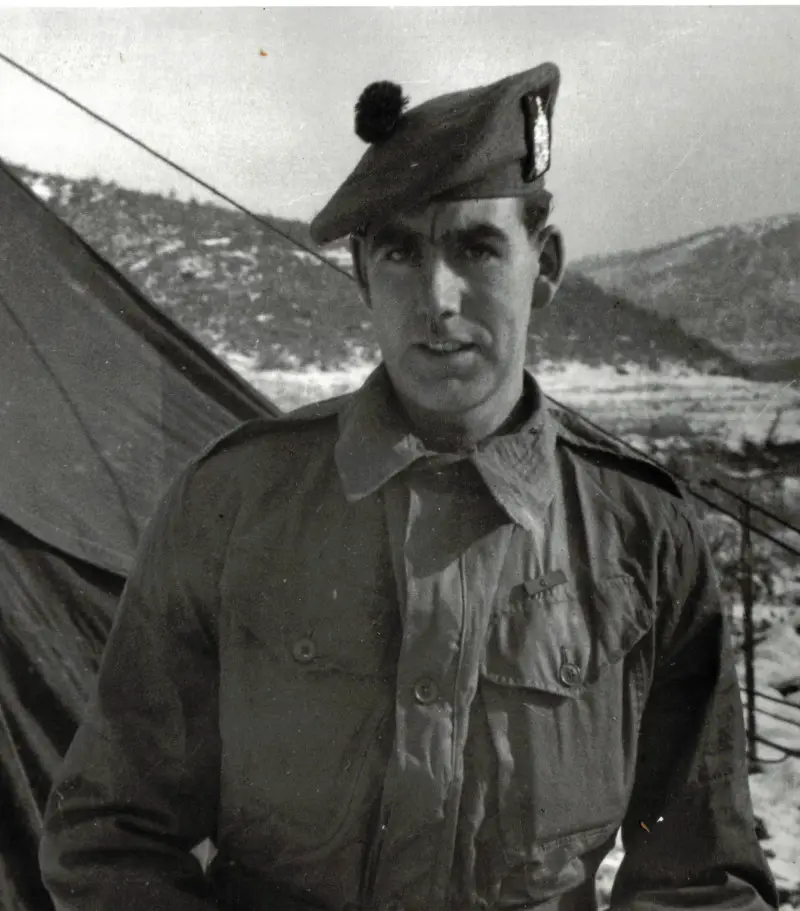 Speakman, who was educated at Wellington Boys' School in Timperley, was just 24 in 1951 when he fought off a wave of attacks from 600 Chinese and North Korean solders for more than four hours.
He was the first man to receive a Victoria Cross from Queen Elizabeth II, and was one of only a handful of living holders of the award. He was given a hero's homecoming on the streets of Altrincham by thousands of people in 1952.
He was a private in the King's Own Scottish Borderers (KOSB) when his section, seriously depleted by casualties, was over-run by the enemy on November 4th 1951.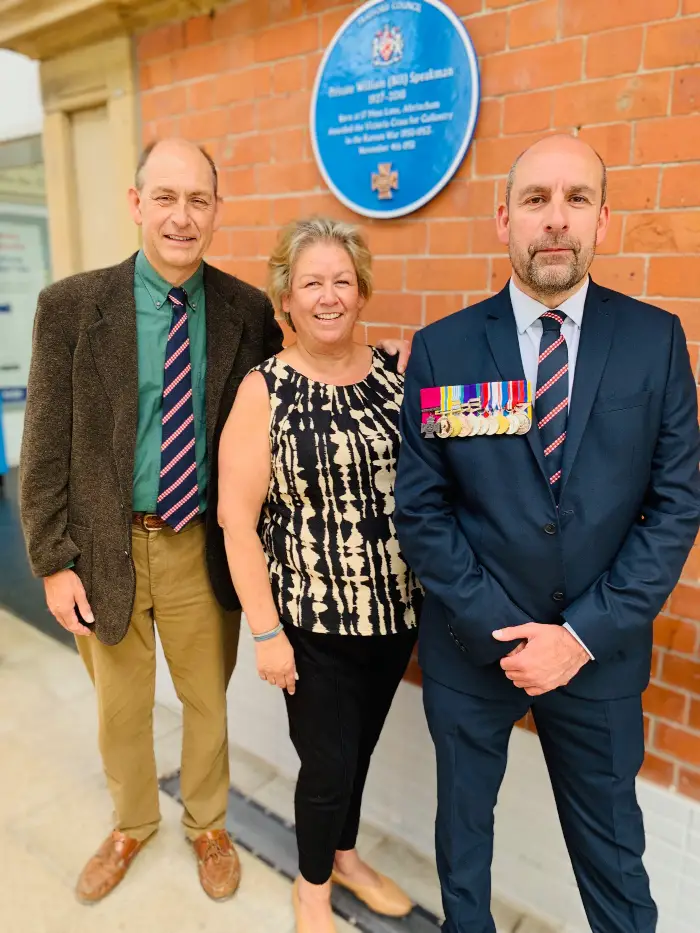 Speakman, who was 6ft 6in, collected six men and a number of grenades and led a series of charges. He broke up several enemy attacks, causing heavy casualties and despite receiving a shrapnel wound in his leg, continued to lead charge after charge. He kept the enemy at bay long enough to enable his company to withdraw safely.
Casper, 52, said that despite his father's remarkable act of courage, he had spoken little of the events to his children.
"Soldiers don't," he said. "Soldiers who had been through the mill like he had in terms of recognition and fame, even less so I suspect, because they don't want to attribute the fame to what they did. He was just doing a job, just doing what he had to do, and to make sure he survived and his comrades survived.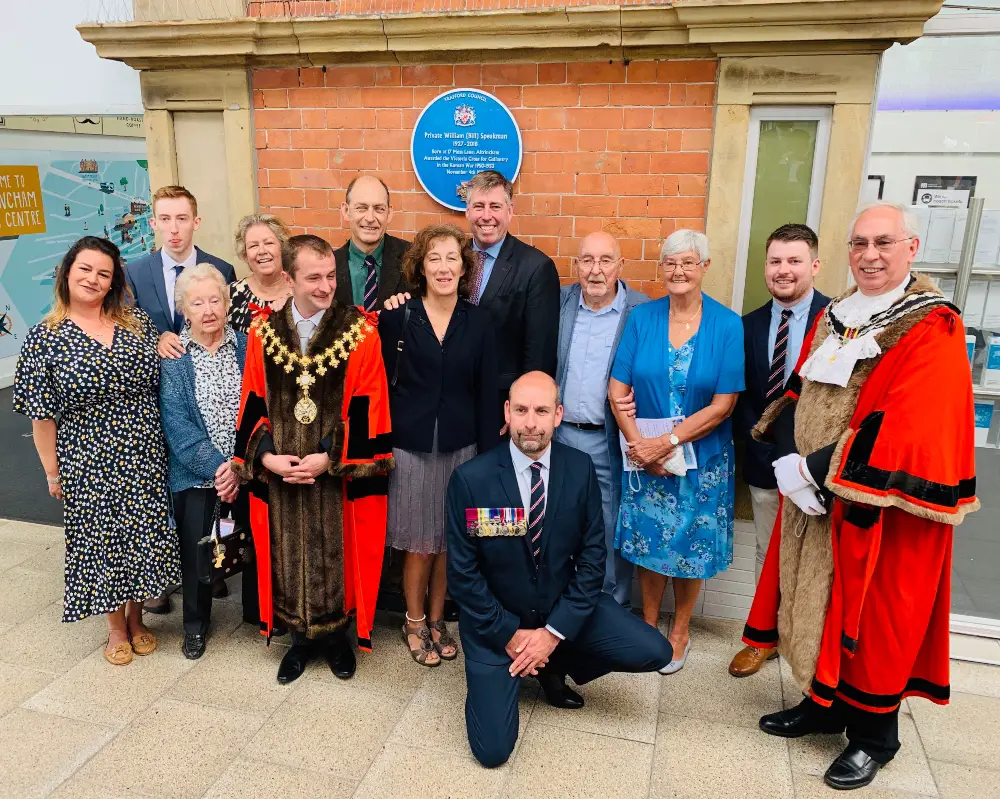 "He was humble, and I'd like to say that's one of the traits of the family. We don't make a big song and dance about it, but what you've also got to remember is that he came back in an era when there wasn't celebrity and nobody to manage him. He came back as a 20-something from a situation he didn't plan and he was just left to fend for himself, which can't have been great for a young lad coming back."
The Speakman family undertook a tour of Altrincham last night, retracing the steps their father and grandfather had made over half a century ago – including the Town Hall balcony from where Private Speakman had waved to thousands of people upon his homecoming from the Korean War in 1952.
"That was a real moment for us," added Casper. "We are proud of him, but because he was so humble, he wouldn't have used the word proud, he would have tried to downplay it slightly. All I can say is that it's great to be here, it really is."
Today's ceremony was followed by a "Remembering Bill" memorial event Wellington School in Timperley, Speakman's old school.
Comments