The owner of one of Altrincham's independent shops said his shop had enjoyed a "brilliant" first day back after lockdown.
Jake Shoes was one of many shops across Altrincham to reopen today after the government granted permission for non-essential shops to open their shutters after a three-month break.
The family-run business has two shops – its other outlet is in Stockport – and opened on George Street in 2017.
And Jake Bland, whose mum founded the company in 1975, said it was "really good to see everyone out shopping again".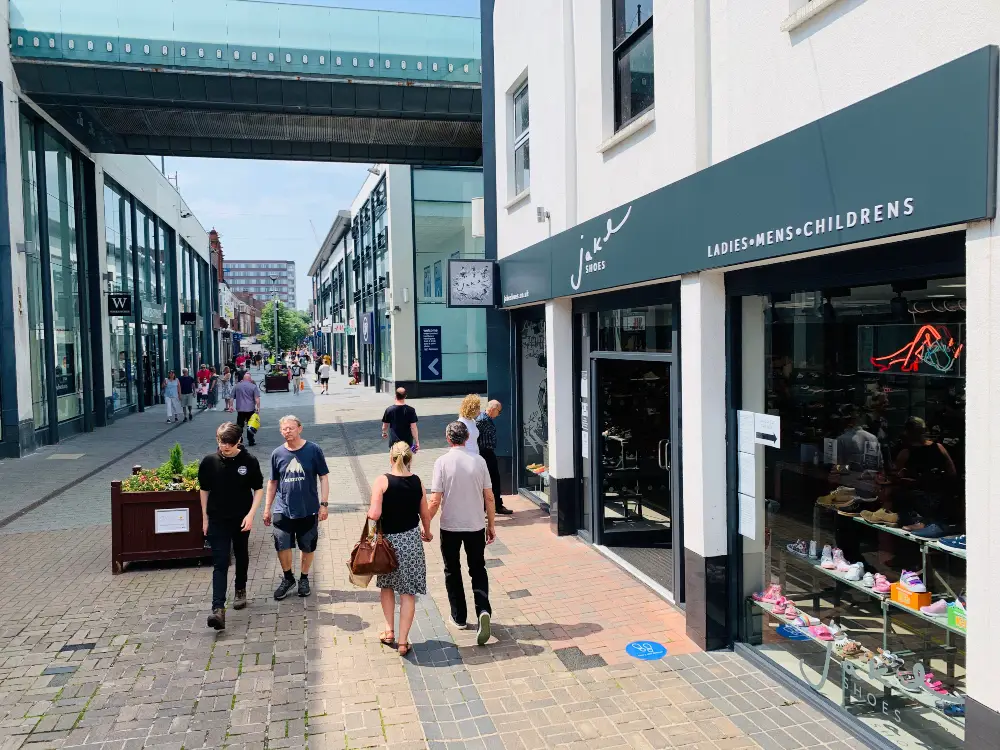 He said: "Today has been brilliant. People have been really sensible, wandering around quietly and not in groups. We've done loads of measuring for children today – in fact that's been one of the biggest things for us online while we've been closed."
In common with all shops, Jake Shoes has had to introduce various measures to make the shop Covid-friendly and conform with government guidelines.
"We have screens at the till and we've taken away most of seating – we just have five seats at the moment. We're also limiting it to 15 people in the store at any one time", he said.
"It's difficult to maintain with a lot of children in the store, but the idea is that everyone keeps their distance. We're also very keen about using screens when measuring, because if we catch anything we're going to pass it on."
Bland said that lockdown had been "horrendous" for the first month, but had picked up markedly since then.
"Both our shops were closed, and online was about a quarter of last year," he added. "I think people were just worried and no-one knew what the future held.
Here's a little cribs style video showing the safety measures we've put in place to make the shop a safe space for all ready for you all to come down and visit!
Posted by Jake Shoes on Friday, June 12, 2020
"But when it started getting warm, there was a massive uplift in children's and ladies' shoes in particular. For the last month we've been 20% up on last year, and I've been hand-delivering all our orders locally around Altrincham, Sale, Stockport and Wythenshawe."
Bland believes that normality is likely to return in September.
"I think we might struggle until it all levels out in August, but then I think we will go back to normal. Social distancing will go down to one metre when the bars reopen next month I think, and one metre is much easier to manage than two.
"The local shops are in a much better position to manage it all than the big shopping centres. It will really help when the market reopens as well."
Comments