It was meant to be Altrincham's £70m flagship town centre development – but over a decade on, Altair remains a wasteland. Tom Scotson spoke to developers, the council, investors and local residents to find out what's going on.
"Altair is the missing piece of the jigsaw for Altrincham."
So said Nick Payne, then managing director of Nikal Developments, to Altrincham Today in a story published on August 29th 2014.
It was meant to be one of the most ambitious development schemes in the town's history – and on paper, it sounded exciting.
The 4.5 acre site – a patch of land off Oakfield Road that was used as a car park – would be transformed. The dilapidated leisure centre was to be replaced by a new spa-type facility; a new European-style boulevard would encompass 15 leisure outlets including restaurants, coffee shops and bars, a convenience store and offices; and there would be 150 new apartments and townhouses – plus a new car park – to boot.
At a time when Altrincham was still awakening from its Noughties slumber – the one that had seen it pilloried nationally on account of the prevalence of its empty units – the visuals released by Nikal promised a new beginning.
Rooftop terraces, sunlit boulevards, glass-fronted restaurants, al fresco dining and the kind of retail units that screamed 'big brands'; this was the new Altrincham, and what's more, was set to be only the start. "It's about dwell time," Payne told us, and the resulting investment would "add tens of millions of pounds to the Altrincham economy… It's an absolute no-brainer."
Nearly eight years later, and indeed 13 years since Nikal first got the green light for the scheme, a brick is yet to be laid. The site remains a wasteland, bordered by advertising hoardings featuring hipstery types with extravagant beards.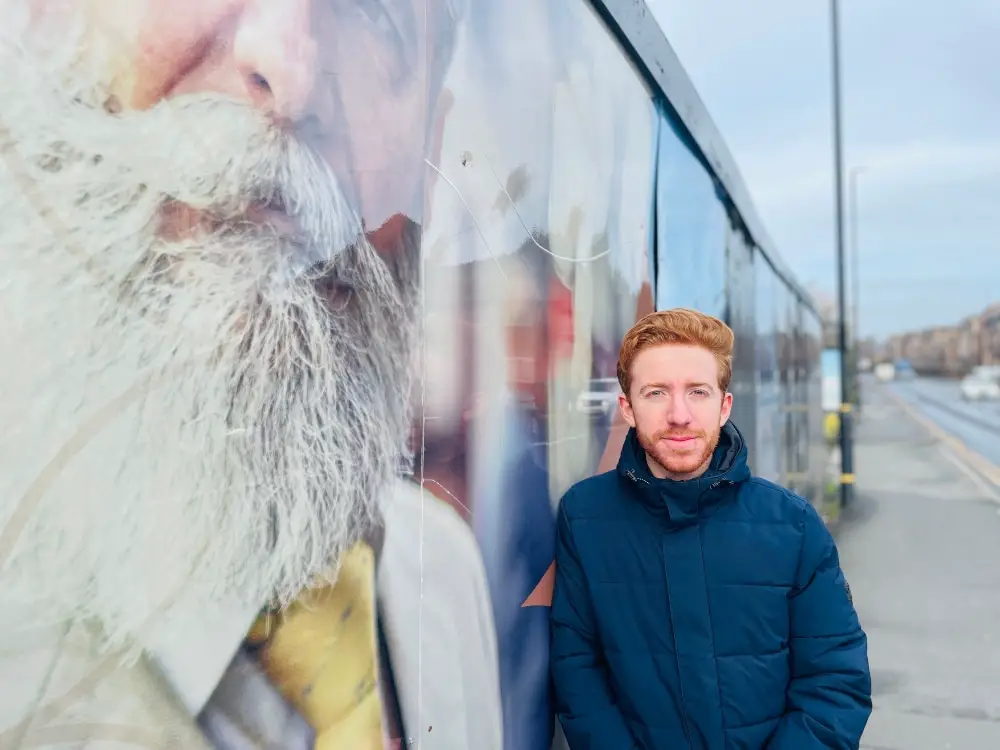 With Altrincham, starting with its transformative market, having become the very definition of the modern market town in the intervening years – one built on independents, not big-unit chains – the whole Altair scheme seems to be out of step with the town as it is now. Why would the best place to live in the UK need it?
So what now for Altair?
We spoke to Trafford Council, who signed a development agreement with Nikal back in 2015. They place the blame squarely at the developer's door.
"The Altair site is in the hands of developers Nikal who have significant plans for its redevelopment – but these have yet to come to fruition," the council told us in a statement.
"The Council is disappointed that Nikal have not begun work on the site given they have now had the ability to do so for over two years. We recognise this is a key site for Altrincham and continue to give every encouragement for development on the land to progress as soon as possible."
Yet Richard Fee, CEO of Nikal and head of the Altair development, contests the council's claims.
In an exchange of messages with Altrincham Today he said Nikal were "finalising matters with Trafford Borough Council who are landowners".
Recent reports have suggested Nikal and McGoff Construction have now teamed up to get the project moving again, with Nikal having secured funding from Puma Finance and the Housing Growth Partnership. Fee, however, would only say they have "formally submitted a funding strategy for Block 1 to our Landlord (Trafford Borough) and await their input".
To understand more about how this situation has arisen at all, it's worth returning to the Noughties, when the whole scheme was dreamed up. Before the credit crunch crisis of 2008, with retail thriving and online shopping still in its infancy, Nikal and David McLean Group were in charge of regenerating the land.
Together the companies envisaged a multi-purpose space packed with apartments, offices, shops, bars and leisure facilities.
Altair would also incorporate a new permanent ice rink, replacing the temporary Planet Ice, which was built in 2007.
However, the David McLean Group became a casualty of the 2008 crisis and sunk into administration. Nikal bought out its former partner's stake in the project and reassured the council that Altair would still go ahead.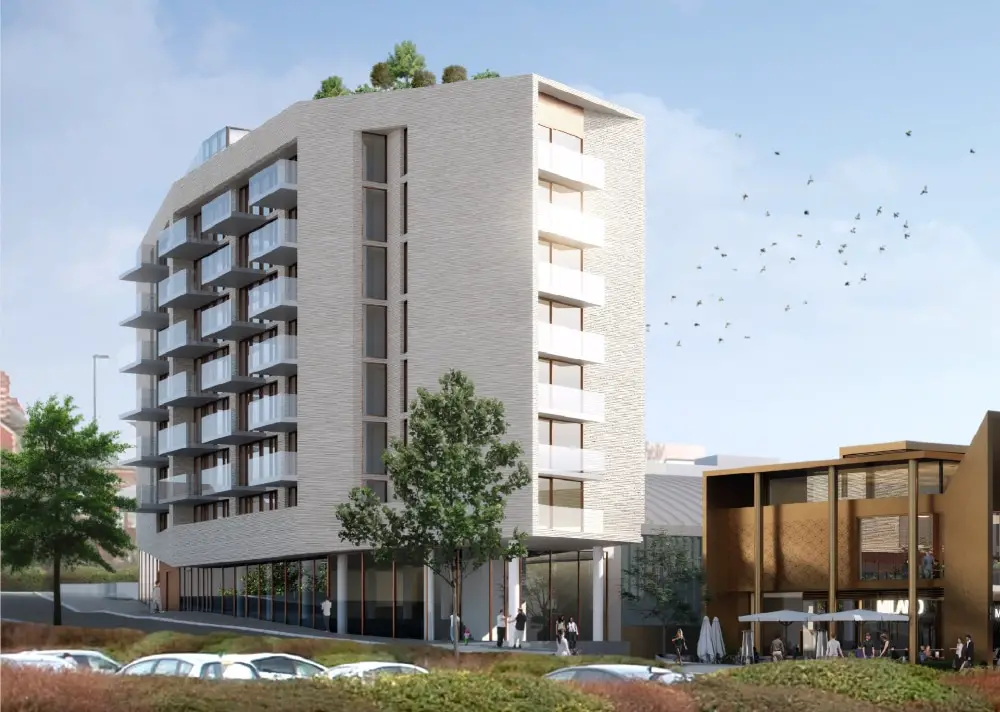 Under its leadership, Nikal proposed to build Altair in three separate stages. Phase one would involve the construction of residential accommodation, with phases two and three covering the retail, leisure and office work. After considerable delays, building work for the first phase was finally scheduled to start in autumn 2017, with planning consent for the second phase approved in the same year.
When Nikal received the go-ahead from Trafford Council in 2017 the company began to accept deposits for future apartments.
A source told Altrincham Today they were one of the dozens of customers who put down an initial £2,500 to reserve a property. Over the next two years they heard very little. Then in September 2019 they received a letter from Hillcrest Homes – Nikal's homebuilding arm – informing them that building works had finally begun. Yet in that same letter Hillcrest Homes told deposit holders that should they fail to cough up another £15,850 within 28 days, then they would lose their reserved home.
Nikal CEO Richard Fee claimed in a series of messages that the business is "giving deposits back when requested".
He added: "We only pre-sold 29 of 59 units. 11 [deposits] have been released on request [and] 18 remain. Those 18 will have seen the value of their apartments increase by at least 20% since they exchanged – so I suspect that's why they're staying in."
However, our source is yet to receive their deposit back. And from documents seen by Altrincham Today, customers can only get their money back six months after Altair's anticipated completion date – which according to one solicitor was December 2021.
By June 2022, our source will have waited five years for their full deposit of £18,350.
The same source told Altrincham Today: "I can't move anywhere; I need my deposit back to move elsewhere. Nikal always said they would keep me updated on the progress, I've had to chase them for updates and when I've done that, they just tell me they're expecting another update within the next month. No-one is taking responsibility, Nikal need to come clean and tell us this is not happening."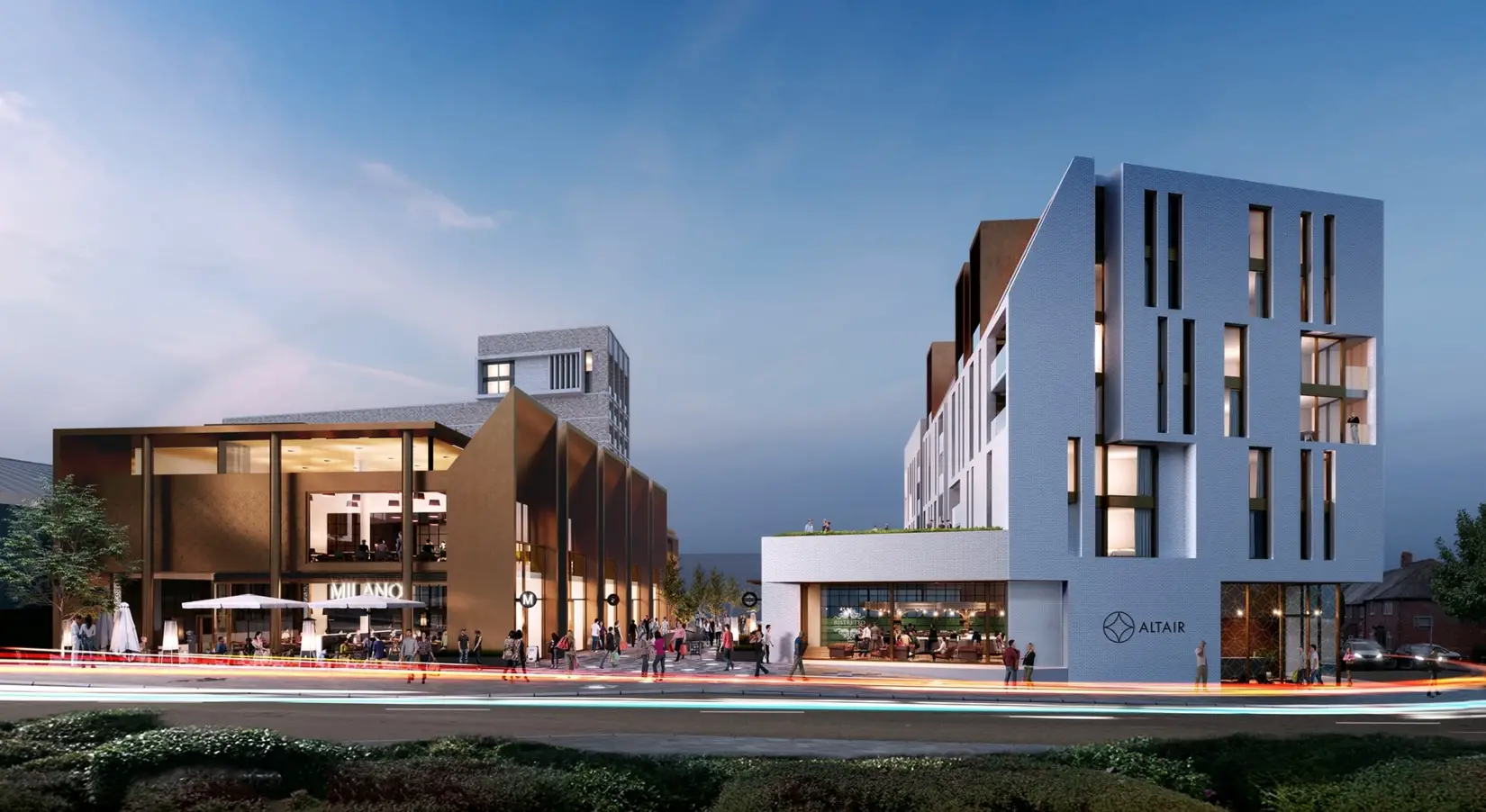 On a prime piece of land for redevelopment, many are confused why nothing has been done.
Gascoigne Halman's Land & New Homes Department manager Michael Thompson said he is "waiting for an update [from Nikal] and we are expecting it sooner rather than later."
Gascoigne Halman said they are no longer putting Altair properties on the market. Despite this, Nikal lists Altair as one of its existing projects on its website.
One member of Altrincham's business community believes the answer to the current saga could lie with McGoff, Nikal's supposed construction partners.
Messages obtained by Altrincham Today, however, suggest McGoff is not the development partner on the project. Despite a large advert for McGoff on site, the local business said it was contracted to strengthen a bridge near the grounds in 2019 and "have wholly honoured [its] commitments accordingly".
The lack of progress is frustrating local residents. Sarah Walmsley, 51, of Oakfield Road, who lives opposite the site, said: "When I bought my first house, I intended to keep it for five years, sell it, and move on up the chain. However, the Altair development has prevented me from doing so because my property is blighted by it."
Walmsley has actively campaigned against Altair, insisting Altrincham needs more homes and not shops and restaurants. Nikal offered Sarah and two other residents money in return for two agreements, one of which was a confidentiality contract to prevent her from damaging the "image or reputation of the development or developer".
Within the local business community there is an appetite to make use of the land. Local developers Citybranch, who coincidentally beat Nikal in a bid to build the Altrincham hospital over a decade ago, would like to take the project on.
The company's director Adam Gross told Altrincham Today: "If the opportunity presented itself I`d be absolutely delighted to deliver the Altair scheme."
Now well into its second decade, the Altair saga continues.
Comments