Altrincham will have a world-class music festival on its doorstep next summer - thanks to Anthony and Ed Prophet.
Tickets for The Brit Fest, the Altrincham-based festival featuring some of the best-known names in rock and pop, are now on general sale.
The much-anticipated family-friendly music festival will take place in the grounds of Ashley Hall & Showground from Friday 5th to Sunday 7th July 2024.
You can buy your tickets for the event by clicking below:
Demand for the event has so far been off the scale, with ticket registrations in their thousands.
The event will feature a who's who of some of the legendary British acts of the last 40 years.
Opening the festival on Friday 5th July will be Scouting for Girls, Cast, The Feeling, Starsailor, Lottery Winners, Reef, Dodgy, Chris Helme and Mike Joyce.
On Saturday 6th July, you can see Kim Wilde, Thompson Twins' Tom Bailey, Nik Kershaw, Johnny Hates Jazz, Real Thing, Paul Young, Sonia, T'Pau, Owen Paul and Hot Chocolate.
And then bringing the curtain down on a memorable weekend, on Sunday 7th July, will be Heather Small, Fleur East, Tunde Baiyewu from The Lighthouse Family, Toploader, The Bluetones, The Christians, The South, Cassidy Janson, Matt Ford's Big Band and Neeve Zahra.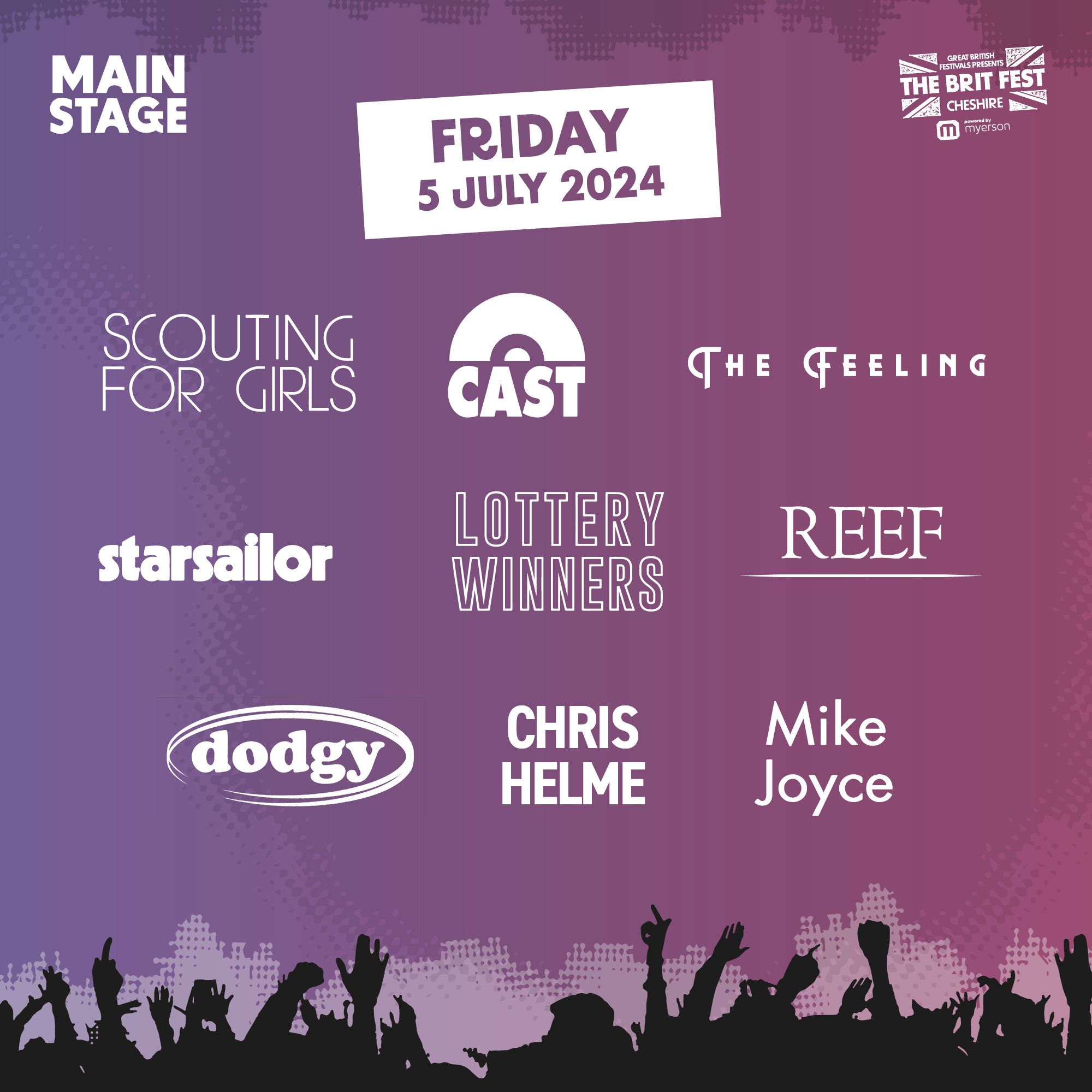 In addition to a full programme of live music, the festival will boast an entire weekend of fun activities to keep the family entertained spanning the 100-acre site.
We took a trip down to the Ashley fields where the event will be held to get the inside track on the brothers' plans for Brit Fest 2024.
ALTRINCHAM TODAY: The Brit Fest is an incredible project - tell us where the idea originally came from.
ANTHONY PROPHET: The Brit Fest idea was borne out of a real passion for entertainment and bringing something truly magical to life.
We have both worked in and around the entertainment and hospitality business for most of our lives, and this project really brought together decades of experience and allowed us to really use our core strengths and curate a huge festival.
AT: Having a British theme is a great idea - were you surprised that something like this doesn't already exist?
ED PROPHET: During the recent Coronation and Jubilee, the response by the great British public was absolutely incredible and I think this really planted a seed.
When we were looking to apply a strong theme to the festival it seemed the obvious choice. Celebrating the Best of British covers a huge variety of different elements and a concept that has been a real pleasure to curate and bring to life.
AT: When did you start working on the festival and can you give us some insight into the planning you've been doing so far?
ANTHONY: By the time the festival project was announced we'd already been working on it for almost 18 months.
Each element from securing bands to the correct licences, and of course, finding the right location were paramount to ensuring a successful event.
We also worked with a number of corporate partners prior to announcement, in particular Myerson, who are a Altrincham-based legal firm and also our 2024 title partner, which we are thrilled about.
Once the full bill of music was completed and contracted, we could begin work on the launch and the best route to announce this huge festival.
Whilst The Brit Fest is a festival very much for the North West and even wider afield given the acts on offer, we feel that it has a very hyperlocal attraction and that the surrounding areas of Knutsford, Ashley, Hale, Altrincham, Timperley and Sale will really embrace the benefit of having a festival of this magnitude right on the doorstep. The location is a five-minute walk from Hale village.
AT: You've both been involved with the entertainment business for many years - how has that experience helped?
ED: Having the relevant experience was crucial for this project. Given the challenges that would present when organising a festival of this size, it was crucial that we had the right foundations in place.
Both of us have been involved in hospitality and entertainment spanning decades and our Olivier-nominated work in London's West End as producers all played a pivotal role in ensuring we had both the experience and confidence to launch The Brit Fest.
AT: What's the reaction been like since you officially launched the event in July?
ANTHONY: The reaction has been truly incredible. Within days of announcing the festival, we had thousands of people sign up for priority release tickets and our social pages grew at a rate that far exceeded our initial expectations.
It seems that everywhere we go locally, people want to know more about it and want to ask questions and make artist suggestions for future festivals, which is just amazing.
This project was about bringing people together and bringing true world-class entertainment into our town, and judging by the feedback so far it really has started to achieve what we set out to do.
We really hope people continue to get behind the festival, buy their tickets for themselves and their families and immerse themselves in an amazing weekend.
If not just music, but a true celebration of British culture and its diversity, its history, its heritage and not forgetting the enormous fairground, huge artisan market and loads of street entertainment and installations. These will keep you entertained for hours and hours.
One of the other wonderful benefits of the locality of this festival is that you can attend a three-day festival and every night go home to your own bed and have a shower and take glamping to a whole new dimension!
AT: The line-up of artists you've managed to attract is amazing, especially for an inaugural event. How have you managed to secure such an array of big names?
ED: When we started to compile the wish list for the inaugural festival, we split it into three obvious days.
The Friday has undertones of a 90s celebration; the Saturday is very much about the 80s, and the Sunday, a feel good family day.
When we took the concept to agents and band managers, they all instantly loved it and wanted to be part of it from the very beginning.
After consulting with diaries and other commitments they already had, we very quickly gathered the shortlist which we were then able to confirm and which you now have as The Brit Fest 2024.
We are absolutely thrilled with the names that we have across the full weekend.  All the musical performers are headline acts in their own right and all British, and we couldn't be happier with the music that we have over that weekend.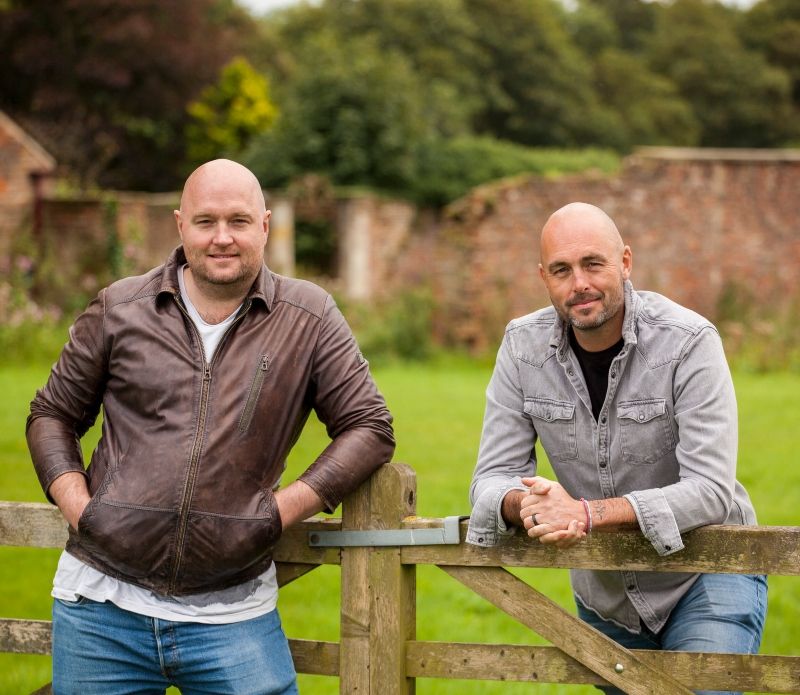 AT: The Brit Fest isn't just a music festival though, is it?
ANTHONY: You're absolutely right, this festival is far more than just the music. It's a fully immersive festival experience, celebrating our amazing British heritage.
When you arrive at the festival, you'll be greeted by incredible street entertainment, a family fairground, an enormous artisan market run by Taste Cheshire, and all around the festival site, there will be so many things to do and enjoy above and beyond the music.
We cannot wait for you all to come down over the weekend of the 5th, 6th & 7th of July 2024, get involved and just experience the true joys we have planned. You will not be disappointed!
AT: Tickets are now on sale - what can people expect from The Brit Fest 2024?
Tickets are now on sale at The Brit Fest and the pre-sale allocation sold out within the first 24 hours, which shows just how well received this festival has been. Secure your tickets early, whether it's for the full weekend or day tickets. The full day-by-day line-up can be seen on our website.
You will absolutely love The Brit Fest 2024, we can guarantee it!
Day tickets cost from just £60, with weekend tickets priced from £145. Buy your tickets now at The Brit Fest. For volunteer and vendor enquiries, please email info@thebritfest.co.uk
Comments