The pre-pantomime show at the Garrick is one of Alan Ayckbourn's very best comedies, Season's Greetings.
For everyone who sees it, Christmas will never be quite the same again
Shortly after writing it, Ayckbourn described the play in the following terms: "The family reunion, the pile of brightly wrapped presents; the log roaring in the grate; a children's puppet show and a Boxing Day tea; turkey dinners; paper hats; crackers and streamers; around the base of the gaily decorated tree an extramarital relationship; a couple of stray gunshots in the hall. All the ingredients for a traditional English Christmas."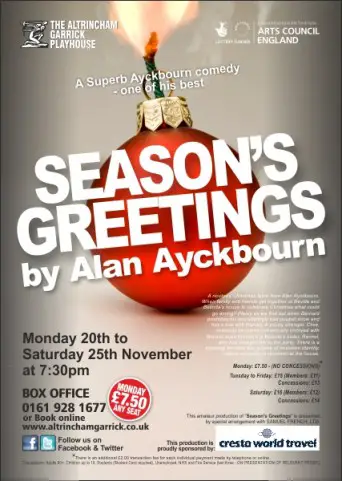 The Garrick has put on this play twice before but with a gap of 20 years it was time for a revival. One of the cast actually appeared in the last production (though playing a different character) as did director, John Chidgey, who promises an evening full of laughs, and it being Christmas, tears as well.
Season's Greetings runs from Monday 20th to Saturday 25th November, with Monday night already sold out. This production is sponsored by Cresta World Travel.
For tickets, ring the box office on 0161 928 1677 or book online here.
Comments