Jazz singer Sara Dowling returns to the Cinnamon Club next month just weeks after her dazzling performance at the Jazz Voices festival in April.
She plays the Bowdon venue on Friday 5th July – tickets are still available here.
And this time the Sara Dowling Quintet will feature Vasilis Xenopoulos on saxophone, who has an immense reputation on the London jazz scene.
We caught up with Sara to get her thoughts on her July gig…
ALTRINCHAM TODAY: Sara, you're back at the Cinnamon Club on July 5th. You were last here for the Jazz Voices festival in April – how was that experience?
SD: Closing for the Jazz Voices festival was an honor. The ever energetic and restless Neil Hughes organised a three-day festival with its focus on singers and the emotion and power behind lyrics and songs. What a tremendous idea and how beautifully it came to fruition.
It was a joy to see so many incredibly talented musicians from the Manchester scene, many of them I knew from my early years starting out as a jazz singer when i still lived in Manchester. I closed the whole festival on the Sunday night to a very loving audience. The Cinnamon Club is a very special place built on many years of hard work and belief in 'live music'.
AT: Where does your love of jazz come from originally?
SD: Well my papa absolutely loved jazz and would play it on this rubbish tape player on the farm yard as we brought the sheep in. Lester Young would mellifluously waft over the sheep in the dying light of day.
Even as a teenager I listened to a lot of jazz because it was an escape from having to listen to so much classical music in the library everyday when I was at music school as a kid. I listened on repeat to Charles Mingus Plays Piano, Sketches of Spain Miles Davis, Lee Morgan (Cornbread) and Ahmad Jamal Live at the Pershing. I would find all these albums at Vinyl Exchange which was situated in what was then a very run down Northern Quarter and my other hang out was the wonderful 'Decoy Records' right near the cathedral. I can't believe how much it's all changed!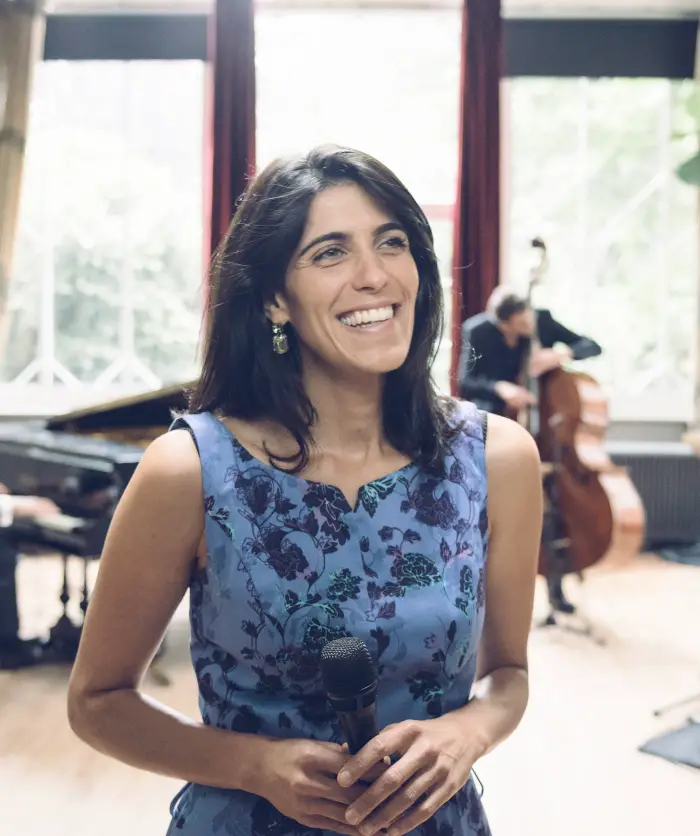 AT: Manchester has played a big part in your career, from training here to a certain visit to Matt & Phred's Jazz Club?
SD: Well, when I gave up the cello and started a life as a school teacher, I was teaching at a school in Bolton. In retrospect it was a very important transitional phase and I made a few very dear friends too, but I grew tired of the job and yearned to be back on stage. So one day I just passed by Matt and Phred's Jazz Club in the Northern Quarter when the jam night was on and decided to foolishly get up and sing a number! The rest is history…
AT: Who are your musical heroes, and who most inspires you today?
SD: I would say Sarah Vaughan and Betty Carter inspire me the most. I love the fact that they both display such strong musicianship in their singing. They have a huge amount of technique which enables them to express their musical ideas. That I appreciate from being a classical musician. The moment one starts to play classical music, technique is the only vehicle to enable you to play so much repertoire and be able to express yourself on your instrument, there's no getting away with it. To be perfectly honest, all those jazz singers who are no longer with us are my heroines. They represent a time which resonates a lot with me and I can't quite explain the feeling I get when I hear any of those girls, it's magic!
The Sara Dowling Quintet plays The Cinnamon Club Lounge at 7.30pm on Friday 5th July. Tickets: £15, book online here.
Comments