Jeeves and Wooster in Perfect Nonsense, a hilarious and bonkers farce and former winner of the Olivier Award for New Comedy, is coming to the Altrincham Garrick.
The play will open at the Barrington Road theatre on Monday February 17th and run until Saturday February 22nd. The Monday performance is already sold out.
With a wonderfully stylish set, a highly creative director in Barry Purves, three outstanding comedy actors and live ukulele music from the 'UkuHalee Band' U3A, the audience can expect an evening of fast-paced comedy, dramatic car chases, heinous heists, swooning lovelies, and the odd, very odd, newt impersonation.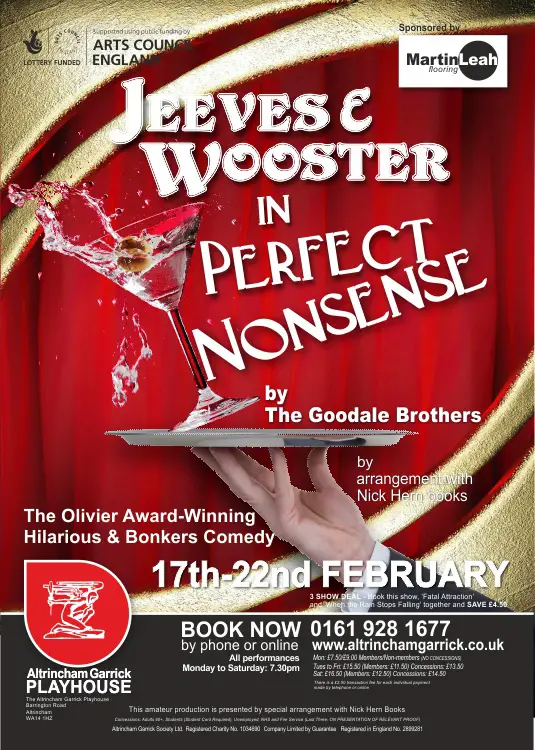 The Goodale brothers' play sees Bertie Wooster struggling with how to explain a particularly frightful weekend at Totleigh Towers, involving an 18th century cow creamer, saucy romantic shenanigans, and much heroic derring do.
A play is the answer and soon the stage is peopled with a dozen gloriously eccentric characters such as Gussie Fink Nottle, the fierce Aunt Dahlia, Stiffy Bing, and the beautiful Madeline Bassett, all gallantly played by just Wooster, Aunt Dahlia's butler Seppings and Jeeves himself, who against all odds, endeavours to bring order to the escalating chaos.
The Evening Standard said that "this unapologetically frivolous show should entertain those who have never been exposed to Wodehouse, and devotees will lap it up".
For full ticket details, visit the Altrincham Garrick website or call the Box Office on 0161 928 1677 Option 1.
Comments