A Hale artist says she was "the happiest person in the world" to discover her work had been selected for exhibition by the prestigious Royal Academy of Arts.
Michelle Taube is best known for her streetscape collages, many commissioned by local families and businesses in the Altrincham area.
But in September 2022 she decided to diversify into a series of idiosyncratic flower paintings, many with slogans imagining what the flowers would be saying to the recipient.
Demand for the oil paintings quickly took off, and the icing on the cake came this summer when one piece - Seeing Purple - was shortlisted out of 13,000 entries and hung at the Royal Academy of Arts in London.
"I can't believe I got in, the selection process was incredible," she said. "All the selected artists were invited down to the Royal Academy for something called the Varnishing Day, which is the traditional start of the Summer Exhibition.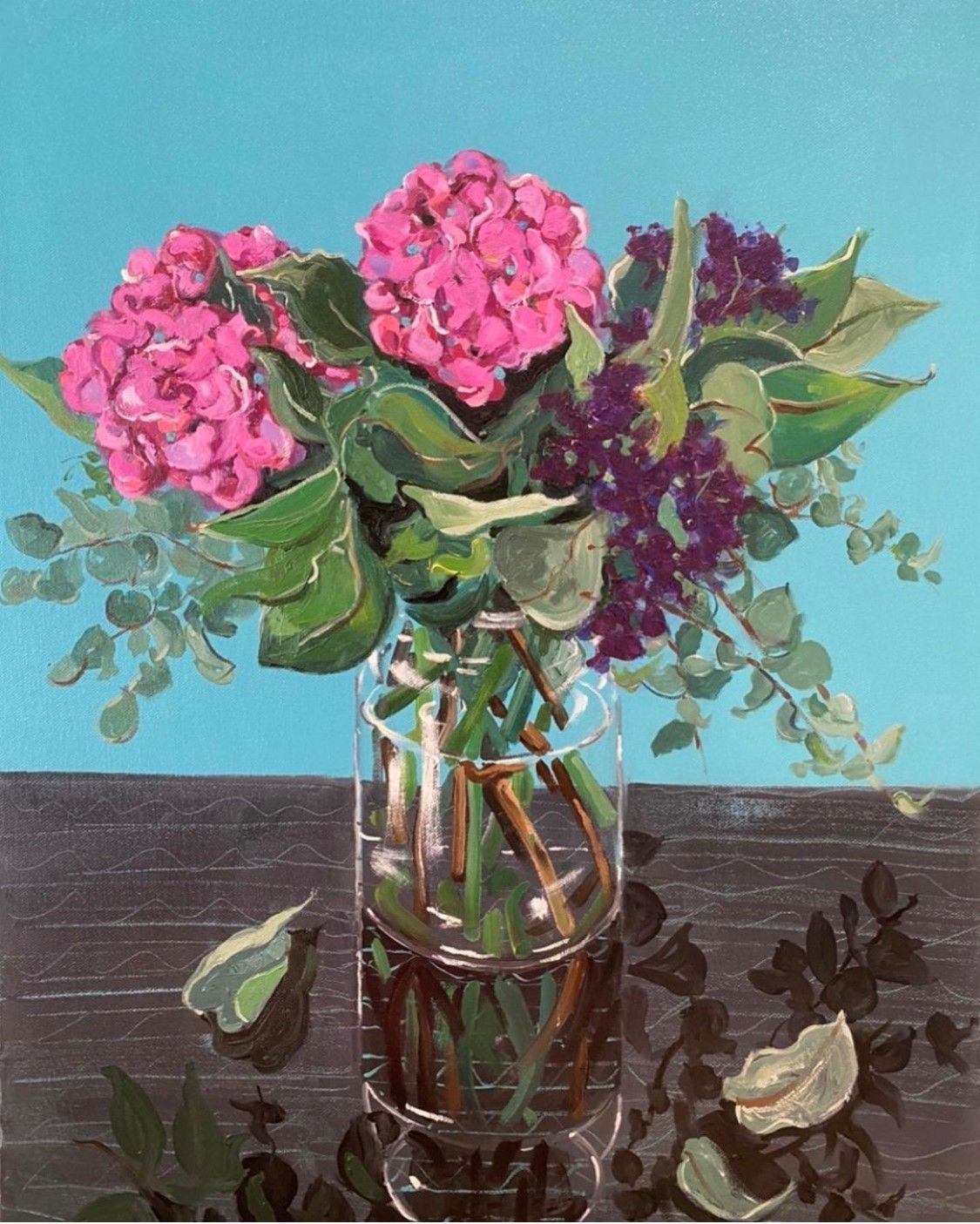 "It was so exciting. It made me the happiest person in the world, and as I said to my husband, up there with my wedding day!"
Taube said the original idea for the flower collection - which are either painted on canvas or linen - came about as a reaction to the usual 'chocolate box' style of flower art.
"That's everything I hate about a painting, so I thought how would I do it in my own style.
"The answer was to make them bright and pop, more contemporary, cooler and younger. Someone described the style as someone wearing a pretty flower dress with a pair of Doc Marten boots, which I like."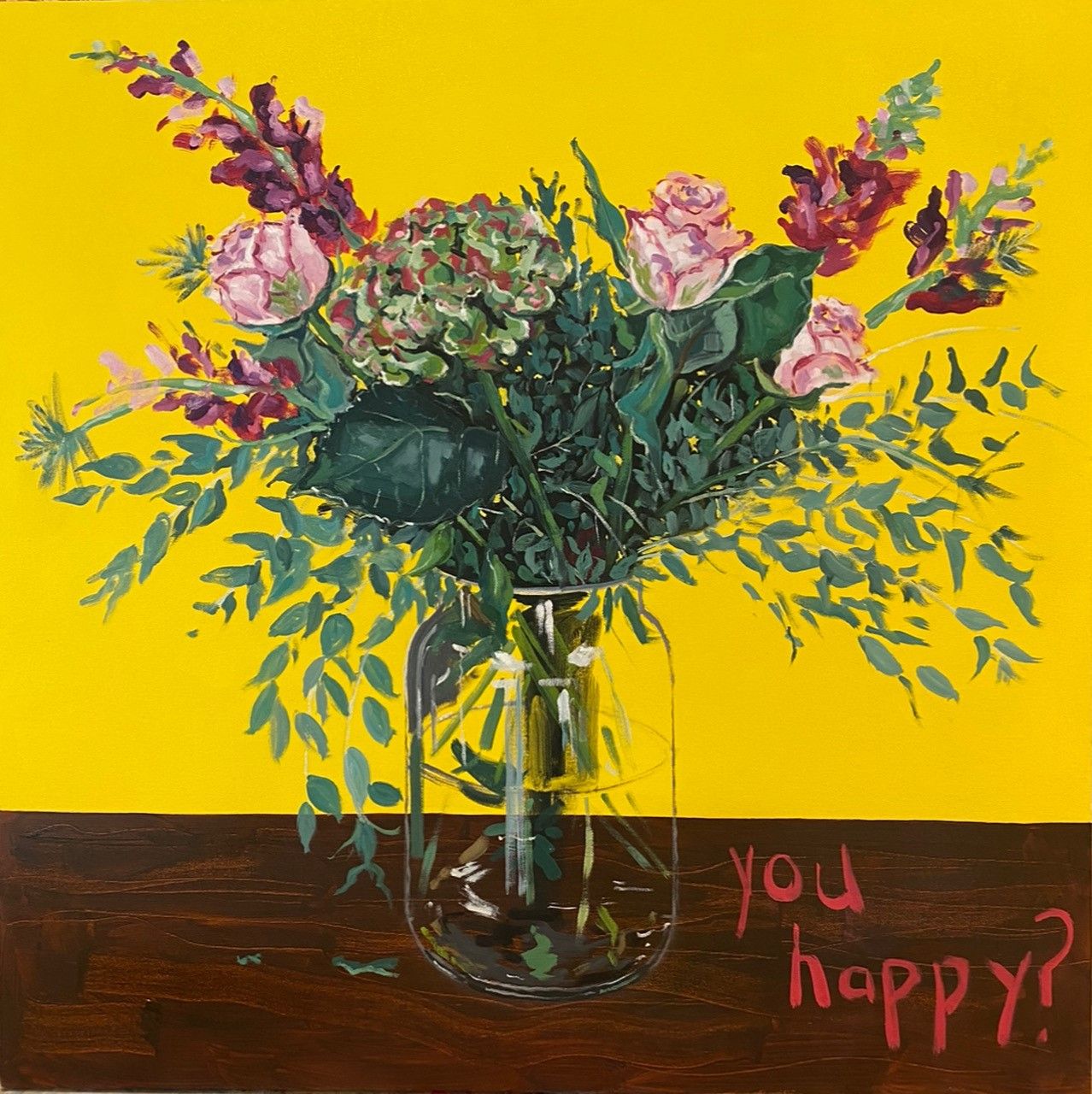 Some of the paintings have edgy phrases scrawled on them, such as 'You happy?', 'You make me feel loved', 'Sorry for being so beautiful' and 'Nobody cares about your flowers'.
"I imagined what the flowers would be saying if they could look at you," Taube said. "I've been given flowers before when they weren't really meant. The words are looking behind the reasons for giving them."
The Royal Academy exhibition has led to other opportunities, with Taube following in the footsteps of the likes of Damien Hurst and Grayson Perry in being asked to produce four postcards for the Art on a Postcard Winter Auction in London, with proceeds going to The Hepatitis C Trust.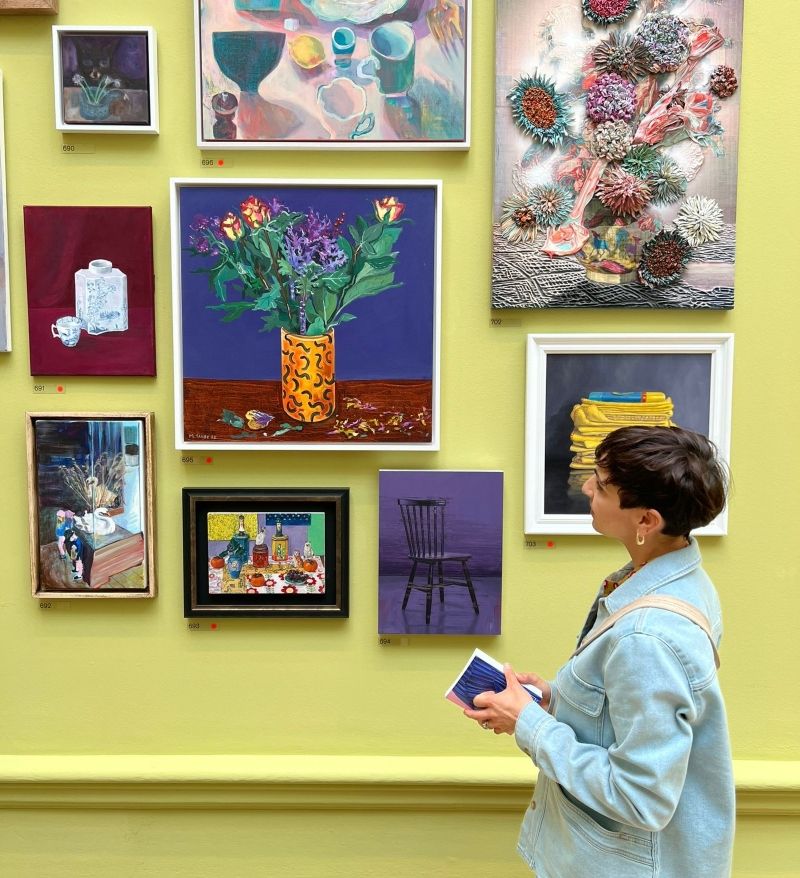 Taube has also exhibited at the Blue and Berry Gallery in Macclesfield, the Manchester Made exhibition at Waterside Arts in Sale and the Tarpey Gallery in Derby.
She's also been contacted by Sky Arts and will be involved in a new TV programme about David Hockney.
Many of the flower paintings have already sold but some are still available. Michelle will be open for commissioned work from November. For more information, visit michelletaube.com or follow her @_michelletaube on Instagram.
Comments