Anneka Davies, 34, first became interested in dressmaking at her grandmother's knee.
Now, with business booming, she's moved into the former Pinwheel haberdashery shop in Timperley village and launched her first shop, Button and Bride.
We stepped inside and had a chat.
ALTRINCHAM TODAY: You've opened in the space many will remember as the home of Pinwheel – how long have you been here?
ANNEKA DAVIES: I opened at the end of November. I was in an office above Costa Coffee in Timperley for three years, and before that I was at home for six years in our converted garage. When I was on maternity leave I began to look elsewhere as my office filled with plastic toys and it became my son Harry's room, so I got the office, and to be honest it has exploded from there. I got a couple of wedding dress shops that send me their brides, like The Bridal Path in Altrincham and Honeyblossom Bridal on Washway Road in Sale.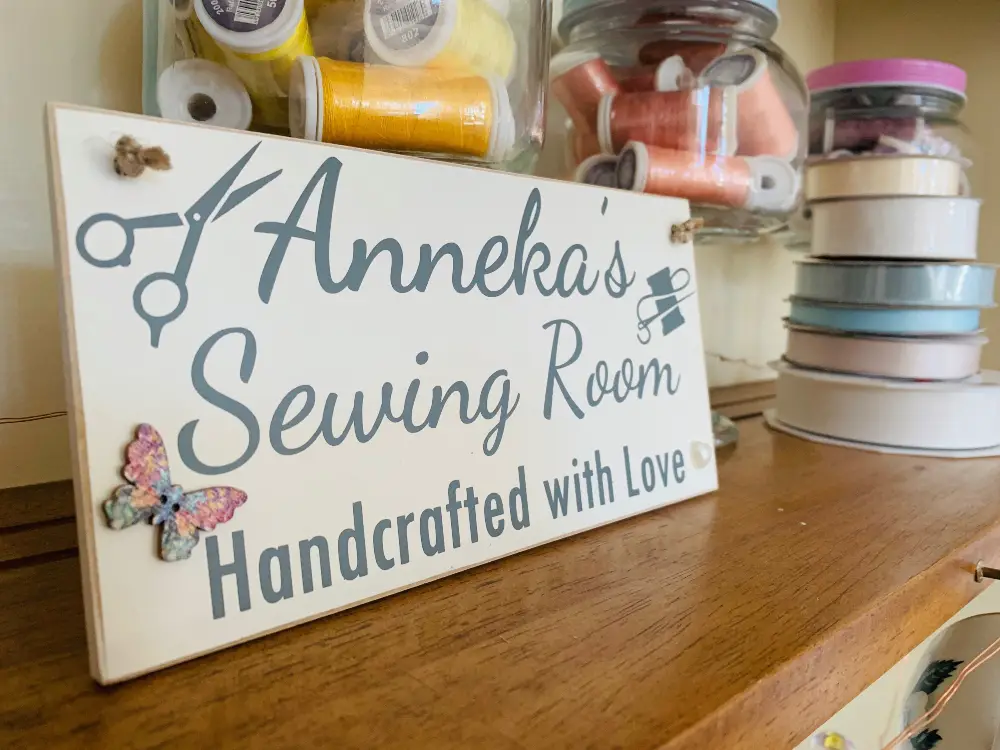 AT: Dressmaking is very much in your family – your grandmother was a seamstress?
AD: She was, yes. She left high school early and became a seamstress, and she did really well at it initially. For most of her life she did it alongside other businesses but she always wanted her own dressmaking shop. She used to go to people's homes and make clothes for them and do alterations. She made my mum's wedding dress and bridesmaids' dresses, she made her own dress, and she made the vast majority of the Christening dresses of the children in the family.
Then when she was about 60, she went back to college to do a pattern-cutting course, and I was her model for her final collection. It was through that we started talking about dressmaking, and I used to design dresses for my Barbie dolls and she would make them. I went on to do fashion at Salford University – she found out just before she died that I'd got in. I took her scissors, needles, threads, books, everything with me. I've got all of her patterns too, which are amazing as fashion has come back around.
AT: What did you do after college?
AD: While I was at uni I was walking past Rosehill womenswear tailors on Washway Road, and I randomly walked in and couldn't believe how amazing it was. He showed me round and gave me work experience, and he helped me to source fabric for my final collection, and then when I left uni he employed me as a seamstress sewing the linings. I'd sit there hours and hours sewing the linings. I was also the seamstress for Johnsons Dry Cleaners in Sale, but I was the youngest seamstress by 25 years! They'd send me over to their Manchester shops and I'd do quite a bit of designer stuff in there. And I just built up from there. I used to be called Make Believe Couture but I started to hate the name so I changed it to Button and Bride because this is me: alterations and bridal.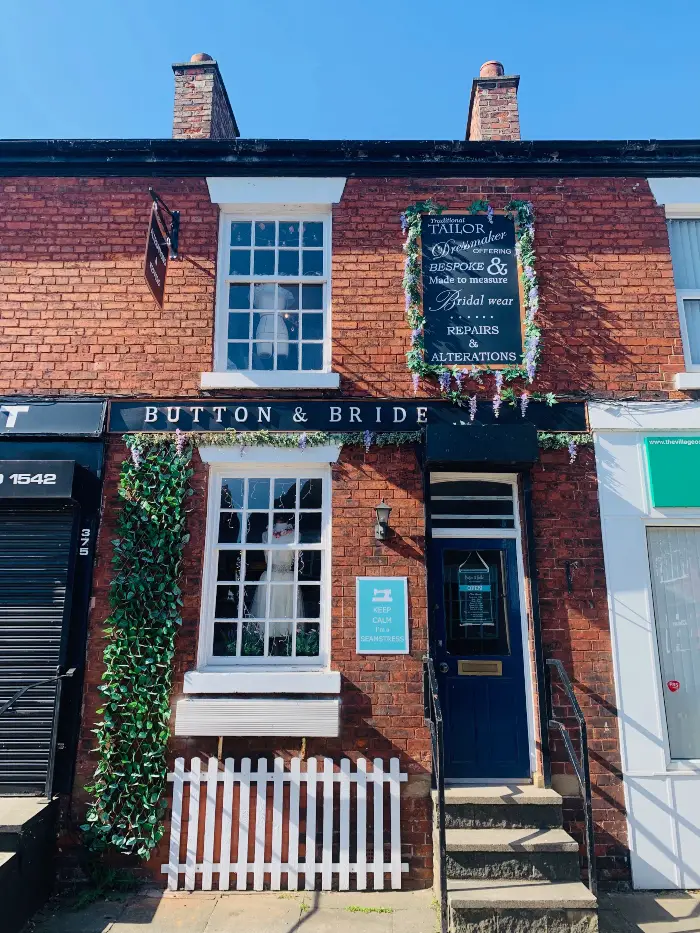 AT: How did you come to have this place in Timperley village?
AD: Trish, who ran PInwheel, called me up one day and asked me if I wanted to take on her lease. We were already in contact because I used to come here for haberdashery things. She used to recommend me for bridal alterations or tailoring that she couldn't do. I had been looking for a space for a good year but places kept falling through. Then all of a sudden someone rang me!
AT: So can you explain exactly what services you offer?
AD: I'm basically a local dressmaker doing everything from buttons to brides. The door's open for people to come in for any kind of alterations.
AT: How do you work with a bride, from the moment she walks in the shop?
AD: Usually brides will have a very clear idea of what they want – they'll have an image and I just have to copy it, which I'm quite good at doing. From that point it's about finding the fabric that's as close to what they want as possible, because big designers own the rights to those laces. The manufacturing companies will make those laces just for those designers, so you have to find something that's similar. I do have shapes as well that brides can try on, and I'm also going to be making some made-to-measure dresses that they can order in different fabrics.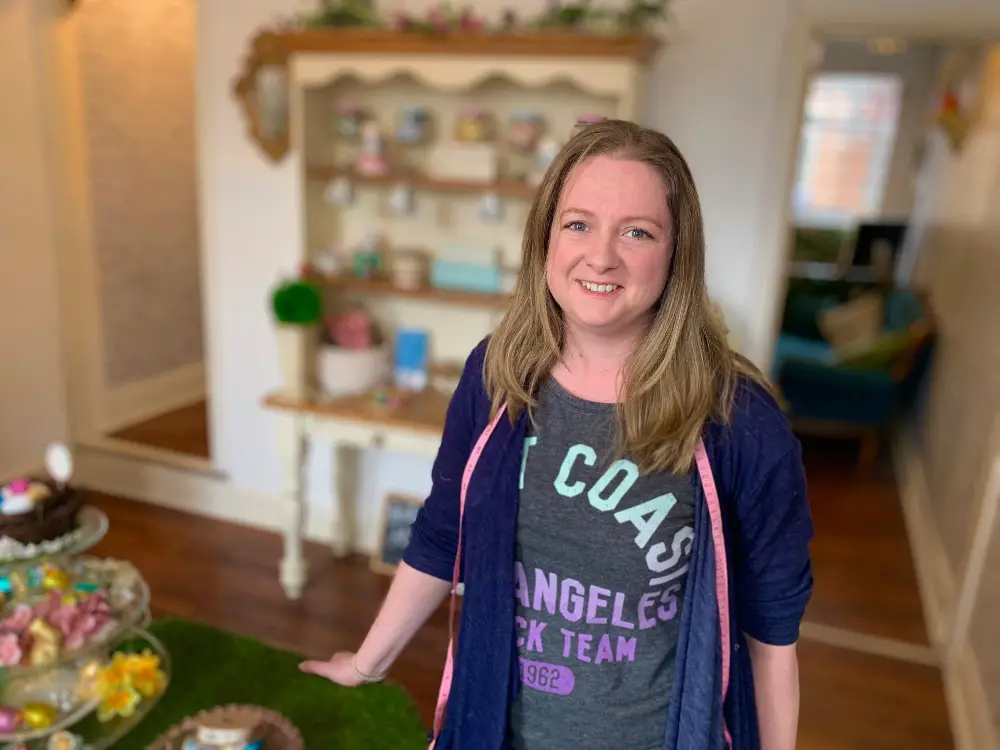 AT: Where are you getting your main customers from at the moment?
AD: WED2B have opened up a shop in Manchester city centre. They've not been going for long but they sell beautiful wedding dresses for around £600, and you can just buy them off the rack. I'm on the list for Manchester now and get a fair amount of orders from there.
AT: It must be really satisfying work, especially once you've seen the pictures of the happy bride wearing your dress on her day?
AD: I do enjoy making the dresses from scratch, that's really nice. But I do also really enjoy altering wedding dresses because it's always a different dress and it's always styled in a different way. It's like a puzzle for me to fix. How am I going to make this dress fit this bride the way she wants? And yes I do get such lovely pictures as well. They love me if I make their dress, but if I make fit the dress that they fell in love with, they love me even more!
AT: Did you make your own wedding dress?
AD: Yes – I made my wedding dress, my five bridesmaids' dresses, my two flower girls' dresses, my mum's mother-of-the-bride outfit and then I tailored all of the suits for the lads. Everyone was like, 'Anneka, why?' But it was fun!
AT: What are your plans now for this shop – any thoughts of a second one yet?
AD: I'd like to try and make it work as best I can from here, as then it will always be me who speaks to the customers. I have a friend who comes in and does some sewing, but I'm very much in control of everything that gets altered. I do want to stay here as best I can – my family is settled here now. My little boy goes to nursery just over the road and my husband is a catering manager at a nursing home on Park Road, so we're Timperley village through and through now. And my dad owns the chippy on Grove Lane!
Button and Bride, 377 Stockport Rd, Timperley, Altrincham WA15 7UR. Visit buttonandbride.co.uk for more information or follow @buttonandbride on Facebook, Twitter and Instagram.
Comments