An Altrincham sports store manager and cancer survivor is swapping dry land for the waterways of the North West as he embarks on an epic canoe challenge to raise money for Stand Up To Cancer next week.
David Sing, 30, who works at Sports Direct in the Altrincham Retail Park, will be taking his place in a team of cancer survivors and celebrities who will be paddling five canoes over 120 miles in five days.
Starting in Chester on Monday 25th September, the rowers will navigate the canals and locks of Warrington and Manchester before finishing at Liverpool's Albert Dock on Friday 29th September.
Stand Up To Cancer's Great Canoe Challenge aims to inspire people across the North West and the UK to raise money for game-changing research into the disease.
A host of celebrity supporters, including TV presenter Anthea Turner, Judge Rinder, TV personality Michelle Heaton and Hollyoaks stars, will be joining David each day to help him reach the finish line.
A joint fundraising campaign from Cancer Research UK and Channel 4, Stand Up To Cancer aims to speed up the translation of incredible scientific discoveries into innovative cancer medicine, tests and treatment.
As the countdown starts to the paddling extravaganza, David is calling on people across Altrincham to show their support.
David, from Bootle, Merseyside, was diagnosed with testicular cancer in 2012 when a scan at Fazakerley Hospital (now Aintree University Hospital) found two tumours – the size of a small pebble – in his left testicle.
Watch a video about the challenge, featuring David:
He had surgery to remove the tumours at Fazakerley Hospital followed by intensive chemotherapy for nine weeks at the Clatterbridge Cancer Centre where he remembers bursting into tears at his first session when he saw an old lady who was also being treated and had lost her hair. He is now coming up to five years of clear scans.
The 30-year-old, along with girlfriend Chloe, 26, has already raised more than £10,000 for Stand Up To Cancer and knows only too well how crucial new developments and breakthroughs in treatment are in helping children and adults survive cancer.
He decided early on in his treatment he wanted to do something proactive to fight back again the disease and together with his girlfriend Chloe has already raised more than £10,000 for Stand Up To Cancer through an annual football match and charity night and raffle auction.
David, who lives at home with his mum Christine, dad Stephen, sister Jenni, 25, and 20-year-old brother Adam, said: "It was a shock when I was diagnosed with cancer but thanks to research and treatment I'm still here today.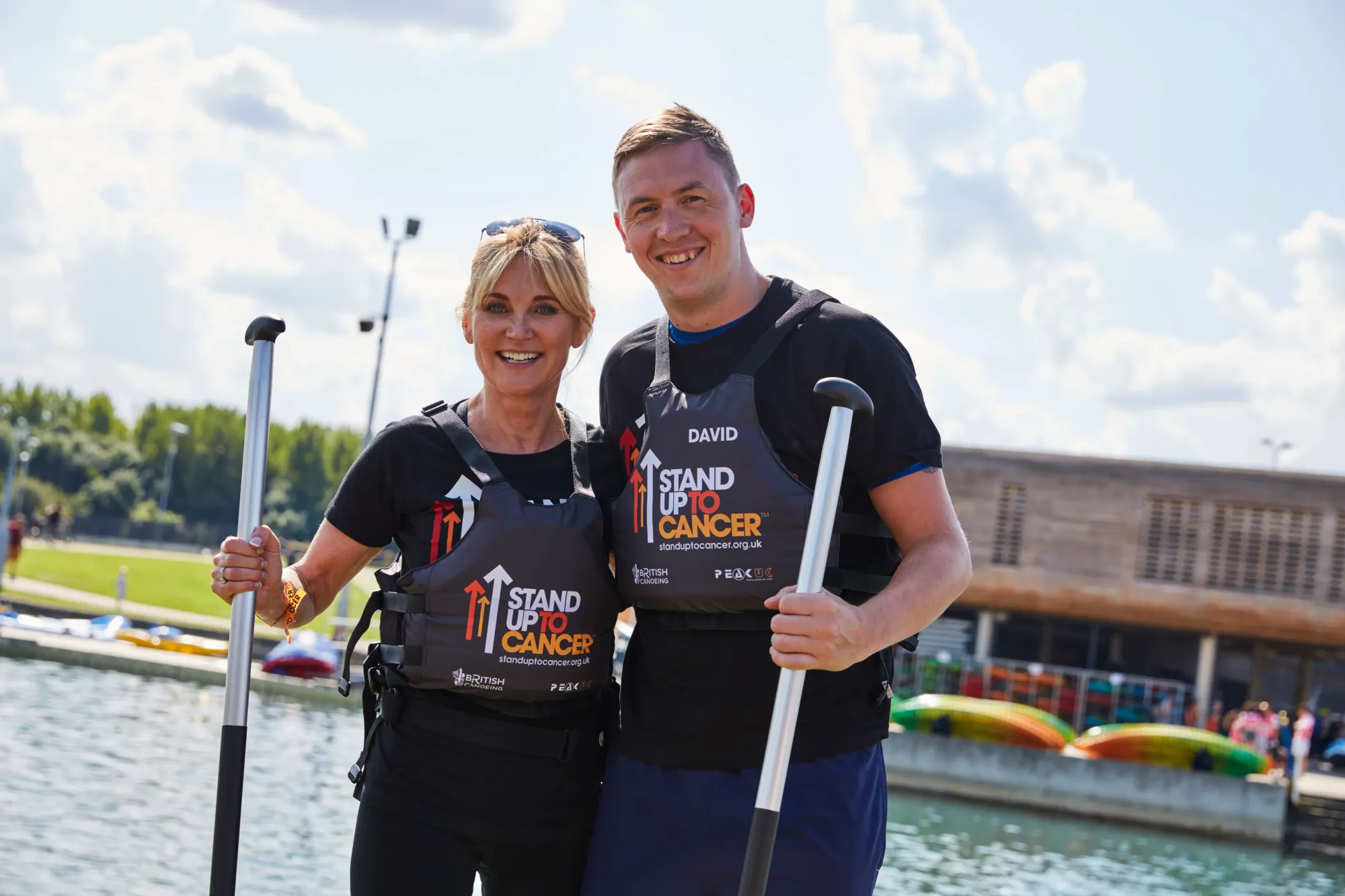 "I was only 25 at the time and cancer wasn't really something which was on my radar back then but now I think it's really important for young men to talk about cancer because although our cancer risk goes up as we get older, it's not just something which affects older people.
"For me, my motivation to Stand Up To Cancer is to encourage others to do the same. By taking part in the Great Canoe Challenge I'm helping to turn my cancer experience into a positive.
"Hopefully it will show people that there can be life after a cancer diagnosis and I want to inspire as many people as possible to support Stand Up To Cancer's amazing research."
David will start the challenge in a two-man canoe shared with TV presenter Anthea Turner, who he met at a recent training day.
Anthea said: "I'm delighted to be supporting this brilliant challenge for Stand Up To Cancer. Meeting all the paddlers who've experienced cancer first-hand is going to be really inspirational and I'm so happy to be joining David in his canoe. He is undertaking a heroic challenge and I'm excited to be a part of it and help raise funds for cutting-edge research."
To support the Great Canoe Challenge paddlers and donate £5 or £10, text CANOE5 or CANOE10 to 70404** or donate online at www.standuptocancer.org.uk/canoe
Comments