Altrincham charity buskers Loose Change have received a national award from Cancer Research UK after raising an astonishing £450,000.
Loose Change, who perform in town centres across Trafford, South Manchester and Cheshire, scooped the accolade of Community Organisation of the Year, beating off competition from across the UK at the charity's annual Flame of Hope Awards.
The awards acknowledge remarkable efforts in fundraising and volunteering made by people from all walks of life.
The group was founded in 2010 by Timperley and Altrincham musicians Bernard Dolan and John Fogel after the death of a close friend.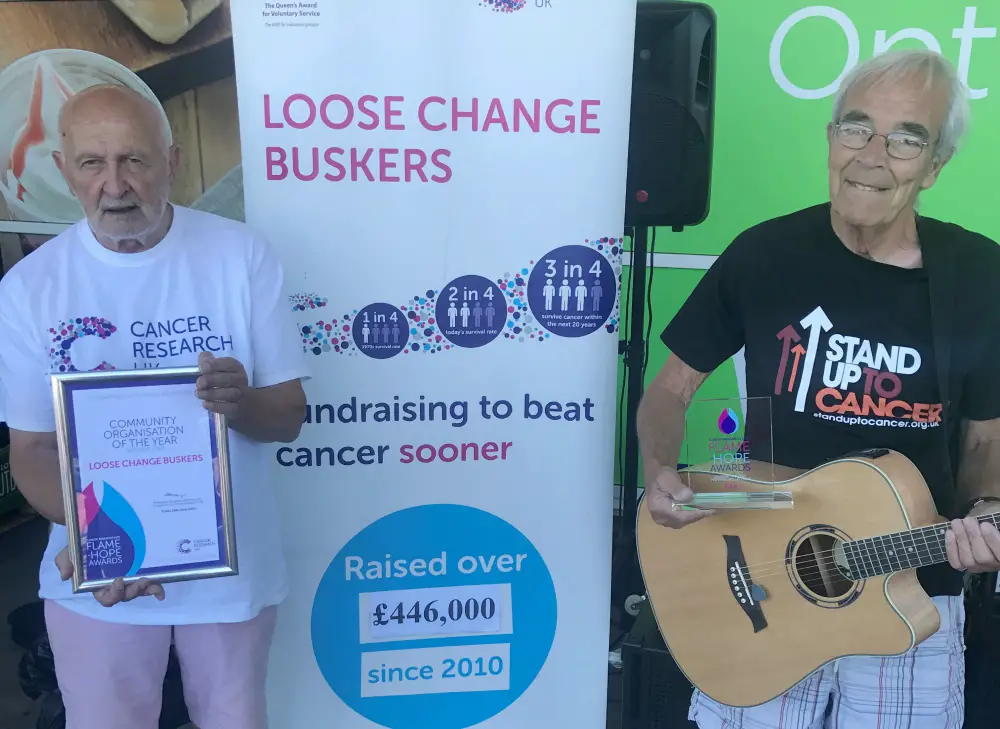 It now has 35 members, including musicians and bucketeers who collect coins from members of the public. They take it in turns to busk in town centres and at events in South Manchester and Cheshire every weekend collecting loose change for Cancer Research UK.
Bernard said: "It's really nice to get this award and know that we are appreciated. Our musicians give up so much of their time and we keep the cause very close to our hearts. Everyone knows someone who has been affected by cancer and we never lose sight of why we are doing this.
"We've been to see the work carried out by Cancer Research UK scientists in Manchester and it's so interesting to see the important work being done."
Alison Barbuti, Cancer Research UK spokesperson for the North West, said: "Every step we make towards beating cancer sooner relies on every pound, every hour and every person.
"These awards are our way of honouring incredible people like the Loose Change Buskers who give their time freely to raise money for research and promote greater awareness of the disease, and yet ask for nothing in return."
Comments