The first edition of the Altrincham Today magazine was out in November 2017.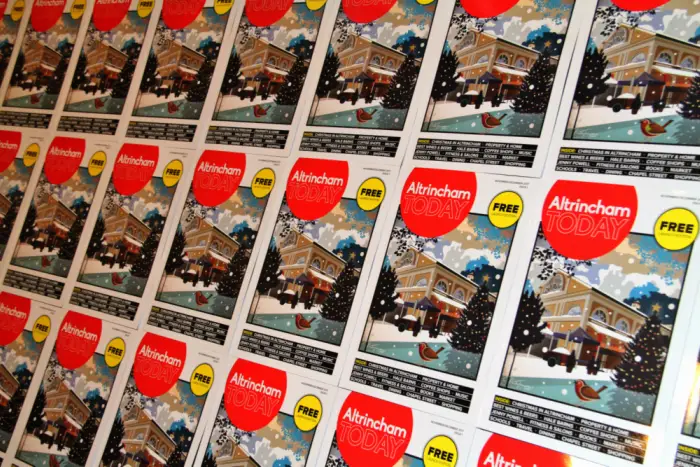 Here are a few thoughts we had at the time about why we have launched a print magazine…
So why have we launched a magazine?
Good question. After all, we are the best-read online title in Altrincham, with 130,000+ unique monthly visitors, a highly engaged Facebook community of 21,000+ and over 10,000 Twitter followers. The magazine is definitely not replacing our website – our focus is very much on growing that and expanding into more areas.
But while certain forms of local news journalism are now irretrievably broken, reports of the demise of all print have been exaggerated – the recent resurgence in print books and vinyl records has proven there are still a lot of people who like the printed, real form.
More importantly, we believe that the combination of a daily web service and a printed periodical magazine is simply a great way for us to keep readers informed about everything that is going on in Altrincham. The website remains the home for breaking news and other newsworthy stories about the issues Altrincham cares about; the magazine is now the place to go to take stock of the growth and regeneration that Altrincham is increasingly a byword for – a hub for the 'new' Altrincham, if you like.
Won't everything in the magazine just be on the website?
No – 99% of the content in the magazine is completely unique and has never been anywhere else before. We will be occasionally sharing some of the magazine articles on the website over the next few weeks, but the only way to see the vast majority of the magazine will be to actually pick up a copy.

How much will it cost?
Nothing. The Altrincham Today magazine is completely free and is yours to put in your handbag or other less feminine carrying vessel, take home, refer back to, chew over, cogitate on and generally thumb voraciously. Future editions will be free too.

Can I buy a copy?
If you live out of the area or can't for any other reason get your hands on a free copy, we'll be happy to send you a copy through the post for £5, which includes postage and packaging.
To order a magazine, please use the PayPal button below:

We'll post your magazine out to you first class.

How often will it be published?
It's a bimonthly magazine, so it'll be out every two months. The second issue is out in January.

I want to advertise or be involved in the next issue – who do I contact?
If you'd like to find out a bit more about advertising in the next issue, please email kath@altrincham.today. We're also looking for editorial contributors for the next issue.

Where can we get a copy?
The magazine will be available to read and pick up at cafes, restaurants, shops, salons, libraries and other public spaces around Altrincham, Hale, Hale Barns, Timperley, Bowdon, Broadheath and Dunham.
We will also have permanent magazine bins located at several key locations around Altrincham – we'll confirm these places later this week.

Thanks to our supporters
We'd like to give a particular thanks to the supporters and sponsors of our first edition, including: Altrincham Garrick, Altrincham Film Club, Altrincham Hearing Centre, Altrincham Market, Altrincham Unlimited, Basil & Bea, Bier Cell, Blanchflower, Blueoak Estates, Borage, The Cinnamon Club, Citalia, The Con Club, The Contemporary Art Gallery, Cresta Travel, Danilo's, Databroker, David M Robinson, The Green Room, Hibbert Homes, I Want Plants, Keep Fit Kids, Leather & Thread, Myerson, Neil Barrett Photography, Peel Group, Price Slater Gawne, Real Estate Development Partnerships, Realbuzz, Reserve Wines, Riddles, Rose & Grey, The Schoolist, Slater Heelis, Sovereign Holidays, Traders Tiki Bar, Watersons, Waterstones and The Window Company.

What's in the first issue?
Whatever you're into, there's something for you in the first issue of the Altrincham Today magazine. Here's a run-through of the contents:
NEWS
All the news you may have missed – our pick of the best-read recent stories on the Altrincham Today website, and a look at what's proved popular on our Facebook page.
Theatre, live music and film club listings – From the best interpreter of Bob Dylan's songs to an "enchanting" Sleeping Beauty pantomime, we take you through the live music, theatre and film events coming up in Altrincham over the next few weeks.
Denis Irwin's Altrincham – A long-time Alty resident, the former Manchester United and Ireland footballer picks his favourite places in the town.
The Bravest Little Street in England – Chapel Street holds a poignant place in the history of Altrincham. A century on from the Great War, we carry a moving account of the day in April 1919 when a memorial to its dead was dedicated in front of huge crowds in the town centre.
LOCAL
What Now For Hale Barns? With millions spent and the big brands now settled in, we ask a range of locals for their thoughts on the "new" Hale Barns – and how it could improve.
MARKET
Market Essentials – Detailed listings of all Altrincham Market's food & drink traders, plus Christmas opening dates and hours.
Bread Winner – We speak to the market's newest permanent resident, and the creator of Prince Charles' favourite loaf.
HarFest Remembered – We look back at the HarFest weekend, when Altrincham simply felt like a great place to be.
Material Girl – Sarah Kelly was a high-flying executive, but she's given it all up to follow her dream. We asked her why.
Say Cheese – We catch up with Jeremy Jackson, cheesemonger extraordinaire, and the producer behind the butter at some of the North's best restaurants.
MUSIC, FILMS & BOOKS
What Altrincham's Reading – We're not all glued to our phones – some people read actual books, and proof comes with Waterstones Altrincham's local book Top 10s.
Songs From A Northern Town – From the Stone Roses to half of The Smiths, we all know Altrincham has spawned more than its fair share of music legends. But which tunes were actually created here? We also talk to 'Funky' Si Wolstencroft.
Book Review – Catherine Bailey's riveting account of aristocratic decline and fall will keep you going far into the night.
Loud and Proud – Metal fan Dan Hepner tells us how he's making a success of that rare breed – an independent music shop.
Coming Home to Roast – There's a coffee revolution brewing on Altrincham's streets, and we pick six of the best independents.
CHRISTMAS
Buy our Altrincham print – We have 100 Limited Edition prints of our specially commissioned front cover image available to purchase. Here's how you can have it hanging on your wall.
Christmas in Altrincham – A round-up of all the local events this festive season.
Mike Toolan – We speak to the host of this year's Christmas Lights Switch-On.
I Want Plants – The Hale-based company is leading a new interiors trend that looks to take the stress out of Christmas.
Buy Local at Pixie – We present a range of kids' winter clothing ideas from the Hale childrenswear shop.
The Meat Maestro – The Treadgold's turkey queue is as inevitable a part of Christmas in Timperley as Frank Sidebottom's Santa hat. We speak to Nigel, the boss.
Buy Local at Rose & Grey – The stunning Atlantic Street showroom has everything you need to decorate your home this Christmas.
Kate Goodman's Best Wines for Christmas – The former BBC Food & Drink wine expert – and founder of Market House's Reserve Wines – picks your new seven favourite festive quaffs.
Wyn Rhys's Best Beers for Christmas – The man behind Mort Subite and Bier Cell selects six Belgian beers to accompany your seasonal shenanigans.
Riddles' Christmas Cocktails – Master cocktail maker Del Lowe, from Riddles Bar and Emporium, concocts two quintessentially festive drinks to get your celebrations off to a flyer.
PROPERTY & HOME
Bankable Luxury – We feature Alderbank and Highbank, two formerly derelict sites that are are being transformed into 50 high-end homes.
Property Trends – From £3.2million down, we bring you the 50 most expensive recent house sales in Altrincham, plus a round-up of the 20 most valuable roads in Hale, Hale Barns, Bowdon, Altrincham, Broadheath and Timperley.
Business Round-up – A collection of recent business stories involving Altrincham companies.
Chamber Awards – We bring you the pictures and winners from the recent Altrincham & Sale Chamber of Commerce Business Awards.
Independents of Altrincham – We feature a variety of local independent businesses, including a retailer, entrepreneur, barber and a married pair of restaurateurs.
Plan For The Future – Melanie Byrne, from local law firm Price Slater Gawne, on why it's so important to get your affairs in order before it's too late.
Giving Contactless the Finger – We meet the Altrincham entrepreneur behind a payment revolution that could see us all kissing goodbye to cash cards forever.
HEALTH & WELLBEING
Healthcare Hub – We speak to Trafford CCG's Medical Officer for an update on the £35m development that will replace the old Altrincham General Hospital.
Fitness, Salons & Spas – A comprehensive run-through of all the health, fitness and beauty places that Altrincham can muster.
Tips For Better Sleep – Missing your shut-eye is bad news for your health. From avoiding the news to watching your language, Dr Lizzie Croton has some invaluable advice.
TRAVEL
Spain in Style – Manchester Airport is launching a host of new British Airways routes to the Balearics and Costa del Sol – and Sovereign Holidays has a tailor-made itinerary ready for you.
Fabulous Ways to See Italy – Three very different ways to enjoy la dolce vita as created by Italian specialist Citalia.
SCHOOLS
School News Round-up – Some of the latest developments at local schools including Loreto Grammar, Wellington, St Ambrose, St Vincent's and Bollin Primary.
The Schoolist – Applying for an independent school needn't be intimidating, says The Schoolist's Rachael Holden.
Ask The Teacher – We chat with Nichole Burton, a Psychology and Sociology teacher at Blessed Thomas Holford Catholic College.
DINING
Complete Guide to Eating Out in Altrincham – Whatever your food preference, we've got the lowdown on everywhere to eat out in Altrincham.
Eat and Drink Local – We speak to the personalities behind some of Altrincham's new and established food and drink premises, including Blanchflower, Toast, Borage and Costello's.
Restaurant Review – We head down to the recently relaunched Stamford to test out the Bowdon pub's new menu.
ETC
Running Smoothly – We remember the stunning recent nuptials of Laura and John Brears at The Bowdon Rooms – and how the bride's day had begun in decidedly unconventional fashion.
A Day In My Life – TV presenter Jenny Powell takes us inside a typical day in her life – and much of it involves hanging out in Alty.
My Town – It's the gift that keeps on giving… a newly arrived family offer their verdict on Timperley life.
And lots more!