The third edition of the Altrincham Today magazine is out now – and it's still completely FREE.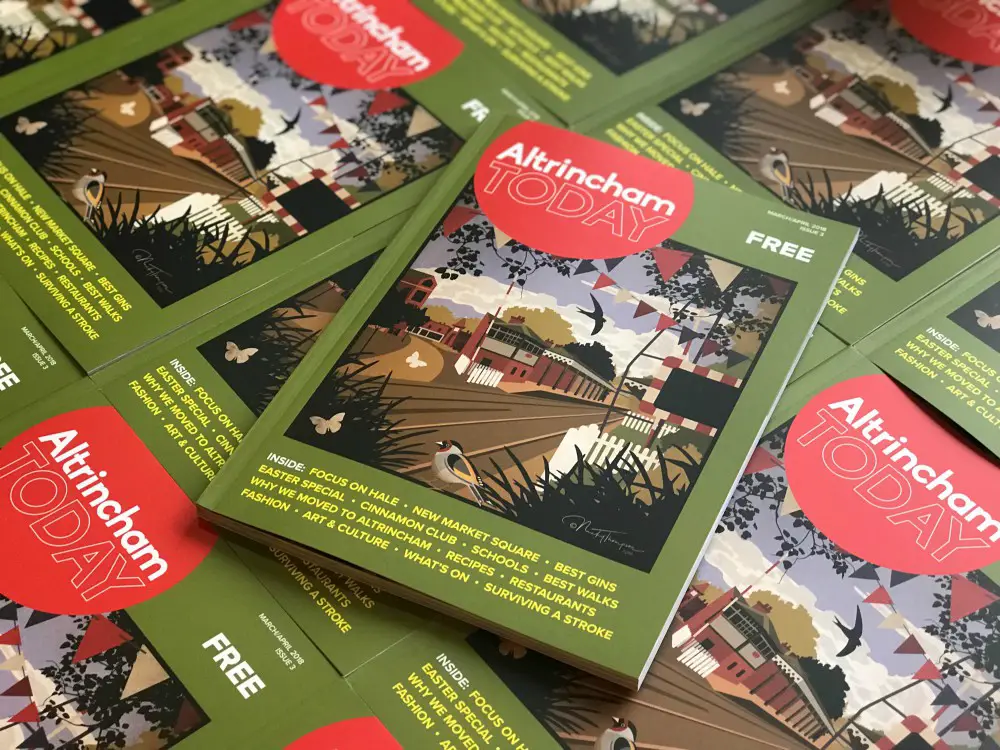 Our latest 116-page edition is available from the below locations now:
Altrincham Market (in the Covered Market area)
Jake Shoes, George Street, Altrincham
WHSmith, George Street, Altrincham
Altrincham Garrick Theatre, Barrington Road, Altrincham
Warrens Bakery, Cross Street, Altrincham
Two Brothers, Stamford New Road, Altrincham
Waterstones, George Street, Altrincham
Waitrose, Draybank Road, Broadheath
Booths Supermarket, Hale Road, Hale Barns
Marks & Spencer, Ashley Road, Hale
The Bridge, Moss Lane, Timperley
Costa Coffee, Stockport Road, Timperley
What's in the third issue?
Once again, 99% of the content in the magazine is completely unique and has never been anywhere else before.

Can I buy a copy?
If you live out of the area or can't for any other reason get your hands on a free copy, we'll be happy to send you a copy through the post for £5, which includes postage and packaging.
To order a magazine, please use the PayPal button below:

We'll post your magazine out to you first class.

How often will it be published?
It's a bimonthly magazine, so it'll be out every two months. The fourth issue is out in May.

I want to advertise or be involved in the next issue – who do I contact?
If you'd like to find out a bit more about advertising in the next issue, please email kath@hyperlocaltoday.co.uk. We're also looking for editorial contributors for the next issue.

What's in the latest issue?
Whatever you're into, there's something for you in the third issue of the Altrincham Today magazine. Here's a run-through of the contents:
NEWS
Top 10 stories online – From supermarket heroes to a sharp decrease in parking charges, our pick of the best-read recent stories on the Altrincham Today website.
What's On – From a nostalgic Paul Simon tribute to a 15th birthday extravaganza at the Cinnamon Club, we take you through the live music, theatre and film events coming up over the next few weeks.
All that jazz – We catch up with The Cinnamon Club impresario Neil Hughes and look back at 15 years of running the popular Bowdon venue.
My Altrincham – A broadcaster who's voiced everything from Hollywood blockbusters to the London Underground, Emma Clarke picks her favourite places to go in Altrincham.
Word on the street – A new writing festival arrives in Altrincham in May, bringing a host of workshops and events for literary locals. We speak to the pair behind it.
LOCAL
The power of music – Staying true to its vision to get away from "stuffy and old-fashioned" musical education, The Music Place is a genuine Altrincham success story. We sit down with founder Lucy Howells.
Focus on Hale – For the first time in years, Hale has empty units and noticeably quieter footfall. We ask a range of business owners for their view on what's going on.
24 hours in Hale – It's not all doom and gloom though – we highlight some of the many good reasons to stick with Hale.
Best gins – Riddles Emporium's Aimée Green runs through a range of premium gins that you won't find down your local offie.
MARKET
Market Essentials – We focus on all the permanent traders inside Market House, as well as the food and florist traders inside the covered market.
New Market Square reborn – Once a dreary service road, the area formerly known as the Lower Market has enjoyed a winter upgrade. We speak to some of the new faces.
Best chocolate – Dribbling bibs at the ready – Sam Pugh, director of Market House traders Sam Joseph, is talking chocolate.
Cheshire Cookery School – Get inspiration with some delicious Easter recipes from the Altrincham-based school.
Easter with Blanchflower – The Shaw's Road restaurant is getting a reputation for its fine food – here are the recipes behind two of their most acclaimed dishes.
Five springtime walks – Easter is a great chance to haul the family out into the fresh air – here are five fantastic strolls within an hour of Altrincham.
HEALTH & WELLBEING
Fitness, Salons & Spas – A comprehensive run-through of all the health, fitness and beauty places that Altrincham can muster.
Favourite health apps – Technology is transforming our experience of self-care – Dr Lizzie Croton picks her four best, tried-and-tested health apps
Something clicked… I'd had a devastating stroke – Hale journalist Peter Trollope was preparing a picnic in his garden when he had a major "brain attack" that left him unable to speak. Here he describes how he fought back.
BOOKS
What Altrincham's Reading – From non-fiction to children's, our regular look at the most popular books sold in Waterstones Altrincham.
A View to a Kill – Tipped as this year's Gone Girl, the debut novel from journalist AJ Finn is a smart, sophisticated novel that recalls Hitchcock. Angela Prior reviews.
PROPERTY & HOME
Step into luxury – Easter weekend sees the opening of the sales suite at Alderbank, Altrincham's latest in luxury living. Here's what visitors can expect.
Property Trends – From £2.9million down, we bring you the 50 most expensive recent house sales in Altrincham, plus a round-up of the 20 most valuable roads in Hale, Hale Barns, Bowdon, Altrincham, Broadheath and Timperley.
How to transform your home – We asked a range of local suppliers for their top tips to transform your home. Here's what they said.
Why we moved from Didsbury to Altrincham – The Franklands met and married in Didsbury but when the time came to choose a forever home, they chose Altrincham. Here's why.
BUSINESS
Independents of Altrincham – We turn the spotlight on three local independent businesses, including a healthy treats entrepreneur, a cafe owner and a jewellery entrepreneur.
"The children's happiness comes first" – As nursery operator Kids Allowed opens its seventh site in Altrincham, we sit down with its entrepreneurial founder, Jennie Johnson MBE.
On the edge – After meeting on the school run, Jenny Brennan and Vanessa Warriner discovered a shared passion for fashion and set up a pop-up and online store. We speak to them at their Timperley base.
SCHOOLS
School News Round-up – Some of the latest developments at local schools including Wellington School, St Ambrose College and Loreto Grammar.
School performance tables – How do the local schools rate for some key performance metrics? Our tables give parents the information they need to know.
Ask the Teacher – We chat with Chris Holt, assistant headteacher at Wellington School in Timperley.
DINING
Complete Guide to Eating Out in Altrincham – Whatever your food preference, we've got the lowdown on everywhere to eat out in the whole Altrincham area.
Restaurant review – Altrincham has a new Italian that will keep many more than three chubby friends happy. Our reviewer reports back from Tre Ciccio, home to an "out of this world" signature dish.
ETC
Collage star – Italian artist Paola Bazz, originally from Padua but now living in Altrincham, talks to us about her eye-catching collages that have led to exhibitions all over the world

A Day in my life – Once described as "the most important MP you may never have heard of", Sir Graham Brady has been Altrincham's local MP for over 20 years. Here's a typical day in his life.
I'm a Team GB triathlete… in my spare time – Timperley's Charlotte Edmondson competes across the world as a triathlete and duathlete. We ask her how she fits it all in.
Letter from Siberia – The latest dispatch from former Bowdon resident Andrew Flint. Here he discusses the Russian elections – and the sense of inevitability that come with them..
And lots more!