The last tram back from Manchester city centre to Altrincham is to depart 16 minutes EARLIER than it currently does in timetable changes that are set to come into effect from this Sunday.
Transport for Greater Manchester, which owns the Metrolink system, has heralded the changes as part of a series of customer improvements designed to improve reliability and connectivity.
But the changes will be bad news for anyone who relies on the current last tram of 11.47pm on Mondays to Thursdays from Piccadilly to Altrincham, with the last tram on those days shifting to 11.31pm from this Monday.
The last tram from Piccadilly to Altrincham on Friday and Saturday nights will now leave at 00.31.
The last Sunday service will be moving to the same time as Monday to Thursday, 11.31pm, around an hour later than it is currently.
And in news that's unlikely to be welcomed by Altrincham-based Manchester City fans, the direct line from Altrincham to the Etihad Campus is being stopped from Sunday, meaning travellers will have to change at Piccadilly or St Peter's Square.
On a brighter note for early risers, the first tram of the day will now leave Altrincham at 5.49am on Monday through to Saturdays, compared to 5.58am now. The first Sunday tram will be at 6.49am from this Sunday.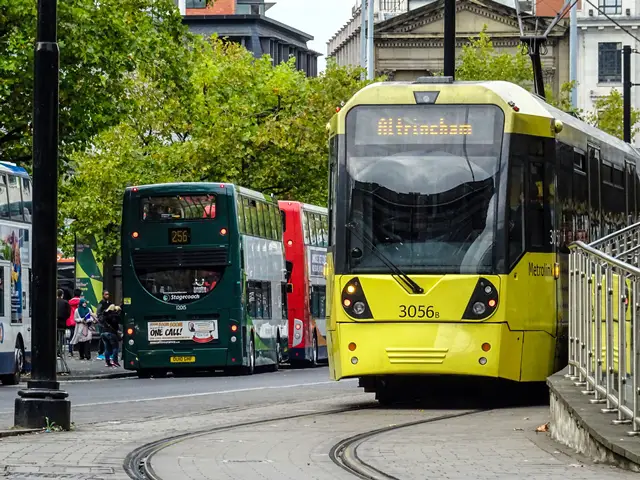 And the additional trams introduced on the Altrincham and Bury lines before Christmas will continue to operate, providing additional capacity at peak times on the network's two busiest lines.
Under the changes, the Bury-Altrincham service is also being given a 10-minute layover at Altrincham to improve timekeeping, so from Monday this service will use platform 2 at Altrincham and the Altrincham-Piccadilly service (as it will become) will use platform 1.
Councillor Andrew Fender, Chair of the Transport for Greater Manchester Committee, said: "More and more people continue to travel on Metrolink and this is a really important service pattern change that is focused on delivering improvements for our customers.
"Metrolink connects large parts of the city region, providing vital links across our towns and cities and the introduction of later running trams on Sundays will be a boost to our night time economy and the many workers and revellers who support it.
"This, coupled with the fact that we're extending services from the airport to Victoria – which will provide better connections and additional capacity through the regional centre – will undoubtedly improve our customers' journey and experience of Metrolink.
"This is especially significant as this has only been made possible by bringing into service the third line through Victoria; the final piece of the jigsaw funded by Metrolink's remarkable £1.5bn 'big bang' programme of extensions and upgrades."
Aline Frantzen, Managing Director at operator KeolisAmey Metrolink, said: "Our new pattern should mean our services are more consistent and reliable for customers and this was our commitment to the people of Greater Manchester and TfGM when we began operating the network for them."
Comments