Owen Allwright is moving from table to table, diligently keeping the water carafes filled.
Tom Graham is on during a busy lunch-hour, so he's clearing away customers' finished plates.
Both are quietly getting on with their jobs in the efficient and friendly way that people have come to expect from the staff that keep Market House running like a well-oiled machine.
But Owen and Tom's journey to Market House has been more complicated than most: Owen has learning disabilities, while Tom has the lifelong developmental disability known as autism.
According to the not-for-profit organisation Dimensions, only 6% of people with a learning disability and 15% of people with autism are in paid employment.
Not all people with learning disabilities are able to work, but according to the National Autistic Society, 77% of those who are unemployed say they want to work. For both Owen and Tom, working in Market House has been transformative.
Owen had previously been working at Asda for a couple of hours every Wednesday, but that abruptly ended when the supermarket rang to say they didn't have the capacity to handle his needs.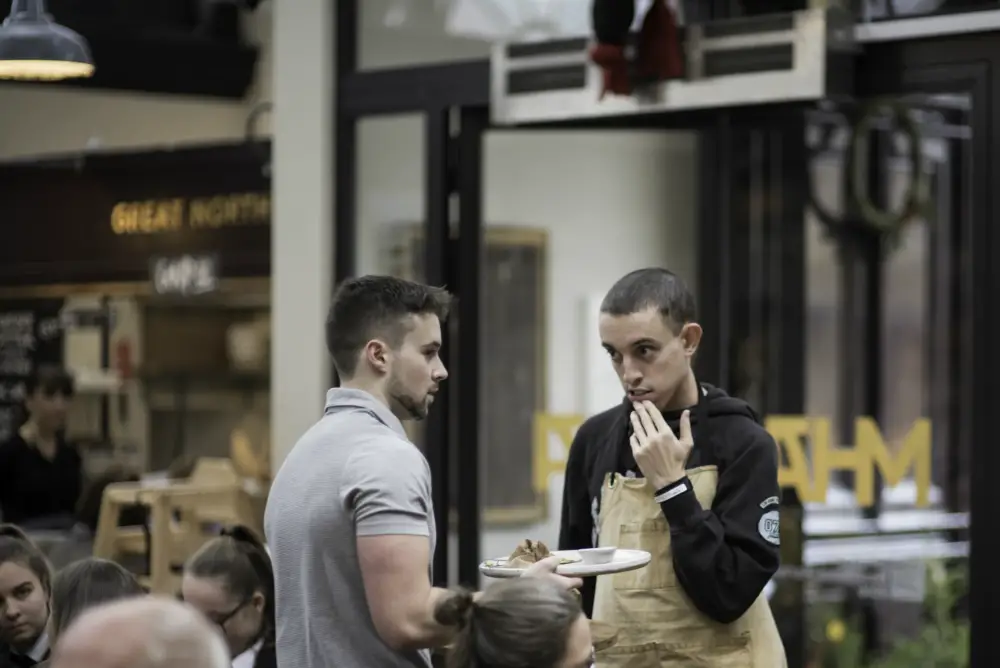 So three years ago, around six months after Market House opened, Owen's mum Jenny wondered if they would consider Owen for employment.
"I approached Jenny (Thompson, co-owner of the market) and she said they would give him a try," said Jenny. "He just came for two hours first of all, cash in hand, and he really liked it so we increased it to Friday for two hours as well as the Wednesday.
"Then around Christmas a year ago, Jenny asked if we could have a meeting about Owen and my heart sank as I thought she was going to say they couldn't handle it anymore. But she said they loved Owen, he was part of the team, great with customers and they wanted to add an extra shift and put him on the payroll!"
He now does five and a half hours a week, spread across Tuesday, Wednesday and Friday.
A big Manchester City fan, 32-year-old Owen plays the guitar and loves running – he's a regular at Park Runs on Saturday mornings. He's also involved with an organisation called Out and About, which gets him involved in everything from circuit training to kickboxing and guitar lessons.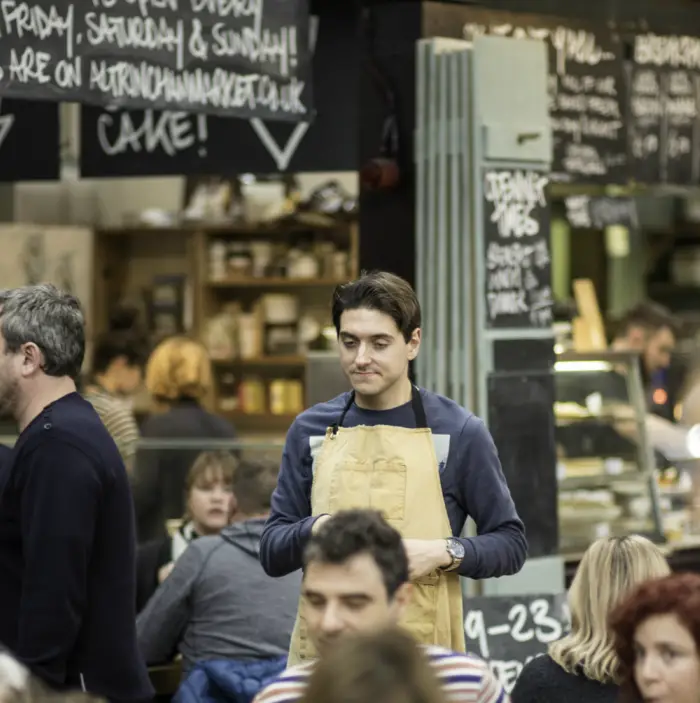 What does he like about working at Market House? "The staff," said Owen. "I like the people that work here and I get on really well with them. I love it."
The feeling certainly seems to be mutual.
"If you ever see him when he starts his shift, he goes round the room high-fiving everybody and having banter with them," added mum Jenny. "We went to the new Mackie Mayor market the other day and Owen was a celebrity there too!
"I'd honestly say that working here has changed Owen's life. It's really perked him up, he used to struggle sometimes getting up in the morning and now he knows he has something to get up for."
A similar story of the positive effects of regular work can be told by Tom's dad and step-mum, Tony and Suzy.
Tom is one of three autistic brothers, his twin so severely affected that he has spent much of the last decade in a care home.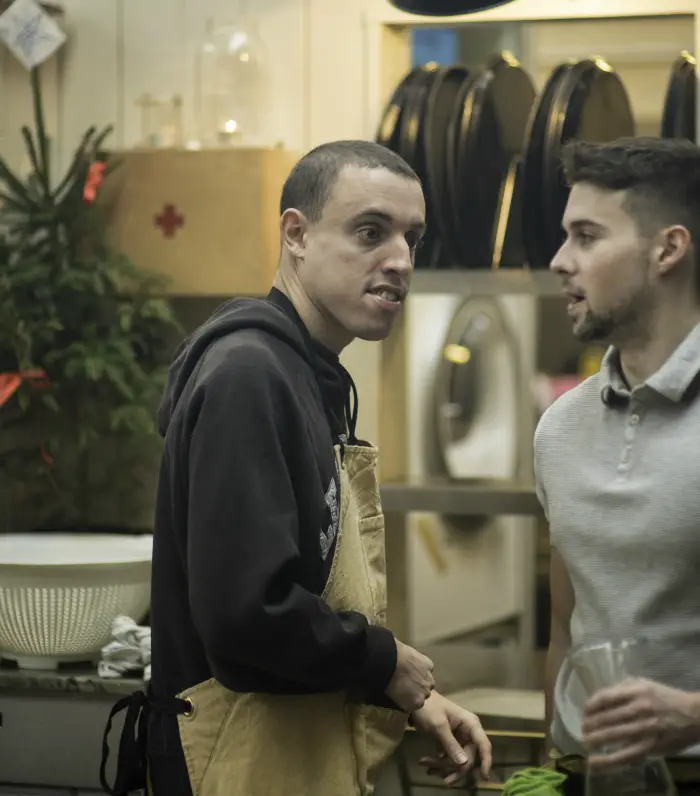 Market House was the 24-year-old Tom's favourite place to come – his Saturday lunchtime pizza from Honest Crust a critical part of the routine that many with autism find such comfort in.
He'd never had a job before – and such is the impact of his autism, Tom cannot so much as cross the road by himself.
One day Suzy struck up a conversation with Jenny, Owen's mum, and found out more about the way that working at Market House had changed his life. Tony then had a chance meeting with Nick Johnson, market co-owner.
"I saw Owen working at Market House and I could see he was similar to Tom," said Tony. "So I thought, how are we going to achieve it? I saw Nick in M&S one day and introduced myself and told him I thought Owen was brilliant.
"Then later we were in the market and Jenny came over to say hello. I said, could I introduce you to my son? We were chatting and Jenny said, out of the blue, 'Tom, would you like to work here'? Because of his autism, he couldn't quite process it and said straight away 'no thank you'. The nature of autism is that he has no concept of working to earn money and get a nice house or whatever. It means nothing to him. So we had to talk him through why it was a good thing."
"He didn't resist it," added Suzy, "but the moment that convinced him was when he realised he'd be able to have his favourite pizza."
Initially doing 9am to 11am, he's now been moved to the busier time slot of 10am to 2.30pm, with a half-hour lunch break. Having paid him in pizza for the first couple of weeks, Tom is now earning real money for the first time.
"Straight away he felt at home," said Suzy. "He's become more confident and he has a little sense of belonging. It's lovely."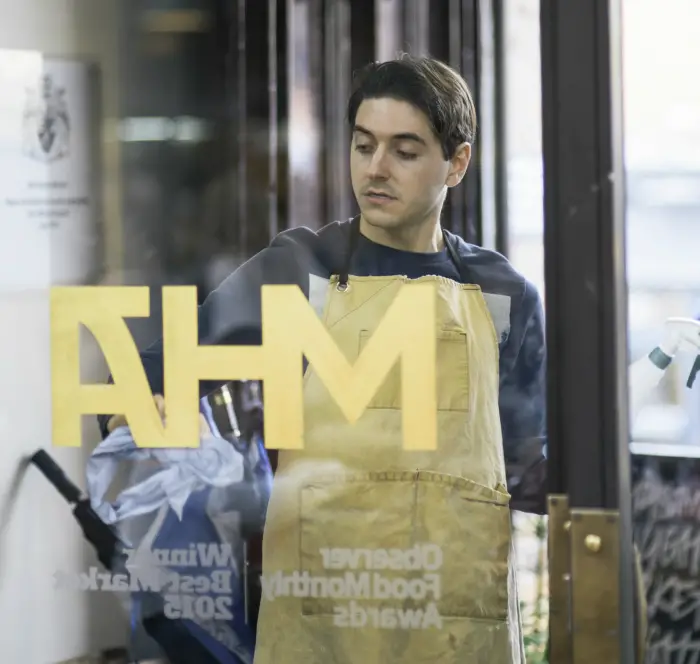 "He's so vulnerable we have thought what we were ever going to do with him in the future," added Tony. "He can dress himself, but we have to go everywhere with him. He couldn't cross the road on his own.
"This has been an absolute lifesaver for us, it's great to see him so happy and to have a purpose. What I would ideally like is that this place continues to thrive, and maybe he will continue to get more work here."
Tom's mum, Nicola, is in agreement. "When Tom and his twin brother received an autism diagnosis at the age of 3, I felt totally helpless," she said. "However, by concentrating on what Tom can do rather than cannot, life began to piece together for him. You really can't underestimate the effect that Jenny and Nick's inclusiveness has had on Tom's wellbeing and that of the wider family."
Market House's inclusive recruitment policy is no accident. Co-owners Jenny and Nick have personal experience of the obstacles faced by parents of children with disabilities – their fourth daughter, Kitt, has the debilitating neurological disorder Rett Syndrome.
Tony hopes the example they set at Market House can help more employers in Altrincham and beyond to follow suit in giving a chance to people who have historically been sidelined.
"Autism is massively on the increase," he added. "When we were kids, the reason you knew about autism was because of Rainman.
"The more people can become aware of people like Tom, the more they'll understand and embrace it. If he can become part of this community as he grows up here, people will know who he is, they'll know his quirks, they'll embrace and understand it.
"And it would be lovely if other businesses saw this and thought, do you know what, maybe we could give them a chance."

For more pictures and an interview with co-owner Jenny Thompson about the market's decision to hire Tom and Owen, pick up a copy of the magazine.
Photos: Claire Harrison
Comments