A man who was once fined for breaching food hygiene and safety laws at Davenport Green Hall in Hale Barns has been jailed for 20 months for breaching serious fire safety regulations at a separate wedding venue near Crewe.
Mohammed Isaq, 56, pleaded guilty at Chester Crown Court to nine charges relating to Haslington Hall.
The charges included failure to comply with the Regulatory Reform Fire Safety Order 2005, failure to comply with an enforcement notice and failure to comply with a prohibition notice.
His company, Haslington Hall Ltd, where he was the major shareholder, also admitted the same breaches.
Cheshire Fire and Rescue Service issued enforcement notices after visiting the Grade One listed building in 2012 but the work that followed was inadequate.
Two years later, the service visited a structure in the grounds of Haslington Hall known as "The Big Marquee" and found serious breaches in fire safety.
A prohibition notice was service, banning the company from using the venue, but Isaq continued using it for weddings on at least three further occasions.
The court heard he had a previous conviction for nine serious breaches of the Regulatory Reform (Fire Safety) Order 2005, also at Haslington Hall, for which he was fined £23,815.
The honorary Recorder of Chester, Judge Roger Dutton, told Isaq: "These are very serious breaches. After all should a disaster happen it is the fire service who have to put the lives of their employees at risk to save lives of the public.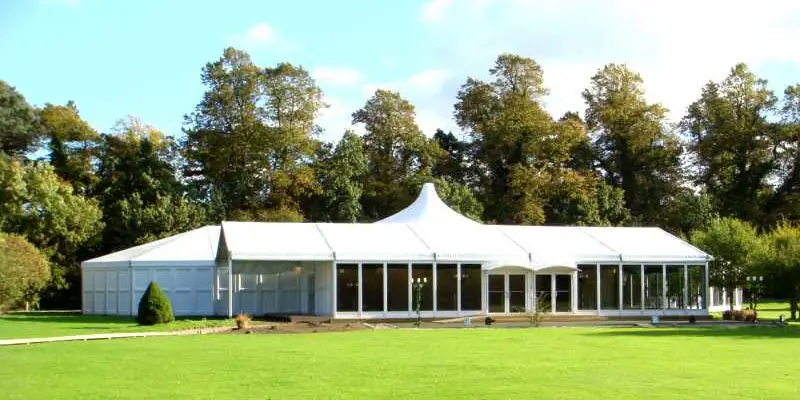 "A more flagrant breach of the legislation there cannot be in my view. You simply ignored many of the important aspects of the enforcement notices and completely ignored two prohibition notices – there to ensure the public is not placed at risk."
Lee Shears, head of protection and organisational performance at Cheshire Fire and Rescue Service, added: "There should never be lives put at risk in any premises and legislation is there to protect anyone using a venue such as this.
"Cheshire Fire and Rescue Service aims to help and support all businesses to operate safely, however we will take action when owners and managers choose not to treat fire safety as a vital legitimate business requirement."
Isaq had a number of brushes with the authorities when running Davenport Green Hall as a wedding venue.
He was first served with an enforcement notice in July 2010, requiring him to remove the unauthorised marquee and associated structures.
In December 2013, Isaq was convicted at Trafford Magistrates' Court for failing to comply with the order.
And then in 2014, Isaq was fined £60,000 relating to 10 food hygiene and two health and safety offences at Davenport Green Hall.
Trafford Magistrates' Court heard that council officers made an unannounced visit to Davenport Green Hall in August 2013 following a complaint from a guest who attended a wedding reception at the venue.
Comments