Trafford has the lowest coronavirus infection rate in Greater Manchester, according to figures released today.
Data released by the Greater Manchester Combined Authority puts the number of positive Covid-19 cases per 100,000 people at just 3.4 in Trafford, the lowest of any local authority in Greater Manchester.
That compares with a rate of 28.8 per 100,000 in Rochdale, 27.8 in Oldham, 21.6 in Bolton and 15.2 in Manchester. The figures are accurate up until June 30th.
Here's the full list of local authorities in Greater Manchester: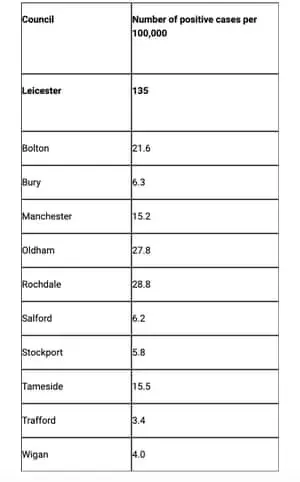 Leicester, where a second round of lockdown measures have just been introduced, has a current rate of 135 positive cases per 100,000.
Sir Richard Leese, Chair of the Greater Manchester Health and Social Care Partnership, said: "The figures published today shows the situation in each of our districts and while the number of positive cases of Covid-19 is slightly higher in some Councils compared to others, we are closely monitoring and managing the situation.
"We don't want anyone to be alarmed. Rather, the purpose of making this information public is to be open, honest and transparent with the public about what's happening in their area so they can make an informed choice in their day-to-day lives. We've also been doing more testing compared to other parts of England and this will be reflected in our figures."
Comments