A Hale couple have opened a new aesthetic clinic aimed at helping people feel younger inside and out.
Sandra Oxley and Venkatarama Dwarampudi have opened SV Aesthetic on Bath Street.
The new clinic combines their qualifications, skills and passion in aesthetics, and also features a groundbreaking new membership model.
We headed down to speak to them.
ALTRINCHAM TODAY: Welcome to Hale – can you tell us a bit more about how you came to set up SV Aesthetic clinic here?
VENKAT: I have lived in the local area for the last 11 years and the thing I love is the very evident entrepreneurial spirit in the community! What better place to set up a business than to be surrounded by like-minded people, where everyone strives for better!
SANDRA: I moved here a year ago and in such a short period of time, I feel connected and part of the community. It's a place perfect for people of all ages and to open a business that has long been a passion of ours in Hale is a dream come true for us! To have a family business in the community in which we live is special.
AT: What have you done previously and what kind of training do you have?
VENKAT: I am an Advanced Clinical Orthoptist, BMedSci (hons) and a Masters in Investigative Ophthalmology and vision sciences, with over 20 years' experience both in the NHS and the private sector. Having dealt with many patients who have squints and lazy eyes, you could say I have a very keen eye for the aesthetics of the face and attention to detail. This has naturally led to Sandra and I creating SV Aesthetic Clinic, combining both our qualifications, skills and passion in aesthetics.
AT: What services will you be offering the people of Hale and beyond?
SANDRA: So we offer injectables such as dermal filler, anti-wrinkle injections, Profhilo and of course skin care treatments such as hydra facial, Collagen Induction Therapy (microneedling), dermaplaning, chemical peels and vitamin B12 injections, and in the new year laser hair removal! Basically everything to counteract the signs of ageing.
The way we're different from other aesthetic clinics is that we're going to be giving clients the chance to join our membership club, which we believe will be one of the first in the area of its type. It involves a modest monthly fee which covers selected treatments and services, helping our clients with their budgeting and giving them added value.
In addition we will be collaborating with a wellness team that supports the client's internal health, including an expert dentist, so our focus as a clinic is not just skin deep. We want our clients to thrive from the inside out and feel confident, that's our goal.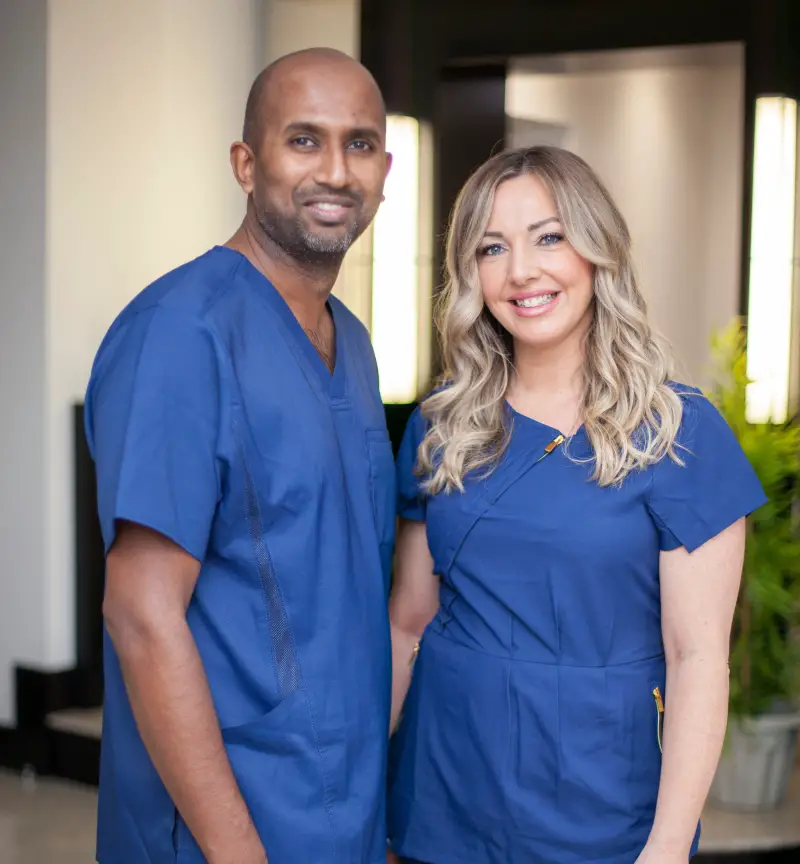 AT: Who is your target audience and which services are currently proving most in demand?
SANDRA: So we are looking for the client who is either looking to prevent the ageing process and also those who feel that they need to reverse the signs of ageing. The most in-demand treatments are wrinkle-relaxing injections and dermal fillers, and to be honest there's a very good reason why! It takes years off a face and clients are over the moon with the results, myself included!
AT: What are your hopes for your first year in business?
SANDRA: We hope to have really established ourselves within the field, and gained a strong reputation amongst our clients, for the excellent results that we create for them.
Since the pandemic, people are changing how they take care of themselves. We want to shift the focus to not just the outward appearance, but the inner health and mental wellness of our clients.
SV Aesthetic, Suite 2, 12-14 Bath Street, Hale, WA14 2EJ. For more information, visit svaestheticclinic.com or follow @svc.linic on Instagram
Photo: Laura Marie Linck
Comments