A special event at Altrincham Library has recognised a number of 'Coronation Champions' who were judged to have gone above and beyond by volunteering or fundraising.
Organised by Visit Altrincham, the recipients received a special certificate from Trafford Council leader Cllr Tom Ross and were treated to an afternoon tea supplied by Gail's Bakery.
There was also a royal themed Storytime session where a giant commemorative cushion was revealed. The cushion was commissioned by Altrincham BID and created by the team at Inch Arts and will be used during future Storytime sessions.
A special display will be hosted by Altrincham Library and can be viewed until the end of the month.
There will also be a drop-in session at the library on Tuesday 9th May (10.30-2.30), where members of the community can find out more about different volunteering opportunities in Trafford.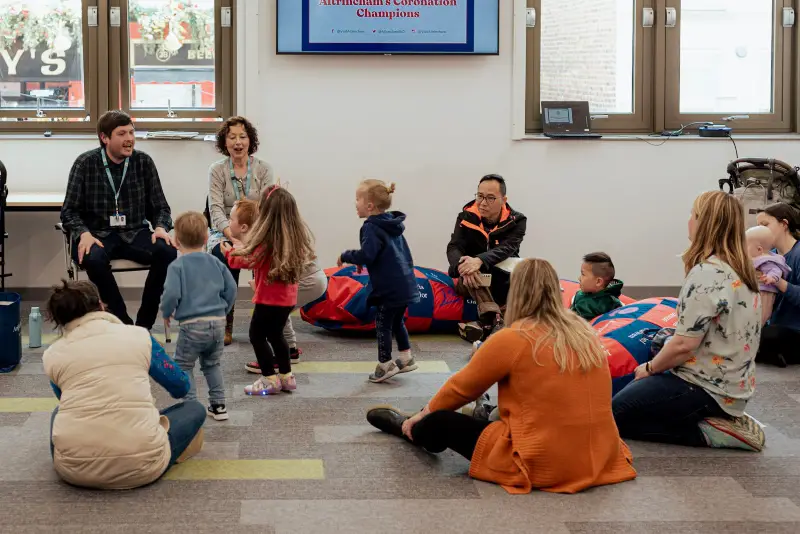 Mandy White, Altrincham's BID Manager, said: "Over the last few weeks we have been sharing Altrincham's Coronation Champion's stories on Visit Altrincham & Altrincham BID's social media, as a local reflection of the Palace's campaign and The Big Help Out initiative. They are a truly inspiring group of people and we wanted to celebrate the work they do in our community and encourage others to get involved."
Full details about Coronation entertainment and activities in Altrincham can be found here.
The Coronation Champions in full:
Tony Collier – Tony was diagnosed with advanced stage, incurable, prostate cancer in 2017. Since then he has worked tirelessly as an ambassador, awareness speaker and fundraiser for Prostate Cancer UK and is founder of Paint Altrincham Blue.
Charlotte Percy – Charlotte from Lund Bennett Law has held various voluntary roles including Chair of Manchester Solicitors Group amongst others, independently raising £100,000 during her 8-year tenure.
Liv Alice – Liv has organised a number of fund-raising events for charities including, The RSPCA, The Cats Protection & The Christies NHS Foundation Trust Charity.
Katherine Miller – Katherine volunteers at The Hub which provides clubs and societies for the young and old, it has food projects, is a location for CAB and is constantly evolving to support the local community challenges.
Berni Chetham – Berni has been the co-ordinator of the Oakwood Corporate Services charity committee for 2 years encouraging staff to participate in fund-raising and volunteering initiatives for The Children's Adventure Farm Trust (CAFT).
Jemma Dawson – uses the time given by Barclays Bank to employees to support various charities and initiatives
Alex McCann – runs Altrincham Vs Cancer raising funds for the Christie
Nedra Davis – volunteers at Inch Arts, one of Altrincham's community arts organisations
Rachel Curwen – has volunteered with Girlguiding and Timperley Brownies for 11 years
Sara Fixter – from Full Circle Funerals Partners is involved in a number of volunteer and community initiatives including Twiddlemuffs
Sarah Walmsley – works tirelessly for Altrincham in Bloom and Our Altrincham making the town look amazing
Karen Wroe – founder of Art with a Heart and active Rotarian and fundraiser
Audrey Dunn – has been running Knit and Natter at the Hub for the last 8 years
Shuo Jin – Manager of HSBC and is a passionate fundraiser and volunteer
Dee Hazell – runs the Beavers, Cubs and Scout groups at 3rd Timperley
Lynda Cardwell – Partner at Cardwell Theatre School who has been raising money for Francis House Children's Hospice for many years
Jennifer Christer – was a Home-Start supported Mum and now volunteers with them, supporting families in need
Bill Harrad – supports the Music Place's Vibrant Voices Choir, a choir for people living with dementia, Parkinsons and stroke survivors
Kirsten Bennett – MD of Lund Bennet Law has taken on many grueling fundraising challenges for various children's charities and missing people charities.
Bev Robinson – contributes to lots of volunteering projects in the community including Friends of Barrington Road and Friends of Altrincham Interchange
Sarah Leary – from Juice Nursery for helping to raise funds and awareness in her capacity as an ambassador for locally-based Prevent Breast Cancer and helping to organise Paint Altrincham Pink each year
Berni Chetham – Coordinator of the Oakwood Corporate Services Charity Committee mostly raising funds for the Children's Adventure Farm Trust (collected on Berni's behalf by a colleague)
Ken Garrity – has been volunteering within the community for over 40 years through Sale Round Table and Altrincham Rotary.
Chris Taylor & Hope Edwards – from Gran T's Coffee House fundraise for Juvenile Diabetes Research Foundation in memory of their business partner and dear friend Laura. Chris ran the Altrincham 10k and Hope ran in the Manchester Marathon.
Nick Davis –runs and established Altrincham Stroke Support Group after suffering a Stroke himself at the age of 48.
Comments