Here's a round-up of Altrincham schools' performances in this year's A Levels, which were released yesterday.
Loreto Grammar
Loreto said it was delighted with the "excellent outcomes" that students had achieved overall.
A "fantastic" 45% of all grades were awarded at A*- A and 76% awarded at A*- B. In total, 36 pupils gained all grade As and A*.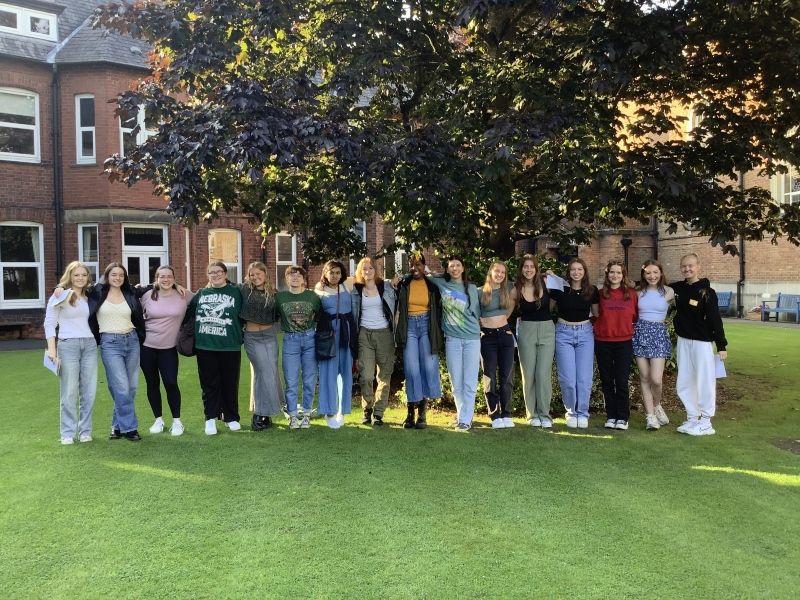 Students have secured a wide range of degree level courses in subjects including politics, liberal arts, medicine, modern languages, pharmacy, digital media, law, dentistry and engineering.
The school said it would be celebrating their successes at its annual speech night at the Bridgewater Hall on 13th September.
St Ambrose College
With the return to pre-pandemic grading arrangements, a drop in the number of top grades was expected at St Ambrose College in Hale Barns, but numerous students secured straight A*/As.
Individual success stories include Brian Chen, who will be taking up an offer to read Computer Science at Princeton, New Jersey, after achieving 4 A* grades.
Congratulations too to Matthew McCabe who is off to New College, Oxford, to read Biology.
Other students who attained straight A* grades include Tom Noble, who will take up his offer to read Natural Sciences at Durham, where he will be joined by Rory Smyth, who is reading Mathematics.
Matthew Johnson and Daniel Kemball both take up their place to read Economics and Mechanical Engineering respectively at Warwick, while Thomas Amanuel will read Chemical Engineering at Imperial College, London.
Other notable successes include Dumebi Ijeomah, who is looking forward to taking up his offer to study Medicine at Birmingham University, and Mohammed Ayub, who will study Dentistry at Imperial College, London.
Principal Dermot Rainey said: "It has been a really positive morning seeing so many smiles and elated students. Given some of the recent press articles about the drop in the number of high grades this year, we know that some students were understandably anxious about receiving their results but we are so pleased with their achievements.
"As ever, there have been some remarkable individual achievements but given that this cohort didn't sit public exams two years ago, it is only fair to credit each of them for how they've approached their exams and for the outcomes achieved."
Altrincham Grammar School for Girls
At Altrincham Grammar School for Girls, 85% of exams were graded at A*- B and 95% graded at A*- C.
A "remarkable" 75 students achieved an A* or A in all their subjects, 13 students achieved A* grades across the board and 60% of all exams were graded A* or A.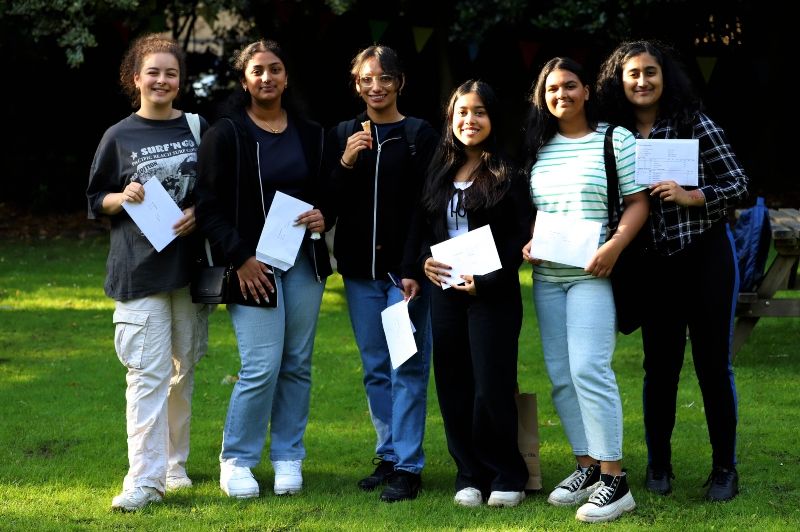 Stephanie Gill, Principal at AGGS, said: "We are delighted that our students have achieved such excellent outcomes as the culmination of their years of study with us. They are a fitting reward for the hard work, determination and resilience our students have shown during the last two years.
"They also reflect the wonderful support and excellent teaching students received from our staff. We are incredibly proud of all of our students and wish them the very best for their future."
Altrincham Grammar School for Boys
Altrincham Grammar School for Boys said it was "very pleased to report that results have remained consistent".
Overall, 28% of grades were at A*, 64% were A*-A and 85% at A*-B - a higher proportion than in any year before 2020. The average grade awarded was an A and 19 students achieved A* for all their A level subjects.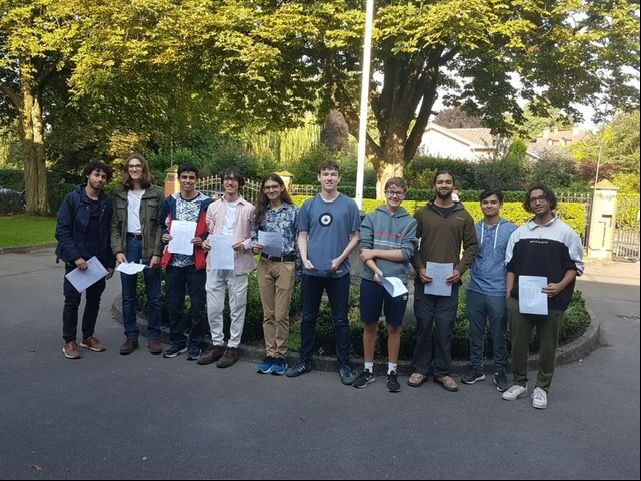 Graeme Wright, Head Master, said: "On behalf of everyone in the AGSB community, I'd like to congratulate our leavers on these excellent results.
"They are not only a tribute to the students' hard work and dedication, but also testament to the commitment of their teachers who have prepared them so effectively over the last two years. I wish them all the very best for the bright futures ahead of them."
Altrincham College
Altrincham College said it was "delighted to report an upward trend" for its sixth form students, whose top grades increased by more than 40% when compared with 2019.
Departments which performed particularly well include Maths, Biology, Psychology, Sociology, Business and English Literature.
Kim Earle, Headteacher and CEO of the South Manchester Learning Trust, said: "We knew that our hard-working students would do themselves proud this year and they certainly have!
"I am delighted with this year's A Level and vocational results, the best A Level results since the sixth form opened! Well done to all our Year 13 students and a huge thank you to our staff!"
Among those to secure their first choices was Adam, who achieved A*AA and will study Chemistry at Durham University.
Student Gracie was awarded AA A and is heading to Liverpool John Moores to study Paramedic Science. Gracie, who was one of the highest achieving psychology students in the country, said: "I am really grateful to my teachers for their support and I am going to miss my friends, but I am looking forward to university and becoming a paramedic."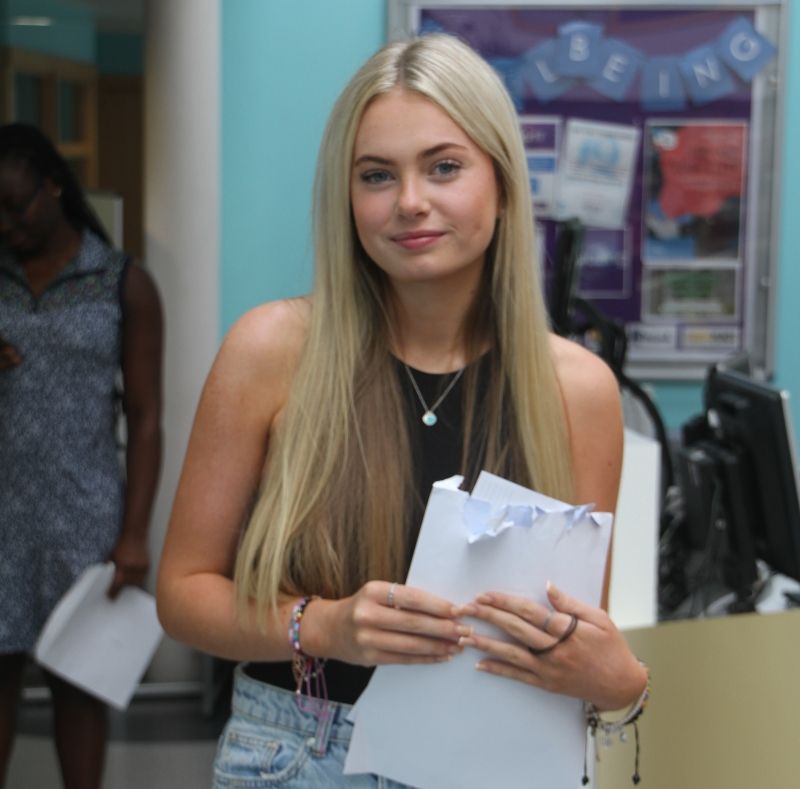 Further success stories include Aidan (AAA) who is going to St Andrews University to read Biology, Ashley (AAA) who is taking a gap year and then applying for medicine, and Robert, who achieved A*AA, to study Biomedical Science at the University of Sheffield.
Students studying vocational subjects were also celebrating. Fashion student Kirsty, who achieved an A at A Level and distinction grades in fashion, is pursuing Fashion Design at university, whilst media student Chloe has accepted a place at the University of Exeter to study Film and Television.
Further congratulations go to Jack Brassell who has already begun his football scholarship in America, studying at Missouri Valley College.
Other schools
Comments