Josh Hancock's late strike proved decisive in Altrincham's thrilling 3-2 win against Chesterfield at the J Davidson Stadium on Tuesday night.
Before kick-off Altrincham found themselves in the relegation zone, having lost their previous three fixtures. "Coming into this game it was imperative we got something today following the three defeats," said assistant manager Neil Sorvel.
To the delight of Sorvel and Altrincham supporters, the Robins appeared rejuvenated since their lacklustre display against Aldershot on Saturday. "We looked a lot more attack minded around their box and a lot more creative," said Sorvel.
But after 13 minutes it felt like Groundhog Day – the hosts found themselves behind once again. After Chesterfield's initial shot, which was blocked by Altrincham loanee Billy Sass-Davies, the ball fell kindly to the head of Jonathan Smith. The Spireites midfielder threaded the loose ball across goal to find Scott Boden who, left unmarked, duly headed the ball into the back of the net.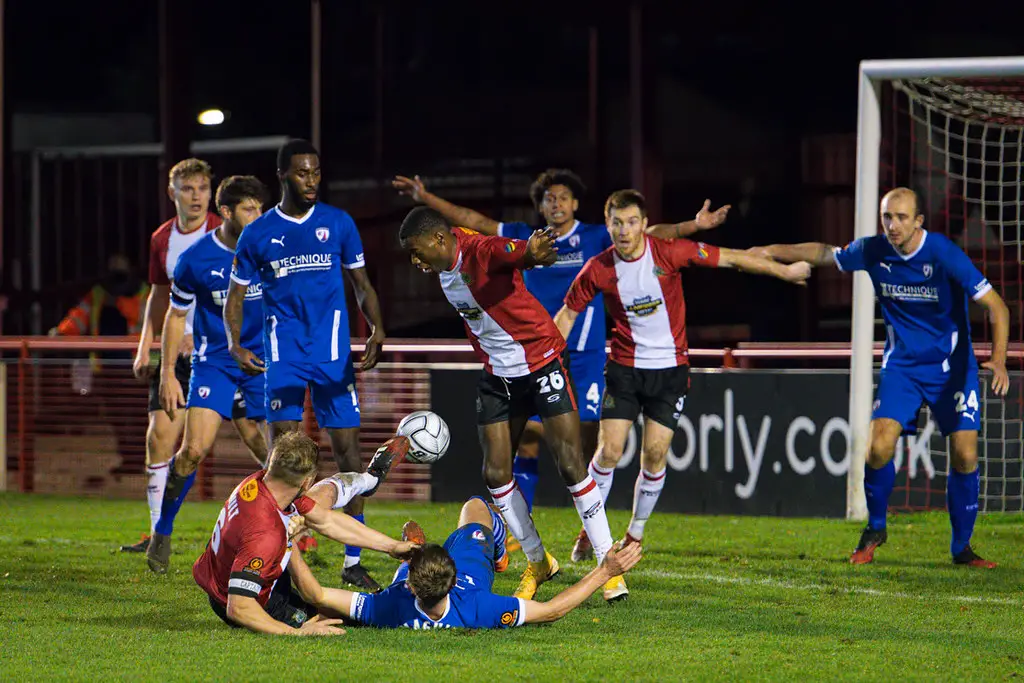 The goal was emblematic of the poor luck the Robins have faced this season. "It's frustrating, if a team's far superior, you accept that you're a million miles off… it's even more frustrating as there hasn't been too much difference in a lot of the games," said Sorvel.
Yet Altrincham responded well to going a goal down. And on 26 minutes the Robins equalised through Fizz Adarabioyo, courtesy of an exquisite piece of distribution from Robins goalkeeper Tony Thompson.
For the remainder of the first half it was Chesterfield who had the clearer of opportunities. And they were only to be denied a second because of some heroic defending. "[We had] two clearances off the line, one from Bill [Sass-Davies] and one from [Jake] Moult," said Sorvel.
Chesterfield carried on this momentum after the interlude. On 48 minutes the visitors nearly took the lead again through a crisp half-volley, only to be denied by the woodwork.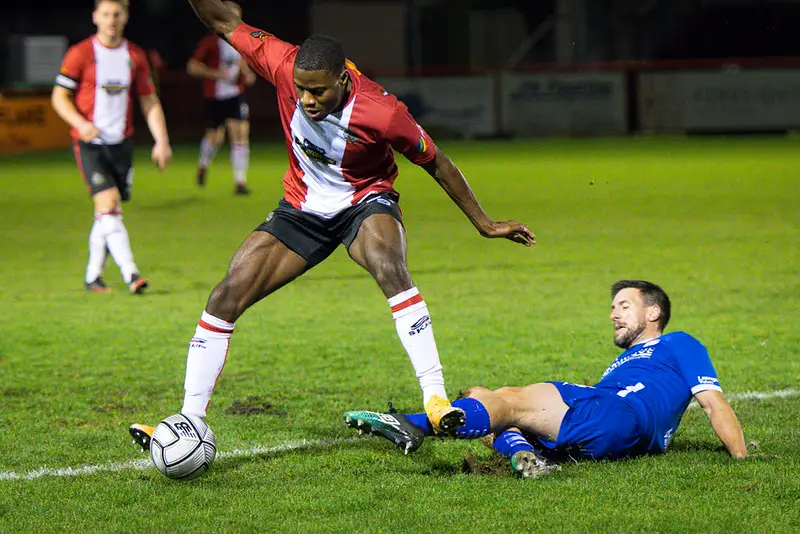 But on 62 minutes the pendulum of luck swung back in Altrincham's favour, when the part-timers were awarded a penalty. Josh Hancock took advantage from the spot with a clean strike into the bottom left-corner.
Frustratingly, Altrincham's lead lasted a mere 50 seconds, after the away side marched up the other end of the field and equalised almost immediately.
"[It was] disappointing… they're dangerous, they get balls in good areas. We switched off a little and didn't pick up the second contact. It was a hell of a strike from their right-wing back," added Sorvel.
The visitors' second goal injected them with a new lease of life, and they went on to blitz the Altrincham goal mouth. But to their disbelief, Thompson prevented Chesterfield from going ahead.
"Lots of good close range saves from him [Thompson]. He had a lot to do today. We were under pressure at times, any ball in the box was going to be dangerous," said Sorvel.
Thompson's most pivotal save came at 2-2. An inch perfect ball was floated across the penalty area and met by the towering figure Tom Denton. However, he was denied a goal at the expense of Thompson's clawing reflexes.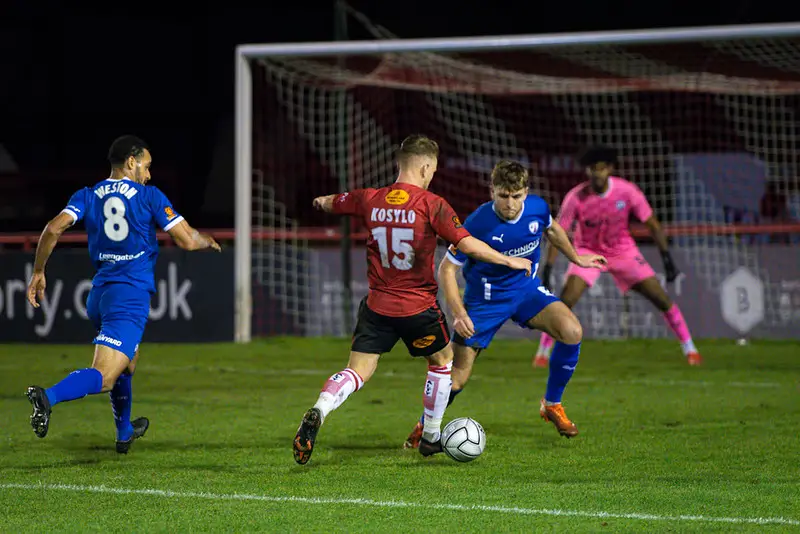 At 2-2 the Robins would have been content with a draw to stop their losing streak. But right at the death, Altrincham cooked up a masterpiece.
On 87 minutes Shaun Densmore laced a through ball from the right-flank, which was ostensibly intended for Kosylo. Nonetheless, Kosylo let the ball run through his legs, opening up space for Hancock to run into. Altrincham's number 10 controlled the ball just outside the penalty area, taking aim and finding the bottom left-hand corner in dramatic fashion.
"At that end of the Golf Road End we've scored a lot of them… Hanks has been doing that for three seasons," said Sorvel.
Sorvel will now look to focus on today's away fixture against Borehamwood. Although the players will be full of confidence, it will be another challenging game for them.
"We know how tough that's going to be. We'll take it on like we have all the other games so far," added Sorvel.
Photos: Michael Ripley
Comments