Britain's biggest cycle race returns to Altrincham and Hale this weekend in what is set to be another spectacular event for the town.
The Tour of Britain's Grand Départ is taking place in Altrincham on Sunday 3rd September.
The race, the UK's biggest and most prestigious professional cycle race and the country's largest free-to-spectate sporting event, is returning to the town for the first time since 2019.
Altrincham is hosting the start of the first stage of the race, which crosses Greater Manchester and finishes on Deansgate in the city centre.
Who will be riding in this year's Tour Britain?
There'll be a world-class line-up in this year's race.
Yorkshire's Tom Pidcock - the Olympic gold medallist with connections to Hale - will lead a strong INEOS Grenadiers team in this year's race, 12 months after he narrowly missed out on claiming the overall victory in the UK's leading cycle race.
Pidcock will be one of four home riders in the Grenadiers' line-up, as Welshman and former stage winner Luke Rowe, Connor Swift and debutant Ben Turner have also been selected to race.
Tour de France stage winner Carlos Rodríguez (Spain) and Magnus Sheffield (USA) complete the team's six-man line-up.
Over 100 of the world's best riders will make up the race.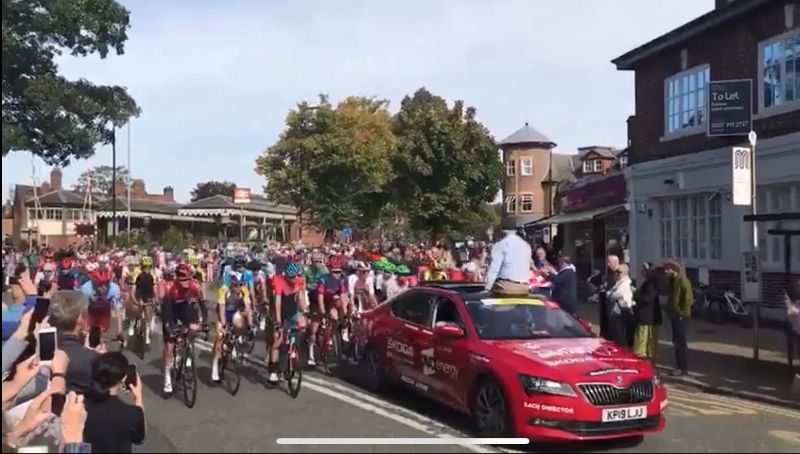 What time will the race start?
The race will have a neutralised start at 11.45am.
This start, typical in cycle races, will see the riders start behind a pace car, and is meant for starts taking place in congested or otherwise unsuitable locations.
The race will process like this through Altrincham and Hale before a proper start on Cow Lane in Ashley.
It will then take a 163.6km route through Ashley, Mobberley, Morley Green, Wilmslow, Woodford, Bramhall, Hazel Grove, Disley, Marple, Marple Bridge, Werneth Low, Mottram in Longdendale, Stalybridge, Buckton Vale, Saddleworth, Uppermill, Delph, Crompton, Shaw, Burnedge, Rochdale, Spotland, Wolstenholme, Cheesden, Edenfield, Ramsbottom, Holcombe, Hawkshaw, Edgworth, Turton Bottoms, Chapeltown, Cadshaw, Egerton, Belmont, Rivington, Grimeford Village, Haigh, Aspull, New Springs, Scholes, Hindley, Hindley Green, Atherton, Tyldesley, Little Hulton, Linnyshaw, Swinton, Pendlebury and Salford, before finishing on Deansgate in Manchester city centre.
You can see the full route here, with the anticipated arrival times in each place here.
What route will it take through Altrincham and Hale?
The race will take a slightly different route to 2019, the last time it was in the town.
Starting outside Market House on Market Street, the riders will progress over High Street towards the main A56 road, before quickly turning right down Kingsway.
The riders will then carry on down Stamford Street to the Barrington Road/Stamford New Road junction, where they will turn right up Stamford New Road and through the heart of the town centre.
They'll carry on past Altrincham Hospital, up Railway Street and Ashley Road, and then turn left at the roundabout on to Hale Road.
They'll go over the Hale Road Bridge and then turn right up Victoria Road and on into Hale village. The riders will process all the way along Ashley Road into Ashley, where the race will start proper on Cow Lane.
The best vantage points to watch the cyclists
Viewing areas in Kingsway, Stamford Street, Stamford New Road, Railway Street, Ashley Road (Altrincham/Hale) and Victoria Road are recommended as the best places to watch the race.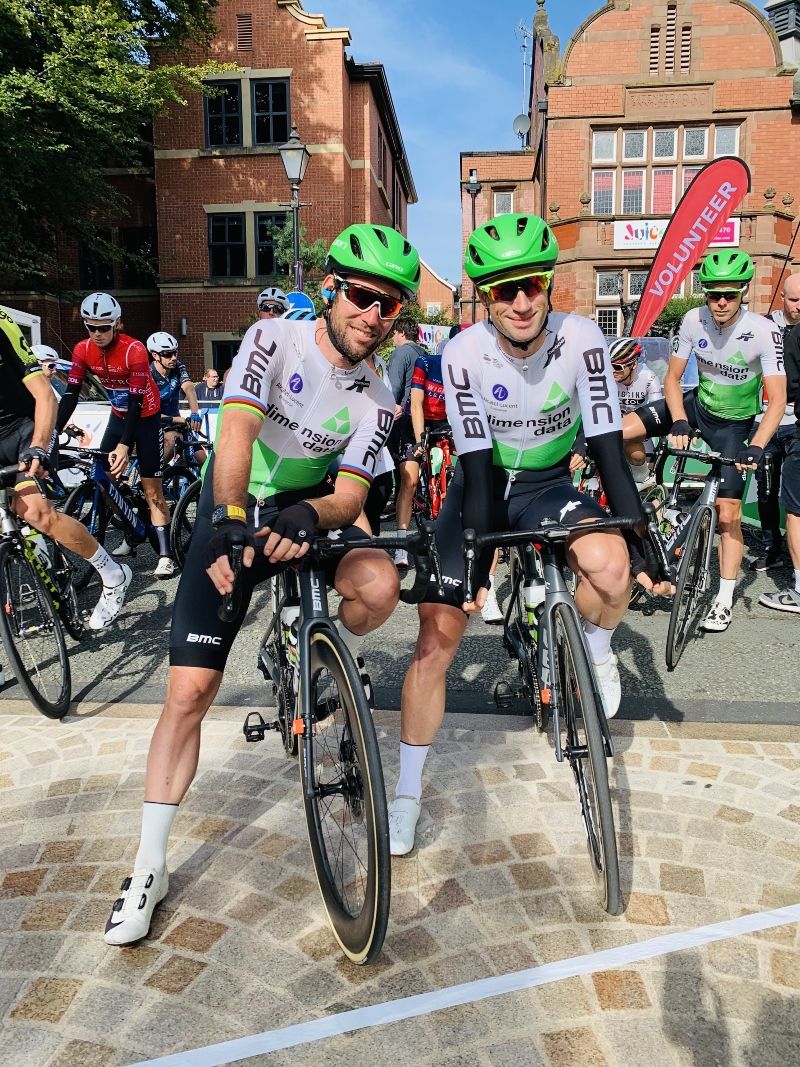 Activities around the town centre
Trafford Council and Altrincham BID, who produce Visit Altrincham, have put together cycle related activity and entertainment for spectators.
The 'Visit Altrincham' stand will be on George Street, providing visitors with information about the town, the best vantage points and where activity is taking place.
Dr Bike will be on Central Way and in the Stamford Quarter with free bike repairs and checks.
There will be chance to try adapted bikes including trikes and e-bikes with Wheels for All on Cross Street as well as e-cargo bikes with Manchester Bikes, and a BMX trail course with Access Sports.
You will also be able to make your own smoothie by pedal power with Bikeability in the Stamford Quarter.
Cafes and restaurants opening early
Many of Altrincham and Hale's cafés and restaurants are opening early to serve pre-race breakfast and brunch.
These include Gran T's Coffee House, California Coffee & Wine, Damò, West Beverly, Leanne's Vintage Tearoom and more.
In Hale, Manchester Bike Kitchen will set up a stand next to Costa Coffee.
There are also some special offers for spectators including 50% off match tickets for Altrincham FC v Hartlepool United, an introductory offer from the Massage Company and 30% off Cannondale road and gravel bikes at Stamford Cycle Co.
Some of Altrincham's businesses are taking part in a 'Bike Themed Window Competition' and there is an opportunity for children and teens to design their own race jersey with a chance to win a place at Sew Creative's sewing Holiday Club in October.
Pick up an entry sheet from Sew Creative, Bar Etna, Everyman Altrincham and Café Nerd or download here.
More details of special openings and discounts can be downloaded here:
Road Closures during the Tour of Britain in Altrincham and Hale
Parking/Loading and Waiting Suspensions
| | | |
| --- | --- | --- |
| Area | From | To |
| Market Street | 02/09/23 – 20.00 | 03/09/23 – 15.00 |
| High Street | 02/09/23 – 20.00 | 03/09/23 – 15.00 |
| Regent Road (Market Street Junction to A56) | 02/09/23 – 20.00 | 03/09/23 – 12.30 |
| Groby Road (Regent Road Junction to A56) | 02/09/23 – 20.00 | 03/09/23 – 12.30 |
| Stamford New Road | 02/09/23 – 20.00 | 03/09/23 – 12.30 |
| Railway Street | 02/09/23 – 20.00 | 03/09/23 – 12.30 |
| The Causeway | 02/09/23 – 20.00 | 03/09/23 – 13.00 |
| Kingsway | 02/09/23 – 20.00 | 03/09/23 – 12.30 |
| Stamford Street | 02/09/23 – 20.00 | 03/09/23 – 12.30 |
| Victoria Road | 02/09/23 – 20.00 | 03/09/23 – 12.30 |
| Ashley Road (Hale) | 02/09/23 – 20.00 | 03/09/23 – 12.30 |
Road Closures
Road Closed

From

To

Notes

Regent Road (Market Street to A56)

03/09/23 – 5.00

03/09/23 – 12.30

Access to New Street and Norman's Place

Greenwood Street, Shaw's Road, Central Way

As per existing Market Day road closures (from 10.00)

Groby Road

03/09/23 – 5.00

03/09/23 – 12.30

Market Street (Regent Road Junction to High Street)

03/09/23 – 5.00

03/09/23 – 15.00

Market Street (High Street Junction to A56)

03/09/23 – 5.00

03/09/23 – 13.00

High Street

03/09/23 – 5.00

03/09/23 – 13.30

Access to/from multi-storey permitted before 10am

Kingsway

03/09/23 – 11.35

03/09/23 – 12.00

A56 (Old Market Place)

03/09/23 – 11.35

03/09/23 – 12.00

Victoria Street

03/09/23 – 11.35

03/09/23 – 12.00

Stamford Street

03/09/23 – 11.35

03/09/23 – 12.00

Stamford New Road

03/09/23 – 11.35

03/09/23 – 12.00

Cross Street

03/09/23 – 11.35

03/09/23 – 12.30

The Causeway

03/09/23 – 10.00

03/09/23 – 13.00
Comments