Paint Altrincham Blue - the annual event designed to raise funds and awareness for prostate and testicular cancers as well as men's mental health - is back next week.
The week-long event, organised by local resident Tony Collier who was diagnosed with advanced stage prostate cancer in 2017, will run from Monday 6th to Saturday 11th November.
Funds from the various activities will be donated to Prostate Cancer UK and Andy's Man Club.
Events will include:
Comedy Night at Altrincham Football Club on Thursday 9th November: Altrincham FC will play host to a side-splitting comedy night with Ace Lips Comedy. Tickets can be booked here
The Blue Jersey Challenge Town Trail: Follow the trail sheet to find the blue football and rugby shirts, generously donated by national teams and their supporters. Win family passes to the Everyman Altrincham and Altrincham FC! Pick up trail sheets from the customer service desk at Tesco Extra on Manor Road and return completed trail sheets to them. The trail will highlight awareness of men's health issues.
Awareness Stand at Tesco Extra: On Friday 10th and Saturday 11th November, a dedicated awareness stand will be set up at Tesco Extra, offering information and support for those interested in learning more about Prostate Cancer. Feel free to drop by and join the conversation.
Many local businesses - including MOST Bakery and Off The Wheaten Track - are joining the initiative by offering blue-themed specials, such as cocktails and cakes, throughout the week.
Tony Collier said: "Paint Altrincham Blue is an event that not only aims to raise crucial funds for Prostate Cancer UK and Andy's Man Club but also seeks to create a community of support and understanding around men's health issues.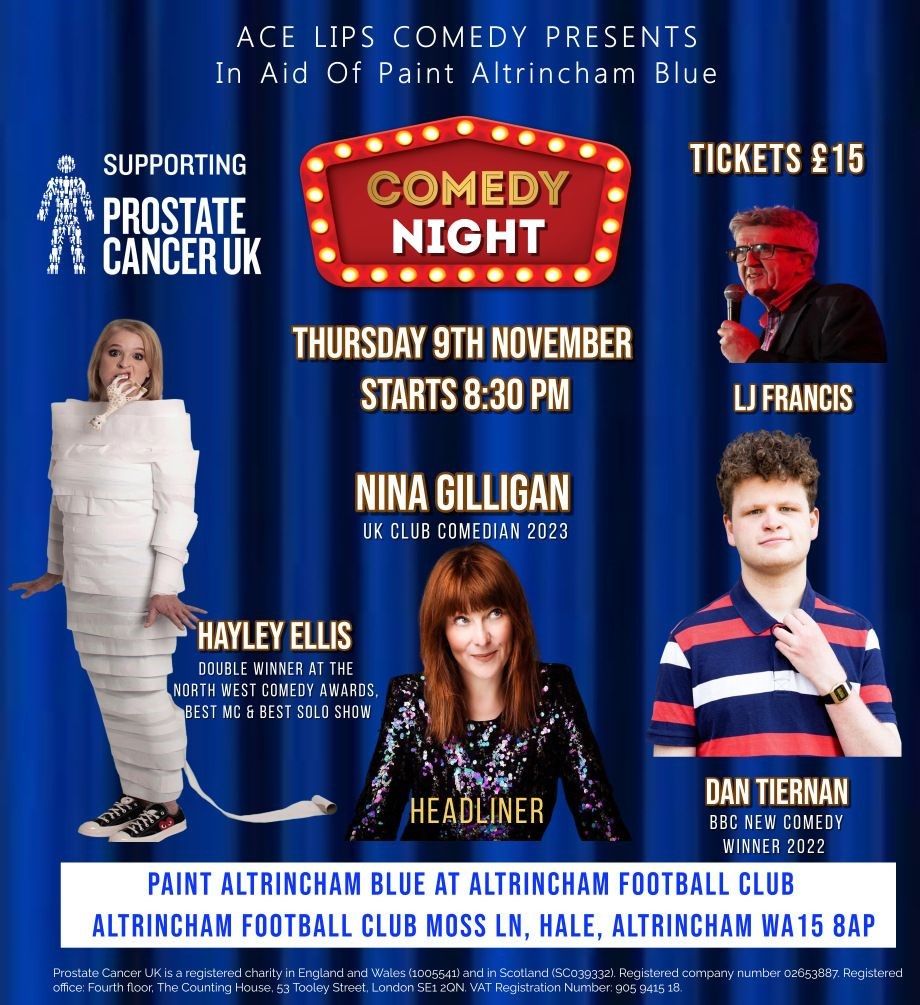 "Prostate and testicular cancers and mental health challenges are significant concerns that affect many individuals and families, and it's essential to continue raising awareness and funds for these causes.
"Join us in making a difference during this special week and help us Paint Altrincham Blue! Every little contribution counts, whether it's a moment of laughter at the comedy night, participating in the town trail, or supporting local businesses that have embraced the cause."
The organisation of Paint Altrincham Blue has been supported by Altrincham BID and Bridgewater Trafford Rotary.
Comments