The tale of Phileas Fogg's 80-day journey around the world will open at the Altrincham Garrick on Monday.
Around The World In 80 Days will open on Monday September 24th and runs until Saturday September 28th.
Originally a novel published in 1873 by Jules Verne, the story has already been made into two films, in 1956 and 2004, but now Laura Eason turns the classic into a stage production.
A cast of eight play over 125 characters in this imaginative, high-spirited crazy, roller coaster of a caper featuring six trains, five boats, four fights, three dances, two circus acts and even an elephant.
The characters travel through London, Dover, Calais, Brindisi, Suez, Bombay, Calcutta, Hong Kong, Yokohama, San Francisco, New York, Liverpool and finally London.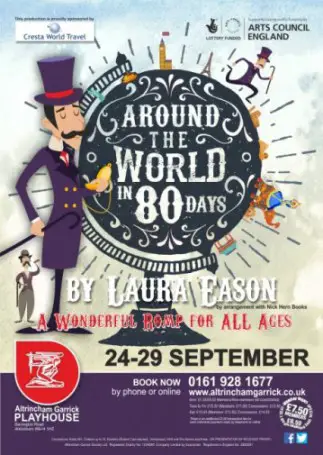 Altrincham's Cresta World Travel sponsor the play and are also forming a travel partnership with the theatre.
Jac Murray, Cresta Marketing Manager, added: "The original journey was completed in just less than 12 weeks but today we would be able to plan a very comfortable trip around the world along a similar route allowing him at least one nights stay in each location in just 10 days, and it certainly wouldn't cost £20,000!"
For tickets to the play, call the box office on 0161 928 1677 (Option 1) or visit the website.
Comments