A five-year-old girl from Timperley has been give a special award in recognition of her bravery after learning how to walk again following treatment for cancer.
Kira Percival was just four when she was diagnosed with acute lymphoblastic leukaemia in August 2017.
Now, for the courage she showed throughout her treatment, she has received a Star Award from Cancer Research UK Kids & Teens, in partnership with TK Maxx.
Every child nominated receives the accolade, which is backed by a host of famous faces including Strictly Come Dancing's Dr Ranj, Dame Emma Thompson, Una Healy and Aston Merrygold.
There is no judging panel because Cancer Research UK Kids & Teens believes every child diagnosed with cancer deserves special recognition.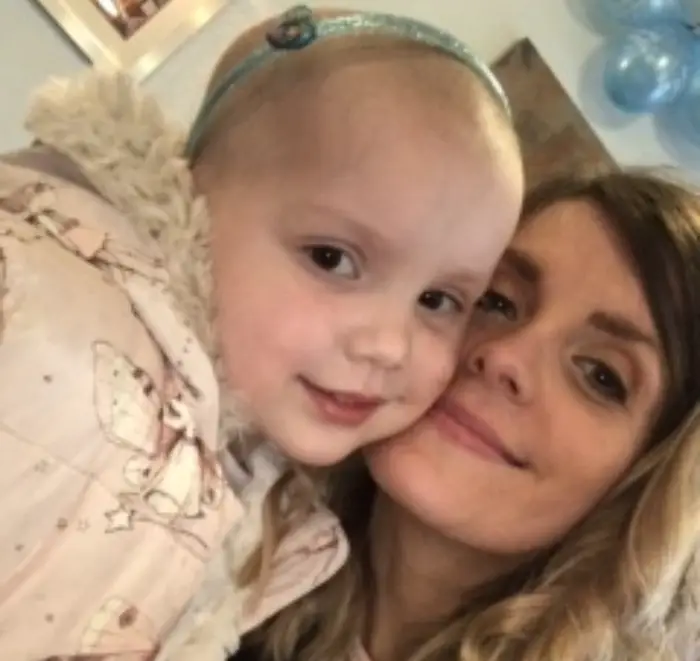 Kira also received a £50 TK Maxx gift card, t-shirt and a certificate signed by the stars.
Following diagnosis last year, Kira had a lumber puncture, four blood transfusions and months of intensive chemotherapy at Royal Manchester Children's Hospital. She was also put on steroids, which made her put on weight, which she has since lost.
Now five, she moved on to chemotherapy maintenance treatment in March and started school full time in April.
Kira's mum, Suzanne, nominated her for the Kids and Teens Star Award in honour of her sense of humour and courage during her treatment.
Suzanne said: "Kira has been amazing. She has a nurse's outfit and pretends to give all her dolls chemo. It's been Kira who has helped get me through it! She's been the one comforting me. She'll just give me a cuddle and tell me 'I'm OK!'. I'm so proud of her.
"Before her cancer diagnosis she was also quite jolly – the class clown – and that's really helped her cope with everything. And we've had lots of support from her Grandma and Grandad and her aunties.
"She was so proud to get her Kids and Teens Star Award. She took it to school to show everyone and has it on her book stand in her room. It reminds her of how brave she's been.
"Her treatment left her weak and unable to walk and she spent a couple of months of only being able to lie in bed or on the sofa. She had to learn to walk again. She had a little zimmer frame which she hated but luckily we had a great physio who held her hands and helped her and after a couple of months she was able to walk again.
"With her only being four she wasn't too self-conscious about having to go back in a pushchair when she couldn't walk – nothing has really phased her. She didn't mind losing her hair but now it is growing back she says she wants to keep growing it and growing it – so she looks like Rapunzel!"
Kira will finish her treatment in December 2019 and the family are planning a dream trip to Disneyland Florida in 2020.
Alison Barbuti, spokesperson for Cancer Research UK Kids & Teens in Trafford, said: "Kira is a real star – it has been an absolute privilege to be able to recognise her courage by giving her a Cancer Research UK Kids & Teens Star Award. She has been through so much at such a young age."
Comments