The second edition of the Altrincham Today magazine is out now – and it's still completely FREE.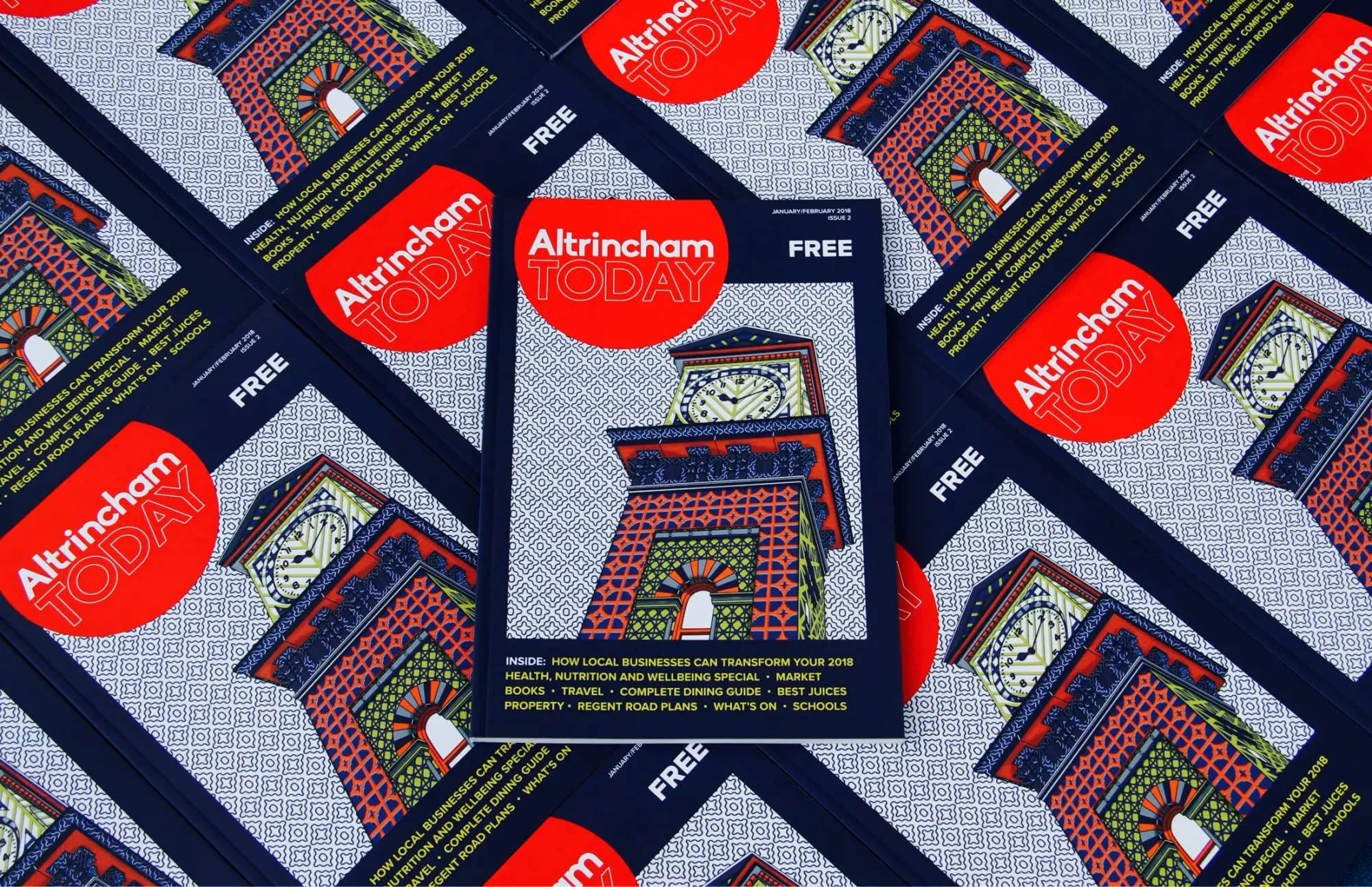 Our latest 124-page edition – with even more editorial than our launch issue – will be available from the below locations from Friday January 26th:
Altrincham Market (in the Covered Market area)
Jake Shoes, George Street, Altrincham
WHSmith, George Street, Altrincham
Altrincham Garrick Theatre, Barrington Road, Altrincham
Warrens Bakery, Cross Street, Altrincham
Two Brothers, Stamford New Road, Altrincham
Waterstones, George Street, Altrincham
Booths Supermarket, Hale Road, Hale Barns
Marks & Spencer, Ashley Road, Hale
Costa Coffee, Stockport Road, Timperley
And over the next few days we'll be announcing more locations where the magazine will be available.
Here's what people said about the first issue
What's in the second issue?
Once again, 99% of the content in the magazine is completely unique and has never been anywhere else before.

Can I buy a copy?
If you live out of the area or can't for any other reason get your hands on a free copy, we'll be happy to send you a copy through the post for £5, which includes postage and packaging.
To order a magazine, please use the PayPal button below:

We'll post your magazine out to you first class.

How often will it be published?
It's a bimonthly magazine, so it'll be out every two months. The third issue is out in March.

I want to advertise or be involved in the next issue – who do I contact?
If you'd like to find out a bit more about advertising in the next issue, please email kath@altrincham.today. We're also looking for editorial contributors for the next issue.

What's in the latest issue?
Whatever you're into, there's something for you in the second issue of the Altrincham Today magazine. Here's a run-through of the contents:
NEWS
Gallery – We look back to the magical afternoon when the Lantern Parade produced a riot of sound and colour in Altrincham town centre.
Top 10 stories online – From cinema plans to a pub fire, our pick of the best-read recent stories on the Altrincham Today website.
What's On – From a legendary saxophonist to an Agatha Christie classic, we take you through the live music, theatre and film events coming up over the next few weeks.
My Altrincham – A regular on BBC TV and Radio 5 live, weatherman Simon King relocated to Altrincham seven years ago. He picks his favourite places in his adopted town.
An Alternative Altrincham Valentine's – Yes it's that time of the year ago, but we have a few local ideas that steer clear of the obvious.
LOCAL
Jake's Progress – We catch up with Jake Bland, who has just opened a branch of his eponymously-named shoe shop on George Street.
Shop Local – From FitFlop to to Red Wing classics, we take a look at some of the range found in Altrincham's newest shoe shop.
Regent Road Car Park – It's the scheme that will transform the heart of Altrincham town centre. We get the full lowdown on the plans from Adam Gross, director of developers Citybranch.
Jacqui Forster – Altrincham FC fan Jacqui is leading the way in getting more women to football matches – and she's done it all since being diagnosed with terminal cancer.
MARKET
Market Essentials – We focus on all the permanent traders inside Market House, as well as the food and florist traders inside the covered market.
Working in Market House has changed our sons' lives – As figures reveal that only 6% of people with a learning disability are in paid employment, we speak to the parents of Owen and Tom, who have thrived in their roles at Market House.
Doing us a flavour – They add a zing to your tea and are packed with goodness, and now you can fill your boots with them at Altrincham Market. We speak to Will Lobina, founder of Hillside Herbs.
HEALTH & WELLBEING
Best Juices – Feeling a bit ropey after Christmas? Chris Mosley from Hale's The Garden Press has the best juices, smoothies and shots to kickstart your detox.
It's only natural – Kokoa Eco Beauty Bar has become a destination salon on The Downs in a little over six months. We speak to founder Akosua Akobeng.
Super Slaw it – Altrincham personal trainer Jill Greenwood says her rainbow combinations of micro-chopped vegetables can give you a nutritional boost when you need it most. Here are three recipes from her new book.
10 ways Altrincham businesses can transform your 2018 – You don't have to go far to find someone who can give your year a bit of a boost. From counsellors to massage therapists, here are 10 local businesses who can come to the rescue.
Triathlon tips – Thinking of tackling a multi-sport event this year? These tips from Altrincham-based Kate Offord, head coach at Manchester Triathlon Club, are a great place to start.
Fit at the farm – Nicky Paddon runs the successful bootcamp fitness classes down at Red House Farm in Dunham. We got her thoughts on keeping our busy selves active.
Boost your immune system – It's that time of the year when we start to feel a bit run down. Timperley-based Dr Kathryn O'Sullivan has some great advice on keeping the infections at bay.
Pasta master – As the man in charge of pasta for the Piccolino chain, he knows his tortellini from his tagliatelle. We speak to Marcello Ghiretti – and persuaded him to let us have his recipe for a 'wow' vegetarian lasagne.
Five ways to transform your fitness – It's not long since he was just nine stone, but now Altrincham personal trainer Stuart Niven is one of the UK's top physique athletes. He tells us how he did it – and how you can too.
Fitness, Salons & Spas – A comprehensive run-through of all the health, fitness and beauty places that Altrincham can muster, plus details of some great February fitness deals from Altrincham Unlimited.
An end to your pain – Suffer from chronic pain? Dr Lizzie Croton has news of a revolutionary new treatment that could finally help you to confront it.
MUSIC, FILMS & BOOKS
What Altrincham's reading – We weren't all glued to our phones over Christmas, some people actually read books, and proof comes with Waterstones Altrincham's local book Top 10s.
Shaker stirred – Our resident book critic, Angela Prior, reviews an American novel that's already been snapped up for TV by Reece Witherspoon.
Melody makers – Altrincham has its very own professional orchestra… we speak to founder and principal oboeist Andrew Pettitt.
Top scorers – They're still only 23, but these former Altrincham Grammar boys are already creating music for hit American TV shows. Sophia Miles speaks to Max McGuire and Alastair Adams.
PROPERTY & HOME
High time for Highbank – A spectacular Victorian property in Bowdon is almost ready after a £9m revamp. We speak to the boss of the developers behind the scheme.
Property trends – From £3.6million down, we bring you the 50 most expensive recent house sales in Altrincham, plus a round-up of the 20 most valuable roads in Hale, Hale Barns, Bowdon, Altrincham, Broadheath and Timperley.
BUSINESS
Independents of Altrincham – We turn the spotlight on three local independent businesses, including a double bass repairer, a cyclist turned ceramist and a mother-and-son cleaning business partnership.
Puppet masters – The BBC's Supporting Act film had the nation blubbing this Christmas, and it was largely created in Altrincham. We speak to the boss of puppet-makers Mackinnon and Saunders.
Space man – Altspace, a co-working hub for independent businesses and freelancers, has just relocated to much bigger premises in the town centre. We catch up with founder Steve Upham.
Cresta World Travel – Where are the emerging destinations this year? We ask Denise Fraser, director at Cresta World Travel, one of Altrincham's longest standing travel agencies.
SCHOOLS
Ask the teacher – We chat with Sarah Chancellor, a maths teacher at Altrincham Grammar School for Girls.
School news round-up – Some of the latest developments at local schools including St Ambrose College, Elmridge Primary, Altrincham Grammar School for Girls and Willows Primary School.
DINING
Best meal deals – Feeling peckish at lunch but don't want to break the bank? Here are six succulent meal deal options in the town centre.
Complete guide to eating out in Altrincham – Whatever your food preference, we've got the lowdown on everywhere to eat out in the whole Altrincham area.
Restaurant review – Goodbye sticky floor… the old Stoneys has had a serious facelift. Our restaurant reviewer took a trip down to Timperley's unrecognisable Stonemasons Arms.
A day in the life – Schooled in Altrincham, the BBC journalist Nina Warhurst is now holding our politicians to account in some style. She gives us a glimpse into her frenetic life.
Letter from Siberia – He grew up in Bowdon, but Andrew Flint now calls a frozen corner of Siberia home. Here's his first dispatch.
And lots more!