There are two dining issues that have long caused me tension.
The first is sharing food. Sharing my food. My food.
It's not just me – and 90s/00s television proves this. We had Joey in Friends making it clear that he doesn't share food.
We had Smithy in Gavin and Stacey making an impassioned speech about the typically Indian/Chinese takeaway practise of putting all the food out and all just… we can just… (insert flamboyant hand gesture of all and sundry just digging in here)
No! You want a certain food, you order it. Hands off.
The second issue is food envy.
Food envy is appalling. If I'm torn between two dishes, someone in the party gets the one I rejected and it looks marginally better than the one I plumped for, I'm miserable. I can barely focus on my own food no matter how good it is, my eyes rapidly moving towards the dish that could have been.
Now, because of the first issue, the idea of tapas, and the like, used to turn me cold. It's a concept based on sharing! Finally I realised that a) it was probably time for me to grow up and b) tapas and the small plate revolution eradicates the second and far more distressing issue of FOOD ENVY.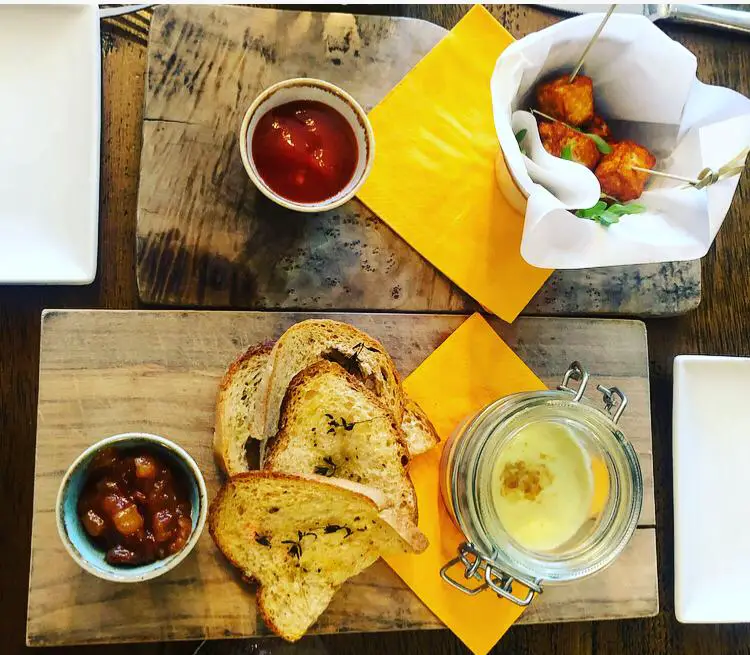 And so I turn to Riva, a new addition to Hale village, sitting pretty, and indeed stylishly, where Earle once did. Whilst enjoying a generous bar area, it is not only well-placed for people-watching with a drink in hand, it also boasts a sophisticated dining area and menu which can take you from brunch right through to dinner.
The jewelled colour palette is attractive and throws in a touch of decadence. I particularly enjoy the inclusion of the occasional peacock in the decor. But then, my maiden name is Peacock and I have a predisposition towards those feathered little show-offs.
'Modern British and Mediterranean', the menu offers a well-thought out selection of mains, including a 'from the grill' line-up of steaks, chicken, lamb and halloumi, a fish section including sea bass and tuna teppanyaki, and salads such as the Vegan Buddha Bowl.
There is also a fine offering of small plates which, quite frankly, spoke to me. My indecision over such delicious sounding mains was already ringing alarm bells. It would only ever end in one thing.
FOOD ENVY.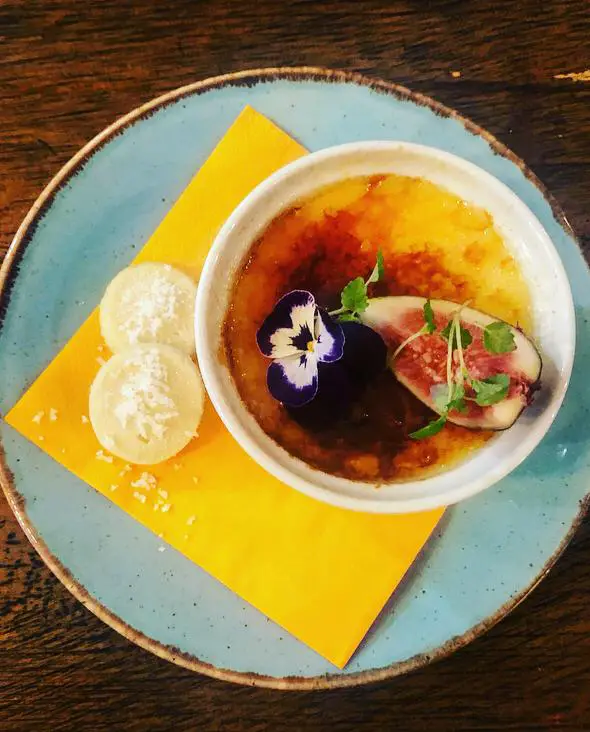 The gamble paid off. The small plate portions were varied but never meagre, from the seemingly traditional offering of foodstuff in threes, to plentiful and generous.
Whilst we ordered eight dishes (I'm nothing if not dedicated to the cause), I should point out that six would probably suffice for two diners (I speak in terms of appetite – in terms of range, I regret nothing).
We were recommended the Mini Mushroom Arancini and I'm now doing the same – my highlight of the fayre. Arancini can often be quite dry but these little balls were succulent and bursting with flavour, served with a sun dried tomato and fennel mousse. In addition, we enjoyed Crispy Baby Calamari, Halloumi Bites (I love you halloumi, be you bites, fries or slices), Chicken Livers Parfait, Deep Fried Zuccini (another delicious highlight, the generous amount allowing me to raid the dish to my heart's content without entering into dispute with my plus 1 – veg has never tasted so good), Lamb Koftas, Fish Goujons and, another recommendation of the house, the Hummus with Flat Bread (bravo, 'house').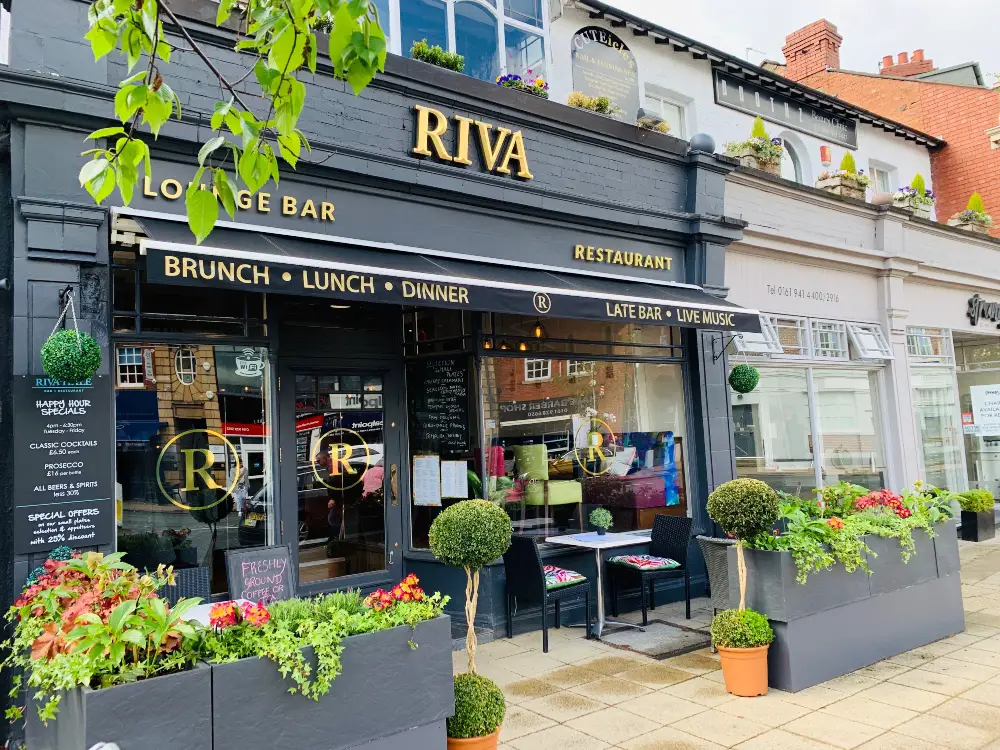 Whilst space can't accommodate too much lyrical waxing over each of the eight plates, every dish was delicious and light, beautifully presented, accompanying dressings and sauces were well-matched and imaginative, and each offering was enough for both diners to enjoy without heading to the divorce courts (although the third and final Lamb Kofta did cause some tension – I won and no I didn't cut it in half).
Always finding room for dessert, this select section of Riva's menu should not be overlooked. My favourite of the pudding concepts, the Eton Mess, drew me in and whilst it could certainly not be called 'a mess' when it came to presentation (so elegant), it was certainly 'a Mess' with a capital M in terms of what I traditionally love about this dish with its glorious marriage of fruit, cream and meringue.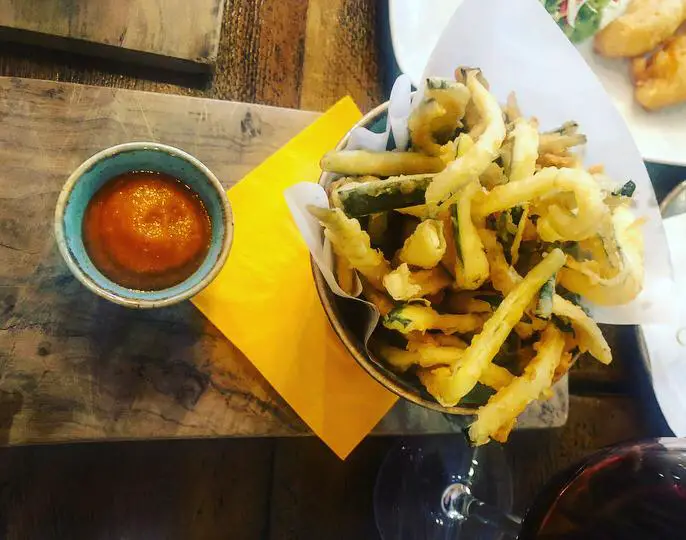 Bitter memories of losing out on that final Lamb Kofta quickly faded for my plus 1, as he moved on, seduced by the Passion Fruit Creme Brulee. However, this was no rebound dish, given how deeply smitten he was as he broke through the reassuringly hard exterior, to reveal the soft and creamy dessert that lay beneath. Before this analogy gets a bit too weird, I'll quickly summarise by saying that he loved it.
And so, because I enjoy both a pun and a 70s disco film, I wanted to end this review by saying, "Looking for somewhere for Saturday Night? Riva."
But, that may suggest you limit your opportunities to visit and I wouldn't want that.
So, instead, I will say that I would return to Riva any day of the week (aside from Mondays, they close Mondays).
Riva, 4 Cecil Rd, Hale, Altrincham WA15 9PA. To book, call 0161 928 4492 or visit rivahale.co.uk
Comments