The Tour of Britain, the most prestigious cycle race in the country, comes to Altrincham on Saturday.
The final, 166km stage of the eight-day race begins next to Altrincham Market on Saturday September 14th and continues through Altrincham and Hale before a Greater Manchester circular ends on Deansgate in Manchester city centre.
We've put together all the information you'll need for watching the race in Altrincham and Hale:
What route is the Tour of Britain taking through Altrincham and Hale?
The race will start at 11am on Market Street, by Altrincham Market. It will be a neutralised start (a start which allows the peloton to group-up before racing begins).
The riders will then head through Altrincham and Hale along the following route:
🚴‍♀️ 11am start on Market Street by Altrincham Market
🚴‍♀️ Down Shaw's Road past Sugo Pasta Kitchen Altrincham, Common Ground and Blanchflower
🚴‍♀️ Right down Central Way past Everyman Cinema Altrincham
🚴‍♀️ Left down Regent Road past Phanthong Thai – Altrincham and David M Robinson
🚴‍♀️ Turn right on to Railway Street by Toast and Altrincham Hospital
🚴‍♀️ Carry on past Wetherspoons on to Ashley Road
🚴‍♀️ Left at the roundabout by Bowdon Prep on to Hale Road
🚴‍♀️ Carry on past Costa's chip shop and over Hale Road Bridge
🚴‍♀️ Turn right on to Victoria Road and into Hale village
🚴‍♀️ Rejoins Ashley Road and continues through Hale, past The Garden, JuniperHale, Victors Hale, Costa Coffee, Hale Post Office and off down Ashley Road into Ashley. The proper race will start on Cow Lane at 11.15am.
🚴‍♀️ The route then takes a circular, clockwise route through Greater Manchester before finishing on Deansgate in Manchester city centre. See here for detailed timings.
Here's a map of the route through Altrincham and Hale: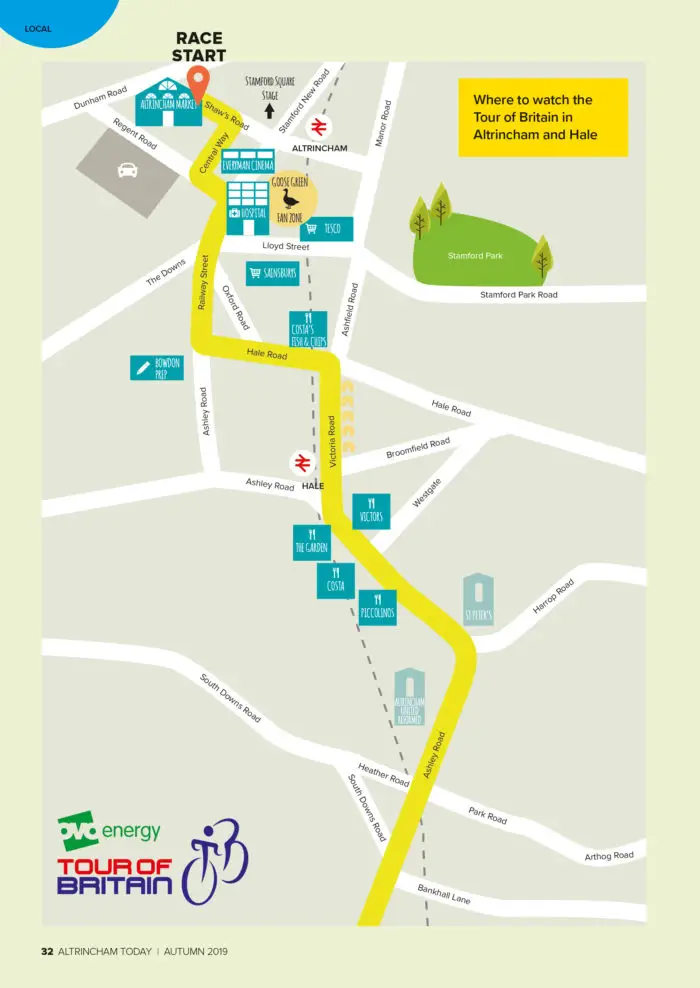 What is happening on the day and what are the timings?
To mark the occasion Altrincham BID, Altrincham's Business Improvement District, has organised a jam-packed programme of entertainment and activity throughout the day.
Highlights include a community stage in Stamford Square, hosted by TV personality Jenny Powell and a 'Battle of the Gyms' competition, also in Stamford Square.
There will also be incredible trick bike demonstrations at the Shaw's Road/Cross Street junction and a 'Fan Zone' in Goose Green with a live broadcast screen to watch the race throughout the day.
Here's a detailed breakdown of everything that is happening on Saturday in the town centre:
On the official OVO Energy Tour of Britain Start Stage on Market Street and Shaw's Road
9am Mr Dan Unicycle Juggler
9.15am Altrincham Boys Grammar School Award-winning Swing Band
10am OVO Energy Tour of Britain Team sign-in
11am Local cycling club Seamons has the honour of leading out the riders.
George Street
09:30 FREE 'Race Shaker' workshops and FREE face painting (unit 22 on George Street – next door to Jake Shoes). Come and make a 'Race Shaker' to support the cyclists and children can also get their faces painted!
Stamford Square Stage (Hosted by TV presenter Jenny Powell)
11:15 Altrincham Boys Grammar School Award-winning Swing Band
12:00 Next Fashion Show
12:30 Little Belters
13:00 Laundry B Fashion Show
13:30 Aura Music Academy Performance
14:00 Megan Holliday from The Music Place
14:30 Violet Loves Vintage and Daniel Christian Menswear Fashion Show
15:00 Wellington School Choir
15:30 M&S Fashion Show
16:00 Maddie Harris from The Music Place
16:30 Absolute Belters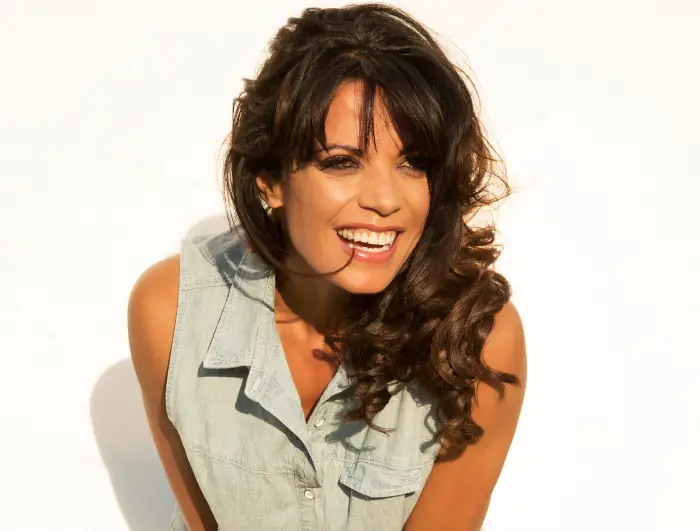 Stamford Square
11:15 Battle of the Gyms kicks-off – come and support Orangetheory, Pure Gym and Trafford Leisure as the battle it out to cover the furthest distance in a static bike relay competition!
17:00 Company Chameleon Dance Performance – presenting an original, inspiring dance theatre which has been performed throughout the UK and internationally.
On the Shaw's Road /Cross Street Junction

12:00, 13:00, 14:00, 15:00 Trick Bike Performances from the RPM Bike Display Team
Don't miss these incredible demonstrations of bike handling skill and precision from one of the top performance bike shows in the country! RPM features some of the UK's most talented performers, who include Guinness World Record Breakers, National and Regional Bike Trials Champions and Hollywood Stunt Performers.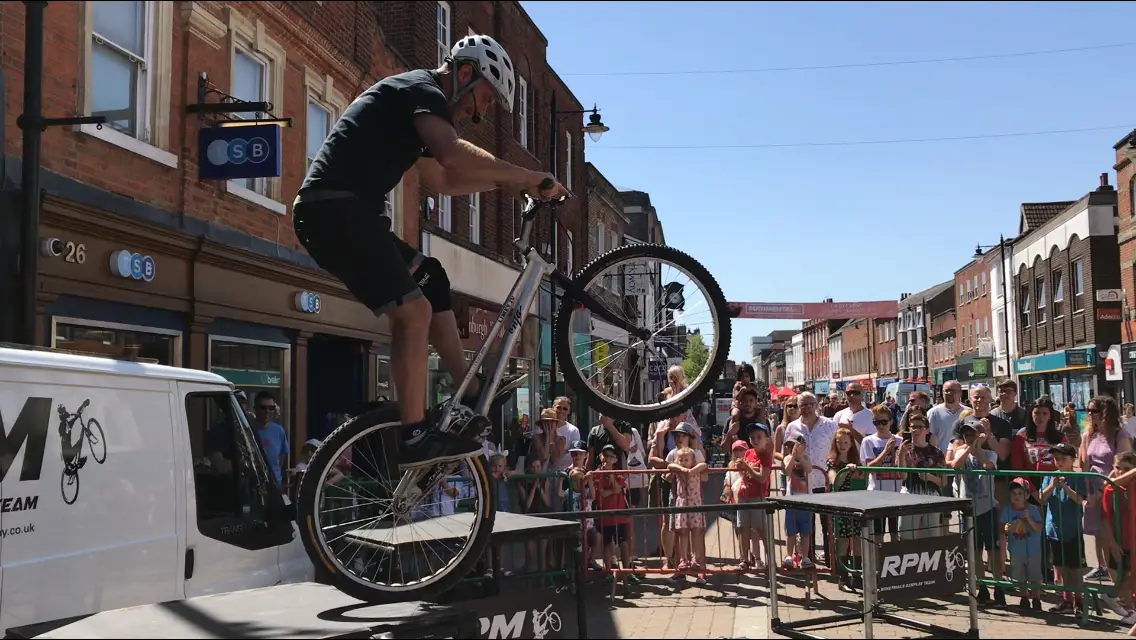 Goose Green
10:45 'Fan Zone' with a live broadcast screen throughout the day – Come and watch the whole race including the build–up and race start in Altrincham on the big screen!
Throughout the town
Don't miss the 'Bike Themed Windows' and the display of bikes at Open Studios which were created by local children in a series of workshops. Window displays will be up until Sunday 15th September.
Which roads will be closed to traffic?
Rolling road closures will be in place along the route, approximately 15 minutes in advance of the riders.
On Saturday between 5am and 3pm, Regent Road in Altrincham will also be closed between Groby Street and Railway Street, as well as Shaw's Road and Central Way.
Market Street will be closed from High Street junction to Regent Road from Friday 13th September at 3pm until approximately 1pm on Saturday.
For the full spectator guide to Stage 8 starting in Altrincham, see here.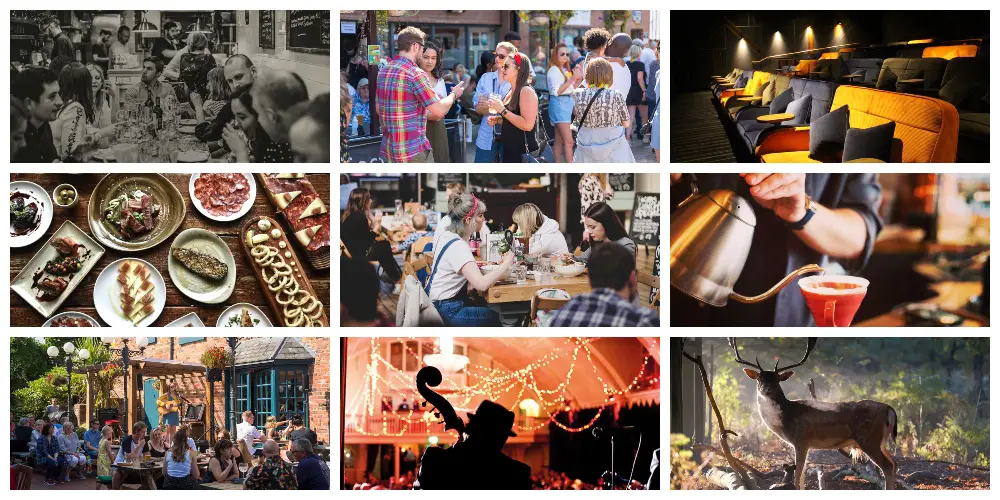 What else can you do in Altrincham this weekend?
We've put together an insider's guide of 25 great things to do and fantastic places to visit – you can take a look here.
This guide is also included in the latest issue of our magazine, which is available for free at these stockists across Altrincham and Hale.
Comments